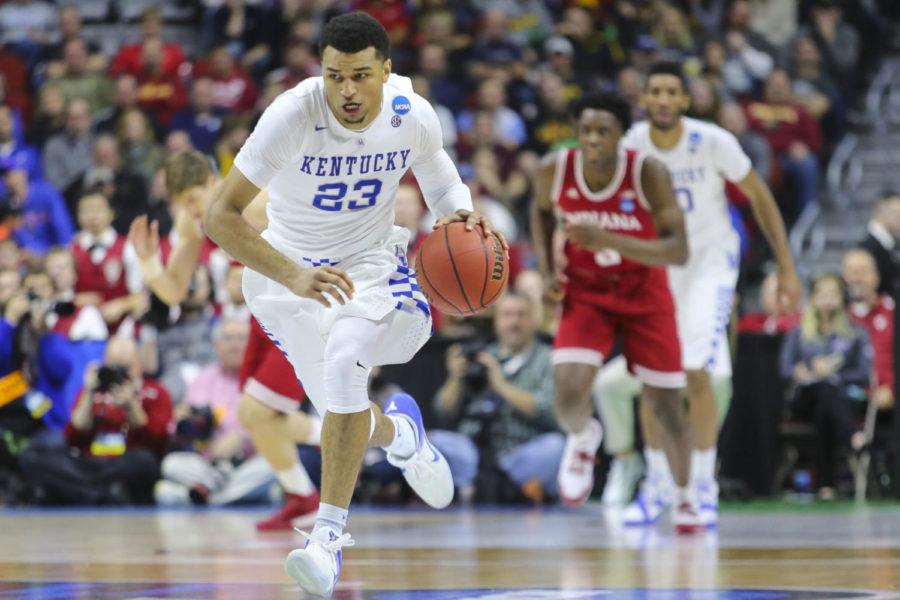 After mystery surrounded the announcement set by UK basketball for Friday afternoon, when it arrived the news wasn't really all that new. Jamal Murray took the podium with his father Roger Murray to announce that would be entering the NBA Draft.
"All my life we've been working for the best schools to take a look at me. When I first committed to Kentucky, it was the biggest moment of my life, being able to hug my dad and all my family members behind me as we took the next step," Murray said. "I came here with a goal to improve myself and I did. I cherished every moment I was on the court. I made Kentucky my second home to Canada. Coach (Calipari) and the staff told me that I would have to work hard every day and that they would demand the best of me."
After head coach John Calipari announced last week that all the eligible players will at least put their names in draft, Murray's announcement was no surprise, but he said that he will most likely remain in the draft despite not hiring an agent yet to make it official.
The 6'4" guard will leave UK after one season to become the 17th one-and-done freshman under Calipari. With the departure UK loses its leading scorer, as Murray averaged 20 points per game, which also comes in as the highest scoring average of any player under Calipari while at UK.
UK also loses one of the best shooters to come through UK with Murray leaving for the draft. Murray hit a three in every game for the Cats and owns the UK freshman record for most three-point field goals in a single season with 113, breaking Brandon Knight's previous record of 87. The record also stands for most in SEC history and trails only Stephen Curry's 122 for the NCAA record.
"(Murray) is one of the greatest kids," Calipari said. "The improvement he showed over the course of the season may be unmatched by anyone I've ever coached. He grew into a true winner and one of the most efficient scorers. What I love about (Murray) is he's a great teammate who has a smile on his face every day. I'm going to really miss coaching him."
Murray's contributions over the season were enough to earn him AP All-American Third Team along with All-SEC First-Team honors. He is currently projected to be a top ten pick in the NBA draft.
Murray and his father shared and hug during the press conference and gave credit throughout for his dad pushing him and supporting him to reach the level he has.
"We put in sweat, blood and tears. He put a lot of work in to come here and achieve his goals," Roger Murray said. "I know what I put him through in him trying to learn and trying to be a young man and trying to be respectful of himself and his peers. So that's something that he can carry on through life and carry on through his kids. So I think I did my job."
Murray is projected to go within the first ten picks in the NBA Draft on June 25 and one of three Cats projected to go in the first round. He is the first to announce his plans directly to the media and says that he hasn't discussed the future with the team's other All-American guard Tyler Ulis.
"Whatever he does, if he enters the draft, he'll be fine," Murray said. "Everybody takes a year or so just to get comfortable. But if he comes back, he's just going to break his own records. He's only getting better. He's only improving for himself. Whatever decision he makes, it's going to be a good one."
Ulis has moved up draft boards going from unprojected in the field at the start of the season to in first round after season. Skal Labissiere was the other Cat projected in the first round, but his story is quite the opposite, falling from in the conversation for the first overall pick to nearly out of the lottery.
Despite the likely future announcement from those two, Murray's announcement means the likely loss of one of the most prolific scorers in UK history.
"I want to thank the fans for all their support," Murray said. "It was a crazy experience and we had a lot of fun this year. I'm excited to take on new challenges in the journey ahead of me."