Letter to the Editor: Drive-by bigotry back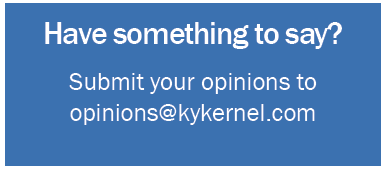 The two recent incidents of drive-by bigotry reported by your newspaper concern me because a few months ago I had a similar experience on Maxwell Street while walking toward the intersection of Maxwell and Rose. I was walking on the same side of the road as the UK Hospital.
I had been to a restaurant on Limestone and was walking home just after sundown. A blue car with several college-age people in it suddenly came to a stop in the lane next to where I was walking and the back left, rear window was down. A young, blond-headed woman sitting at the window looked out at me and called me some extremely bigoted names.
I was so shocked that I didn't think to get the license plate number and was too blindsided to react. The car drove on, remaining in the same lane. As I was walking in the same direction on Maxwell as the car, I noticed that the red light at Rose and Maxwell caused the car to stop behind another car at the light. I was able to nearly catch up to the car, and by this time, I was very angry. 
I approached the car and began to yell at the car, and calling them "F****** bigots!" as loud as I could. I yelled this several times as they turned onto Rose in the direction of Euclid.
I made rather a fool of myself, but I was very angry.
I crossed Rose at the intersection and continued on down Maxwell in the direction of Woodland. To my surprise the blue car had turned around, had come back up Rose, and then turned right onto Maxwell again.
The blond, young woman began to harass me again. And again, I called her and everyone else in the car "F******  bigots!" I thought the car was going to stop, and I was ready for someone to get out of the car. The car drove on instead.
The incident was so extreme that I filed a report with the UK Police Department. The officer taking the report was very helpful, and I had the impression that they took the incident very seriously.
This incident concerns me because I think it indicates that this is some kind of sick fad within a small group of people. 
The vast majority of students, staff, faculty and people who work, live and do business at and around UK are not like this, and it is very disappointing that there are a few ignorant people out there doing this.
Anyone who harasses another person like this is not only ignorant, they are the lowest form of coward.The proof of this is that none of the cowards who have yelled these obscenities have the courage to publicly do it in a way that they could be identified.
Ben Luntz is a Lexington resident.
Email [email protected]