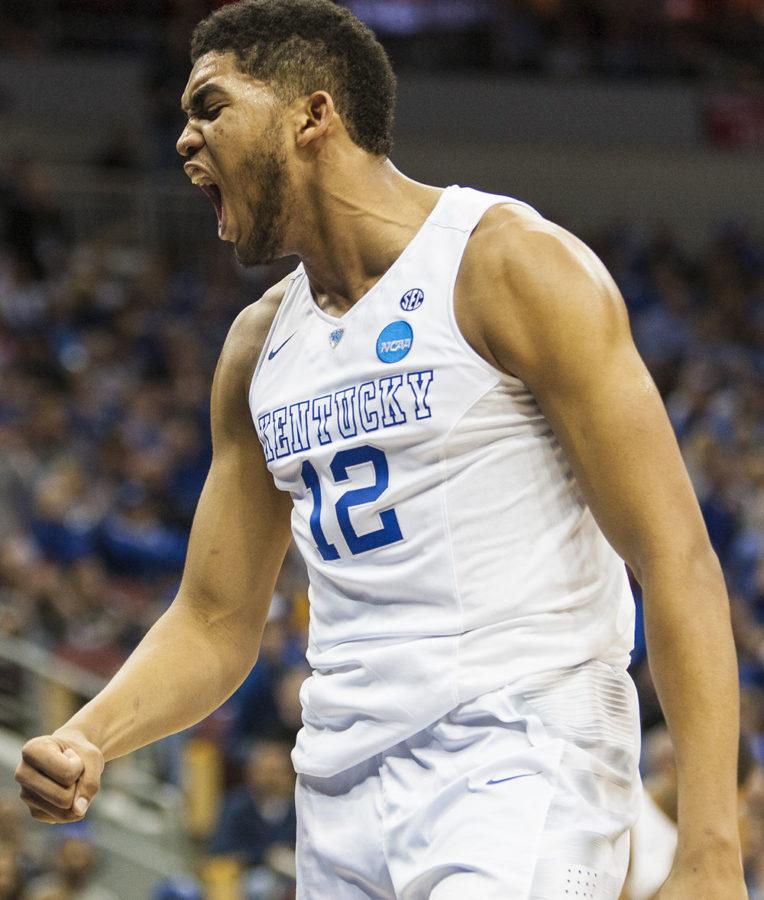 A year after helping UK nearly capture perfection, Karl-Anthony Towns continued to show the promise that made him a top-ranked recruit and a dominant freshman for the Cats at the next level as he was unanimously named the NBA's Rookie of the Year.
The 2015 No. 1 overall pick lived up to the hype that surrounded him more as he not only cemented himself as one of the best rookies but also one of the top players in the league.  Towns are the first UK player to receive the award and the third player coached by John Calipari to win the award joining former Memphis players Tyreke Evans (2010) and Derrick Rose (2009).
Towns went from averaging 10.3 points and 6.7 rebounds during UK's Final Four season in 2014-15 to having averages of 18.3 points (26th in the league), 10.5 rebounds (eighth in the league), 2.0 assists and 1.7 blocks (10th in the league) in his first year in the league. Towns also led all rookies in double-doubles and ranked third overall throughout the league with 51 on the season. 
The outstanding rookie campaign garnered respect throughout as Towns also swept the Rookie of the Month awards. He is just the eighth rookie to do this and joins the likes of LeBron James and Tim Duncan with the feat.
Towns now makes up just one-half of the bright future for the Minnesota Timberwolves. Winning the award makes it two straight years that the franchise has had a player earn those honors as teammate Andrew Wiggins won in 2015. 
The NBA has yet to make any All-NBA team or All-NBA Rookie team selections, but after his strong finish in which he averaged over 20 points per game the last three months of the season, it would not be a surprise if Towns was to sneak onto the Third Team All-NBA.
Towns latest success, in the end, is great for him as a player and for UK and Calipari as it provides a great example of how much UK prepares players for playing in the NBA. Towns may be taking home a trophy for the award but Calipari also just gained a major chip to play on the recruiting circuit.