Letter to the editor: #PhilandoCastile #AltonSterling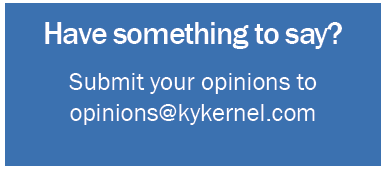 Say their names #PhilandoCastile #AltonSterling! I Kahlil, am compelled to reach out to you the students of color in particular. As a Black man, I am feeling the trauma of pain, hurt, anger, rage and the endless list of emotions that are being exacerbated by the latest two killings by police. I was asked in an interview a couple days ago as part of the Unconscious Bias Initiative here on campus, how I teach hope to the students working towards change. My answer was that I can't. I explained that it is a matter of possibilities, but just as, if not more, it is important that we are truthful about the probabilities.
I went on to say that I encourage students to seek change as a possibility that it may occur, but there is ample evidence that change will forever remain a possibility rather than a reality. For now, it is necessary to honestly address the probabilities of hope, while recognizing the realities that are mandatory for our mutual survival and well-being. What I mean is that we as people of color, and our allies, must be aware of the reality that change is unlikely to occur at the pace we need it to. As it stands right now, the evidence shows that people of color are more likely to be arrested, sentenced, imprisoned and/or killed by those who serve the justice system.
The emotions of this reality can be overwhelming. This morning, a man sped up, not letting me over into the driving lane I needed to be in. My 8-cylinder engine allowed me to increase my speed at a faster pace, cut him off, slow down and make eye contact with him in a way to communicate my rage and invite further confrontation. As I continued to drive, I realized that my emotions in that brief incident were being led by what I am feeling from watching the two most recent videos. These emotions, while misdirected, are a reaction to the reality I am faced with. And while I can argue whether or not I was justified to feel this way, a couple things are for sure: (1) I am not the first person to feel enraged due to a general sense of injustice, and (2) as a man of color, this event could have ended with an interaction with the driver or authorities, and that due to common characteristics I share with #AltonSterling and #PhilandoCastile could have ended my life too.
This is by no means a call to take action towards the men and women who keep us safe on and off campus. This is not a plea for protests or a call for unrest, nor is it a placation for parties who wish that people touched by recent events remain silent. This is a call for introspection.  My hope and message to you is that you be mindful of what you are feeling right now and in the likely moments to come. Please be intentional in how you express yourselves in confronting injustice in its many forms. Fight to survive, but remember that you must survive in order to fight. What a conundrum…
Letter to the editor submitted by Kahlil Baker, director of UK's Martin Luther King Center. 
Email [email protected]