Letter to the editor: Dear survivors of sexual, gender-based violence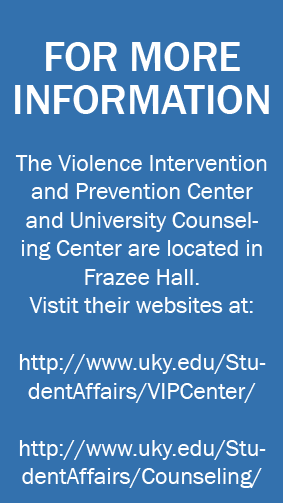 The following article contains sensitive material regarding sexual assault that may be triggering to some individuals. Please read at your own discretion.
We see you.
We realize that some information released on August 13th in The Kentucky Kernel ("Kernel obtains withheld records; victims say UK trying to protect professor in sexual assault case") may have been harmful to you and we recognize the fear that you may have.
We want you to know that your feelings are valid. We want to hold space for all of you.
We want to magnify and support your voices. We are SPARC, a student activist organization operating within the Violence Intervention and Prevention (VIP) Center at the University of Kentucky, and our mission is to end sexual violence on campus.
We acknowledge that there have recently been a lot of misrepresentations regarding the way in which the University of Kentucky handles cases of sexual assault.
We want you to know that there are safe spaces for you on campus to receive confidential help, and that there are people who care.
Within the university, the VIP Center, Counseling Center, and University Health Service are available to offer confidential support.
In these spaces, you are in control of your own healing. This means that talking to them won't lead to an investigation or report of any kind.
They simply help find the best ways for you to heal, and provide a space for your voice to be heard. The VIP Center assists survivors in finding accommodations (such as room changes, schedule changes and notes to professors), which you are entitled to receive even without a formal report.
Your continued safety and success, whatever that may look like for you, are the most important things to consider.
If you decide that filing a formal report is best for you, you will be put in contact with the Office of Equity and Equal Opportunity (home of "The Title IX Office").
Title IX is a federal mandate that requires universities receiving federal funding to accommodate survivors, which means that your access to education and a safe campus cannot be restricted due to experiencing interpersonal violence.
This includes survivors who may have been under the influence when the assault occurred, which is why violations of the Alcohol or Drug Policy reported by the survivor are pardoned. Your well-being is the focus in these spaces, which means your safety is the University's biggest concern. 
Once a report is made, the Deputy Title IX Coordinators will work with you to determine the course of action that will best help your healing and recovery.
These reports are confidential – the Title IX office will never release or publish anything you submit to them. Also, an investigation cannot move forward unless it is your desire to do so, except in cases where lack of investigation may impact community safety (i.e, if the perpetrator utilized drugs or violence, or if their name has come up before).
Finally, the Title IX investigation is not a criminal investigation (nor will it cause one) – the University is looking to see if someone has violated the Sexual Misconduct policy, which is different than law enforcement investigating to see if a crime has been committed.
The advocates at VIP will stand with you at every step in this process, and will gladly answer any other questions you have about reporting, Title IX, or how you can get help.
We understand your fear. Asking for help can be challenging, and we want you to have the resources you need in order to feel safe.
While we all have the right to know about assaults that occur on campus, no person other than the survivor and the people they disclose the information to have the right to know any specific details about the assault. You are entitled to privacy and the space to guide your healing.
You deserve to have confidence that the university values your privacy and won't release specific details about your case to the public.
SPARC asks all members of our campus community to respect survivors and their privacy. We implore you to hold space for survivors and allow them to speak for themselves. We ask that you help them in doing that, and that you allow their voices to be heard loudly and clearly. 
Survivors, we see you. Your healing, your privacy, and your voice, matters.
UK SPARC is a student activist group operating within the Violence Intervention and Prevention Center on campus.