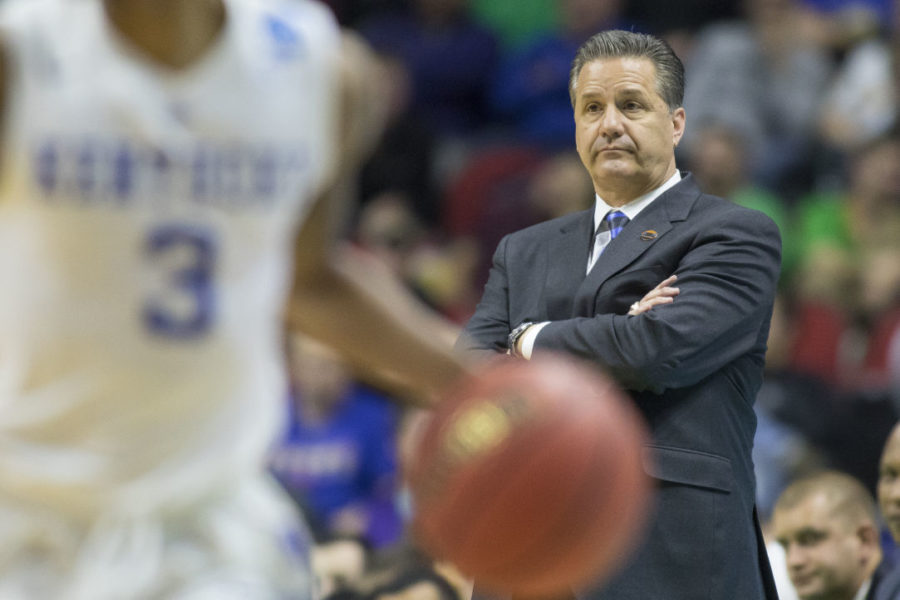 On if he had a plan for Isaiah Briscoe's shooting in the offseason:
"No. We sat down and talked about it. He's really improved his shooting. I think part of it is going to be if he has the ball a little bit more. He shoots it better probably off the bounce than he does catching and shooting. Because he's not really played that way before. It probably affected him last year. I told him, I said 'it doesn't matter if I put the ball in your hands more or less. It doesn't matter if you don't improve your shooting.'
The good news for him is he was so bad last year that if he shoots 30 percent and 67 (percent) from the foul line, he's like a lottery pick. And you would say 'what?' Yeah, because the improvement is so drastic. They look and say, 'wow if he's on that path..'
Since he got back, he sprained his toe so he's been conditioning but not the same with the guys. He's come in at nights and he's doing some shooting, but he's not practicing. My challenge to him is – we need to him to lead. He knows what this is. He knows what it's about. He's been in the trenches. He's doing a heck of a job right now. I'm pleased with him.
On conditioning being tougher this summer:
"I let the weight-strength coach and the coaches come up with stuff they think they need to do. I'll tell you it's been the first summer we've had everyone here. It's good for us. The year we took everybody to the Bahamas, Willie (Cauley-Stein) and Trey (Lyles) did not play. Jamal (Murray) wasn't here – I mean, we've never had everyone here like we did. 
The pickup games were good that they got to know each other. They talked about it. Like, when I had individual meetings that's part of what they said. They really competed. They got a good feel for each other. I said 'how are you guys off the court?' he said 'we're really good.'
That's the one advantage we have being here. It's the best kids, the good students. You just don't have to sacrifice something you think is important. Character matters here. It really matters. When you're trying to do what we do, which is – how many kids have been drafted here? (28) That's four a year. What? Is that the right number? (Yes). So four a year, if you're going to do that you cannot have some disruptive – you can't . Or there's no way that four kids make it. Part of making it is the team has to do well. I'm absolutely convinced if last year we had won two more games in the NCAA Tournament, Tyler would have absolutely have been in the lottery. Skal would've been in the late lottery. Jamal probably would have moved 3-4 spots. Alex would have been a second round pick. No question in my mind. I know how the NBA thinks.
By us losing, it affected all of them. Winning matters, but the only way you win is to get along so well, you're talented enough. This summer, good summer. Worked hard. We worked out yesterday, we did individuals on both ends for about 30 minutes, which is pre-practice. Like we'll do a 25 minute, 30 minute pre-practice. Then we'll practice for two hours and 15 minutes. They're exhausted after the pre-practice. 
This year, because of this team I'm coaching, we'll probably be 75 percent defense. Not much offense. But they're better. Wenyen (Gabriel) is way better. Wenyen has bumps in his legs. But he's got a ways to go. But he's gotten stronger.
On why he wants to focus so much on defense:
"Because I think that's what this team – what we are, we've got shot blockers, you have size, you have strength, you have guards – De'Aaron Fox should be – when you start talking those three and Dominique (Hawkins) as a four. Mychal would be more of a rebounder. But those four (guards) will just maul you. De'Aaron Fox is going nose to nose right now with Malik Monk. But they went at each other. De'Aaron stole the ball from him twice.
You just have guys that can maul people. I think we'll have some shot blockers. Derek Willis has gotten better. Derek Willis is on a great path right now. He has to sustain it. He can't have a game and then say my body is breaking down. Just play the season. Go do what you did in the middle. That's who you are now. Be that guy. 
On if last season gave Derek Willis an attitude:
"I don't know, but he's got to prove to us that this is who he is, not that other guy. That's all we try to do here is help them develop habits. Habits meaning, you have to do it every day and then you own that habit. You own who that is. Obviously he didn't know it last year. He played some and did some and all of a sudden we're like 'oh my gosh.' Then all of a sudden it wasn't his anymore. I'm not that guy. He's got to go do it. I think he's capable of it. 
Right now, we have him and Wenyen working with the bigs just to get them tough, make them play next to that basket some. But he's doing fine. He stays after and shoots.
Dom is playing well. He's been unlucky with some injuries when he's had his chance. All of a sudden he gets hurt. So let's hope he stays healthy. 
On Isaac Humphries:
"He's been great. He was good yesterday. Seven-foot tall, he's got good skills. With his size, to be able to pick and roll and find pocket passes with shots he can make. He was always pretty good in pick and roll defense. Yesterday was funny because De'Aaron Fox was going at him and kinda made it look bad, but if you can guard the guards we're coming at you with you can guard anyone we're playing against.
But he's in great shape. I watched him in high school. Literally everything was below the rim. Everything. That's why I said he might be Josh Harrelson. Then Josh starting dunking balls and all that. Well, that's what this kid is doing now. He does not lay any balls in. He's trying to dunk every ball. 
He's physically able to run. The crazy thing, he'll still be one of the youngest players in college basketball. So basically he's a freshman. He got an extra year last year because of his age. 
On Humphries' attitude going into his development:
"He's really an intelligent player. Really intelligent person. He's not saying a whole lot right now. We need him to talk more. But the thing he's becoming is, he's becoming confident. He's a little more self-assured. I can't help you with that. You either demonstrate performance on the court – he has to build confidence where his teammates want to throw him the ball. I can't just say 'have confidence in him, throw him the ball.' So he's doing that himself. That's why, you look at him out there and you say 'wow.'
Bam is just now starting. So you could have two of those guys on the floor together. You could have, a Derek, or a Wenyen out there with them. Which means you're 6'10 across the front line. Makes you a pretty long team too. Guards are all 6-3, 6-4. Dom, who is terrific athletically.
On saying this might be the best group of freshman he's signed:
"We have a long way to go. The guards are just too casual. They miss eight shots in a row and go back to the line and miss a ninth. We're now charting every shot in every workout. When it was done yesterday they knew exactly what they shot. There was a time where Malik Monk came down and hit eight straight. And I mean they're running – it's not just standing and shooting.
So I stopped everybody and I said, 'OK, so he just made eight straight. What does that tell you? Should he ever miss seven straight? Nah.' If he misses seven straight he's not even thinking about making it. He's singing a song. He's not even looking – how do you miss seven in a row if you can't hit eight in a row?
It's the same with De'Aaron Fox. It's just having them approach everything different. This will be new to them. Malik's mind moves a little faster. De'Aaron's mind runs real slow. You see him just seeing things develop, where Malik just he jumps this high (points). So now every shot he thinks he's open. Well, you weren't really open. You just happened to jump over the guy (laughs).
He settles for shots. He has the best runners, shots left and right, that I've seen. Why don't you shoot more of those. Why don't you go by people, jump over them and shoot runners.
What I'm doing is getting really proficient with Wenyen at seven feet. He can be like Derek. A 6-10, perimeter, inside-outside but he's got more of a motor. He blocks more shots. He's got a high motor. He's different that way from Derek. 
But let's learn seven-feet inside first so you always have something going. You'll always be able to rebound, slide into the post, so we're doing that stuff with him. 
With those guards, helping them define, you're not just playing and let me figure it out each trip down. The great thing is they're all good kids. They listen. They're very locked in and focused. Practices will be hard for them early on. I think early on we will be a team that only runs three or four things offensively probably our first month. That's not good because we have some really big games that first month. It will be primarily defensive minded. Let's be a team that, even if we don't shoot it well or execute well, we can still win the game. That's what I think we'll do with this team. 
I told Tony Barbee that maybe we'll go back to my UMass days, which were about 70 percent defense. He said 'no, that was about 90 percent defense.'"
On how long it typically takes the freshmen to start figuring it out:
"They're all different. It's all different. Some of it is mentally. Some of it is physically. Some of it is their feel for the game, if you took a couple of guys who were just more athletic than basketball, it just takes time.
And it's a process that we go through every year. You look at this, we could end up losing seven or eight guys from this team. Then you come back with, 'Okay let's start five freshmen,' what? That's how it is. So it's a process. You could lose early and try to get it right, right the ship by the end of the year. But you gotta be ready. Late February, March, let's be ready. Let's be at our best.
Even last year, I think we were playing at our best. We just needed one guy near that goal that we could throw some balls to, to get easy baskets. There was no consistency with that. We just knew Jamal was going to have to go for 25, or 20, which is what he did. And Tyler was going to have to play, Isaiah was going to do what he did. And then you're trying to find who were the other guys that could give you something.
On how this year's frontcourt pieces compare to last year's:
"Well Isaac is way better. Bam hasn't been on the court enough for me to give you an honest opinion of what I see. And then we have the stretch fours if we want to go that way or big threes.
I was talking to Herb Sendek, who's daughter is on our dance team, he was in town so we had coffee and talking about zones that he plays. He does a lot of zone stuff and we spent a couple hours. And there's some zones we could play, not the traditional 2-3 but those three guards out with two bigs or 6'11 or 6'10 out at the top of the key. We have a big guy out there that can really guard and make that tough on them.
We could have three big guys or two big guys. We could have one big guy and a stretch four. There's all kinds of ways.
I can't tell you what's, like last year anytime we had three guys who could not make shots, early in the year it taught us you're never going to beat anybody. You can't have three guys who can't make shoot. They don't have to guard three guys.
So we went to, let's try to have only one guy in the game that doesn't shoot it well, maybe two at the most. Never three. And that's what we learned early. This made me think, is that stretch four how we play this, a bigger three, the three guards, how do we do this? We'll just figure out as we go.
On how critical it is for Derek Willis to do the other things to stay on the floor:
"Well he's going to be in the eight-man rotation. The question is, 'Are you a guy that we can count on every game for 25 minutes, 30 minutes or is it every once in awhile you can do that?' Then what we're doing is every once in awhile we'll play you 25 minutes. It's just, 'What are you? How consistent are you?'
Now he should be as a senior. Dom should be. Dom should be mentally ahead of these guys. Now maybe physically, maybe their basketball skill, some of these guys might be a little bit better than him. But mentally, physically, no. They shouldn't be and Derek the same.
Wenyen should not be past Derek at this point. If he is, then you know. I would say if you watch, they're two different players. Derek's more of a three-ish four, stretch. And Wenyen is probably a straight stretch-four, but he could play three. Wenyen is just bigger, he's longer, will block shots.
On if Wenyen is the best shot-blocker right now:
"I haven't seen Bam enough, but I would say those guys. And you still have, I'll tell you, I saw De'Aaron Fox make a play in transition. Shoot it, miss the layup and then grab it and dunk it. What? That's your guard, your point guard. And Malik, so you have a lot of guys that can block and be active and long.
On if Isaiah playing in the three guard line-ups last year helps with the two new guards this year:
"Yeah, but the good news for him is that one of those other two guards isn't Tyler Ulis, that you had to have the ball on his hand 90 percent of the time unless it were malpractice. You had to. So he had to accept that that kid was so good with the ball, this is what it is.
So now, De'Aaron is really good with the ball, but I would say Malik would be good with the ball. But when you talk those three, it's pretty even. So now you can figure out 'How are we going to do this?' And that's the challenge of this, How do you put every guy in the best position?
And let me just say this, with Isaiah last year, if he shot the ball better, he would have been in the first round. Does that matter where he played? Because everybody saw him defensively, rebounding, he had a heck of a year last year, just didn't shoot the ball well. Now it becomes, 'Okay you've had the summer, you're going to miss some shots, how do you recover from that?' He has a great frame of mind right now. He's a confident kid anyway.
But I think, just trying to figure out halfcourt offense, who's running it, transition game, who has it. Those other two probably at this point shoot the ball better than him, does that mean it's better that he has it so that you have to guard him with the ball because he's a great layup shooter. Or do you have De'Aaron have it and him run, which means if you get it to him, he's a finisher. It's just a lot of stuff you have to figure out when you're doing this this way. There's no, bellyball. This is how we play fit in. That just doesn't work that way here.
On him going to Isaiah after the season and telling him to lead the team and on seeing that help others before:
"Some guys, they pee themselves. But he's on a mission and he should be. But being on a mission, and I'll say this, how many player in the NBA are role players?
*95 percent*
Right, so the chances of any of these guys being volume shooters or being the guy on their team, pretty slim. About as slim as it used to be when they told us growing up, 'Why would you ever plan on the NBA? There's .0001 chance, make sure you have something ready because you're never going to be.'
And then we laugh if you come here and scholarship player, 76 percent of you get drafted. So then it becomes, you're getting drafted, how many of you are going to be the John Wall, the DeMarcus Cousins, who just forced his way into that position, like I'm shooting every ball. Karl Towns should be in time that guy, Anthony Davis. We've had probably more than the normal and even those four that I told you about, how much did they score here? 11, 12, 13. John Wall probably had 16, 15, whatever it was.
So you come here, you're on a mission and it's not about numbers. It isn't. It's, 'I want to be the best player. I want to be an efficient player. I want whatever I do to be able to transfer in the league.' And that's what we talk about. The guys that don't get that. I call them and sometimes they're delusional like, 'If you just let me shoot more.' Ummm no, no. That means you're going to miss more. That means we're not going to win.
So if you are efficient with the shots you're getting, and that's like I said this year. As much as I said to him, you're leading this team when he talked to me, I said 'Now understand those two..' and he started talking about Malik and De'Aaron and I said 'Wait a minute, don't you take a backseat to those two. Yes, I want them to perform and you to gotta understand what their strengths and weaknesses are, so we can help them play toward their strengths, but don't you take a back seat. You're as good as any of these guys, physically, mentally.' He's got a killer in him. You win with guys like him. And then it's our job to just teach him how to lead and what it means to be a leader, both on and off the court.
But it's the fun part of what we do here. It's not, 'Okay, the lesson plans from last year, what were they?' I may look at practice plans, but most of it's how I organize them, not what were we doing.
On the biggest change in Tai Wynyard:
"Again, knowing what's expected. I still think he's a little behind physically. Conditioning. Until you break that, it's really hard to break through. You're behind the action, which means you're late to balls, which means shots get blocked. Being in great condition, that's what Isaac has done. That's what Tai has to do. But he's a big body. He gives us more size. Him and Sacha give us two more guys. I'd say Sacha, the same thing. Conditioning, training. Some of it he can be that guy. It's hard when you're not up to speed with that." 
On what he saw in Sacha as a recruit:
"He came at us. That's always a good thing. He wanted to visit and he decommitted from Virginia. He and his mother and father came in with his brother. 'Tell me why you have an interest in us?' I want to be in a program that have had guys like me that have grown and have been taught and coached and challenged and then made it. The way you guys play is the way you want to play.
Then watching him, I'm like the kid is good enough. He's skilled, but he has a long way to go. They're all on different paths. When you look at Bam physically, athletically, he's just – that separates him. He may be on a different path than Sacha and even a different path than Isaac. But he's big, he's long. His knee has been bothering him some. I'm hoping that's from the growth plate still opening. It'd be nice if he gets to seven foot tall. But he has tendonitis and it's slowing him down. I've had to tell him, you understand if you don't practice, you're not going to play here right? Like, someone has told you that right? If your knee really hurts and you can't practice, it's OK. But you won't get in a game. Like, you know that right? 75 percent of the NBA has tendonitis in their knees and ankles. You have tendonitis. They play and practice. You have to figure out how to play and practice.
If it hurts and you can't do it, I'm good. You're not playing, but I'm OK. He's got to get through that stuff. DeMarcus Cousins would say 'my feet are on fire, I can't go.' OK, you know you're not ever starting here, right? You can't do conditioning. What? Oh no. I'll play you some, but you're not starting. If you play good I'll play you more. If you play bad I'll play you less. But you'll never start here unless you get through conditioning. He made every conditioning after that.
So you have guys go through that. Malik will go through it. De'Aaron, I don't feel like it today. No, that's not how it works. Our goal is to teach them habits that they then own. The guys, we're over top of them. They develop a habit only because I'm making them. When they're out of line you push them back. They leave here, they don't own that habit. They don't want that habit. That's not them. Those are usually the guys that are on the edge. The guys that develop those habits, own those habits, that becomes who they are. How they play, how they train, how they think. Usually those guys, that's what carries them. In that league, it's professional. They're not going to tell you, 'are you up? Did you go to your workout? He didn't go? He didn't want to be there. Get me somebody else. Get this son of a bitch out of here.'
To put it bluntly, that's how it is. And then in the end, they've gotta own them. They have to be theirs."
On his stance on athletes to use their platform politically and for social issues:
"I had a meeting with the team. I think I did this a year ago. And then I had it again with this group. If there's something happening in the world or around you that you want to make a statement about and you want to be a part of, first of all, educate yourself. Thoroughly know what they stand for. Do you stand for everything they stand for? If you don't, don't get involved. If you do, that's the first step. Do you agree with what they're asking? Because most cases they want (athletes) in the front of the line. Why do they want you in the front of the line? Because you bring attention to their cause. If their cause is your cause and you've been thorough about it, that's the first step.
The second step would be, if I get involved will it make a difference? And tell me the downside. So the downside might be you lose your job, you lose your family – is it worth that? If it is then go for it. But you better know the downside of it. But you thoroughly have to educate yourself on what the cause is. This cause may be overarching. And I told them, there are times when you have to make a stand. We talked to them about the police and how to handle yourself if you get pulled over, you know, this that and the other. 
I've been in the company of Bruiser Flint when I was at UMass, where we'd be in a store and I'd go one way and he'd go the other way and there'd be two people following him, watching him. No one would watch me. I've been in a car where I'm on the passenger side sitting back and we're driving. It's two in the morning and we get pulled over. Where are you going, what are you doing, which way did you take, which road did you take, why were you there, what were you doing? Did you take this road or did you take the other road. They do this until I sit up and say, 'sir did we do something? Is there something here?' 
I've been in an airplane where we're in first class. They come over to me, 'hey sir would you like something to drink?' And they go to Bruiser, and what do they say to him? 'Can I see your ticket?' Can you see his ticket? You know me. Why didn't you ask me for my ticket? Why are you asking him for his ticket? So I tell these guys, just because you have a Kentucky uniform on, you don't feel all this stuff. It's there. The cause becomes, if you thoroughly research it and you feel the same, if you think you can make a difference, if you don't, getting involved for what reason? If you know you can make a decision, what's the downside of this? What could happen to this? So I'm not telling them not to, I'm just telling them the approach if they were to get involved."
On if it's difficult for him to not get involved:
"If I think there's something I need to jump in with I would. I would have no problem. What I just did, I spoke my mind and told you how I felt. This is what I see. But again, I'm an adult who would look at what I just said. Is it worth it? Would I make a difference or am I just doing it to do it? Am I going to make a difference, and if I do what's the downside? Tell me where this goes. But, you know, for them they're 18-19. If they don't think it through and they do something, it could wreck them the rest of their life. You don't want that. If they feel so strongly, they know they can make a difference and they're not worried, they know what the downside is, then they have to do what they think they socially – their social conscience, I wouldn't go crazy on them. I'd ask them to talk to me. Tell me why.
On how much he helps educate them in that process:
"I would tell you that it's hard to try to do the education myself because there might be a bias there. I want them to educate themselves. There's all kinds of way now. This isn't 30 years ago. You can press a button and get information. You can go (pretends to press a button on a phone) 'Could you give me information on..' (laughs). So they can get it. But I've told them if they're going to do something, come to me first. We'll talk it through and then you can go do your thing.
It's kinda like if a kid wants to go here or stay. Tell me why you're leaving. Really? Did you think this thing through? Who's talking to you. Or you're staying. Well, wait a minute, tell me why you're staying? Then you sit there and go, well you have good reasons. Let's go for this. Look, in one year many of these kids, if not two years, they're leaving me and going to a man's world. I can't have them do stuff because it makes me look good or bad. 'You can't do it, I'll look like..' What? It's nothing to do with me. This is about a young 17-19 year old making decisions, which in a year and a half, two years he's going to have to make. And now, how do you help them make decisions?
The stuff we talk about with girls. I'm pretty blunt. I mean, if you hit a girl you should get punched in the face. You don't hit – what? If you have an issue with a girl and it's front of a judge.. men, a 6-7 black man and a 5-2 white girl, you're to jail. You are going to jail. You're not winning. I don't care – unless something is on camera, you're going to jail. There are neighborhoods where – I was in Memphis. There's some tough neighborhoods where men and women blend. They're the same. She smacks you, you smack her. But my job is to help them develop habits. One of those habits may be, when I'm approached with something, how do I logically go through this and think about it.
Money, I talk to them about money before they leave. If it's too good to be true then it is. If it's too good to be true, it is. If someone is going to make you 80 percent on your money, just give them the money. Just take it (laughs). I mean, there's stuff – 80 percent you're either selling drugs, you're stealing or you're an actor. I don't know what to tell you. Short of that you're a grinder like the rest of us. Hit a bunch of bunts and singles. Hit a bunch of those. It's all what we try to do here. And then basketball on top of it, we better win games."
"I haven't figured out if he's going to have the ball as much as Tyler. I haven't figured it out yet. Now let me say this, as I watch him he's going to have the ball. But Tyler had it, would you say 97 percent of the time? And he probably needed it 98 percent, 100 percent, yeah. But this is totally different. Last year it was a little bit of Jamal, who we end up finding out, the way we wanted him to play, which is both with and without the ball, ended up benefiting him. So now what're we doing? De'Aaron with the ball now, he can get to the rim, he's getting more physical, he can create contact. He hits and then shoots. He's not flailing. You just watch him in there, his pace of game is too casual at times.
On De'Aaron Fox stepping into the point guard role:
"I haven't figured out if he's going to have the ball as much as Tyler. I haven't figured it out yet. Now let me say this, as I watch him he's going to have the ball. But Tyler had it, would you say 97 percent of the time? And he probably needed it 98 percent, 100 percent, yeah. But this is totally different. Last year it was a little bit of Jamal, who we end up finding out, the way we wanted him to play, which is both with and without the ball, ended up benefiting him. So now what're we doing? De'Aaron with the ball now, he can get to the rim, he's getting more physical, he can create contact. He hits and then shoots. He's not flailing. You just watch him in there, his pace of game is too casual at times.
My thing is there are times where he can look as fast as John Wall. John Wall knew that was his number one weapon and he used it all the time. Probably too much. De'Aaron hasn't figured out that that should be his number one weapon. It's a weapon he'll use every once in awhile. But it's really hard to run that fast all the time. The rest of the time 'I'm so good with the ball I don't want to run the fast. I'm going to slow down so he catches me so I can – ' So there's stuff. But he's going to have the ball. He's going to be in pick and rolls. He's going to be in playmaking decisions. He can score the ball too. Malik maybe played like Michael (Kidd-Gilchrist) which is if he's ahead give it to him. If you don't give it to him you're coming out. Because he can just, you know, his explosion to go by you, his ability to make runners, he's getting better at taking hits. 
Again I'm telling you this with a summer and a couple of hours a week. The real stuff of playing and then the schedule, which is top heavy for this group being this young."
Moderator: "All right guys.."
Calipari: "No, I'm going to stay a couple of more minutes. The other thing I have to do I don't want to do. I really don't want to be here but just think of what I have to do next. Like, what could be worse than meeting with you? I just want you to think about this, there's something he's doing that he hates worse than being around you. Think about it. Plus Jerry (Tipton) isn't here (laughs).
On if coaching Brad has been what he expected:
"He's been pretty good. Physically he's in the gym at night. He's shooting the ball well. He's a walk-on that if he doesn't try to go and play like the rest of these guys, if he doesn't turn it over and he can make shots, he can play a little bit. Like you can be up 20 and put him in.
But it was funny, this summer he had a friend and we were down on the shore and he was just, you know, being a typical 18-19 year old jerk. So I finally said, 'Son, come over here. Do you understand that you have to make me like you? You know that? This stuff has just changed. You do understand that if I don't like you, like I don't want you in practice, I don't want you around me. You have to think how I make this man like me?' 
If I don't want you around, you're not around. I'm just like get out of here. Beat it. 
On Brad possibly being a coach one day and if he's talked about that:
"He told me that for the first time, he's not the most talkative kid. He's more like his mother that way. He's a little bit more quiet. But he said 'I think I want to get into coaching.' I said well then you're doing the right thing. I'll get you around Joel and I'll get you around some of the video stuff. Kenny will be working you out and the other coaches. You'll see that side of it. You have four years to really study what we do here. I've helped a lot of guys into coaching if that's what they want to do. Players who have played for me, assistant coaches that have worked for me. I mean, it's what I do here. So good for him. My thing to him, if you really want to play you probably want to go to Division II or a lower Division I. 
But he had a reason why he wanted to be here. I said it's a hard job and his mother thinks he's playing. She's out of her mind (laughs). She's like 'You're playing him, I'm telling you you're gonna play him.' I just said 'OK, what're we having for dinner?'"
On if this team reminds him of previous teams:
"No. I'm excited about coaching them. It's funny. My wife had them and said every year the kids have gotten better. They're great kids. She said this group – and Isaac said to me – last year coach, the team we had, the way we got along was unbelievable. I've never played on a team like that. Now this year's team is the same, maybe even closer. What our guys don't understand until they leave us is it's not usually like that. It's usually a couple of guys or this and that and you just don't, we've been fortunate. Being at Kentucky is a different deal. We don't get everybody we recruit. There are kids who act like Kentucky was one of the schools when I decided.. well I haven't talked to that kid in two months. Us? No.
I've had kids call me and ask why I haven't talked to them. Why haven't I talked to you? You know where you're going to school. You just want us involved. Just go where you're going. I leave this week and it's going to be a grueling six or seven days. But after those seven days we'll have a good idea of where we are. And we're not recruiting that many guys. Seven, eight, nine guys maybe. One kid texted me and asked if it was OK if he put (UK) in his final five. Because he knows that I haven't talked to him in two months and he knows that he didn't want to put it out there and then us come out – he didn't want to be embarrassed. I said you're fine. I'm not going to come out there and hurt these kids.
But the reality of it is we're not recruiting every kid out there. But the ones that need to come here come here. Some other kids look at this and don't want all of this or it's too much. Or they're convinced, do you really want to be a part of all that? Do you really want to score? Why would you want to score 11 points there when you could score 20 here. You're 18. Or you're there family and you think 20 points is what's going to get you a better draft pick than 11. You should probably talk to Karl or Anthony or one of those guys. But you can believe that. But it's going to be a grueling – I'm going to be from one coast to the other. When we get home we're going to have some kids on campus."
On how tough it is to manage a class like this with the possibility of losing 6-8 guys:
"Well some kids are going to wait, and that's okay. It's okay in that we'll be able to lose enough that it's not going to affect them. But you'll have people telling them to wait, thinking 'Let's hope all his team stays.' So three of them will be all, 'You want to wait, you want to wait!' And your like, why would someone tell them to wait because they don't think they are getting him if he goes early but if they wait they got a chance.
And some of the kids go for it, 'Yeah, you know what, I do want to wait. I want to see.' And that's okay. And other kids are going to make decisions early, 'I want to get this done.' And this kind of class, we have to sign five or six guys.
I just told one guy, the great thing in the old way of recruiting when I was at UMass, every third year, you had to have a big year. The other two, you were just kind of plugging holes and if you got somebody, fine. And if you didn't, fine. But the third year you had to three or four guys.
Think about that, we are trying to sign five a year. Not every high school class is really good. You just try to get the best of what it is. But when you have 28 that got drafted, it kind of helps you when you go out.
So what do they say then, 'Ah, they were good before. There's no such thing as preparing kids.' What about Eric Bledsoe? 'Ah, I'm just telling you, they were there before. He was a lottery pick before he got there.' Really I never heard of him, didn't play. 'That just doesn't matter.'
On if it's harder to get over a tournament that ends in an early exit or a Final Four loss:
"Let me say this, in 2010, I knew that our Achilles' heel was that we were very streaky shooting the ball. When Eric Bledsoe came out of the game early against West Virginia and we were 0-for-20 in the three-point line, we knew that could happen. Believe me, we had discussed it, 'What do we do if this happens? Is there some way we try to stay in the game?
Well we did stay in the game, and we ended up losing by whatever it was. It wasn't like we got buried, but you're 0-for-20, you're going to lose.
Last year's team, we knew if we faced a physical team around that basket or they had a guy that could score and our guys didn't do it, we were in trouble. We knew it. We knew it before. 
So when it happened it was kind of like, we knew it could happen. We didn't want it to happen. The first game we looked like we'd be okay. Well yeah, and that 2010 team against, I think it was Wake Forest and somebody else, shot the lights out. Against Cornell in the first half, shot the ball well. And then the second half against Cornell we missed ten straight. And you're think, 'All geez, please don't have that mindset.' And they did.
On it being harder having a team with all the pieces there:
"That on is when you knew, when we knew the year when we started and we weren't real good and we got better because we had no one here in the summer. With the twins and Julius and those guys. But we knew we had enough. We had enough guys. That was hard. 
Obviously the 38-0 team was really difficult because we thought we could have beat the field at that point. There's some years you're like, 'This team maxed out, I'm good, let's go. Do we have the guys signed? Let's go.' How do we help the guys that are there? I don't spend a lot of time on it, we move on.
Last year's team, I was happy for the guys. I wish Alex would have been drafted in the second round somewhere, but he worked out with enough teams. And that's the other thing that's great about being here. Every one of the kids that here in this program and that wants chance at being in the NBA, you're either getting drafted or we'll get you on a summer league team. But people are going to know who you are and see you. 'Well if I had more shots…' No, you're in there now. You're there now, so it's your time to prove what you're saying is true. And you gotta go do it.
And whether you're a first rounder and you say I could have been the third pick if I shot more, okay. Then go shoot more now that you're in the league, you're a first round pick, you're on your team. Go do it.
And that's the greatest thing about being here. You know you're going to get your opportunity. And I really think both Dom and Derek will get an opportunity. I think they are going to get an opportunity. Now, okay go do it.
And I think the experience here, the habits developed, you think about the guys those guys played against. Come on, you just spent four years against those kind of players. You're going to go work out for an NBA team and say, 'Shit, I played against all these guys. I'm in practice everyday, not 12 times a year, in practice everyday. 
So like I said, the stuff that we're doing, 28 in seven years. How stupid is that? Literally, that's the stupidest shit I've ever heard in my life. I mean, are you kidding me? And now going forward, what if it's ten years and it's 40? Then all of a sudden you look and you're saying you're here 10 years, that's 40 guys and 10 of them are all-stars. What? Then they say, 'Well he should have won national titles every year." Yeah John Wooden and I, yeah you're right. And our guys stay for one year and leave. Yeah, you're right, it should've happened. That's a good point. 
But you're still doing your stuff and I feel satisfied. I feel good about what we've accomplished. We could have won three more national title, I know. But does that have any effect on the kids? Who are they gearing that to? Me. I'm good throw it. You're right, I should've won four, we've won one. You're right we went to six final fours, we should have gone to 12.