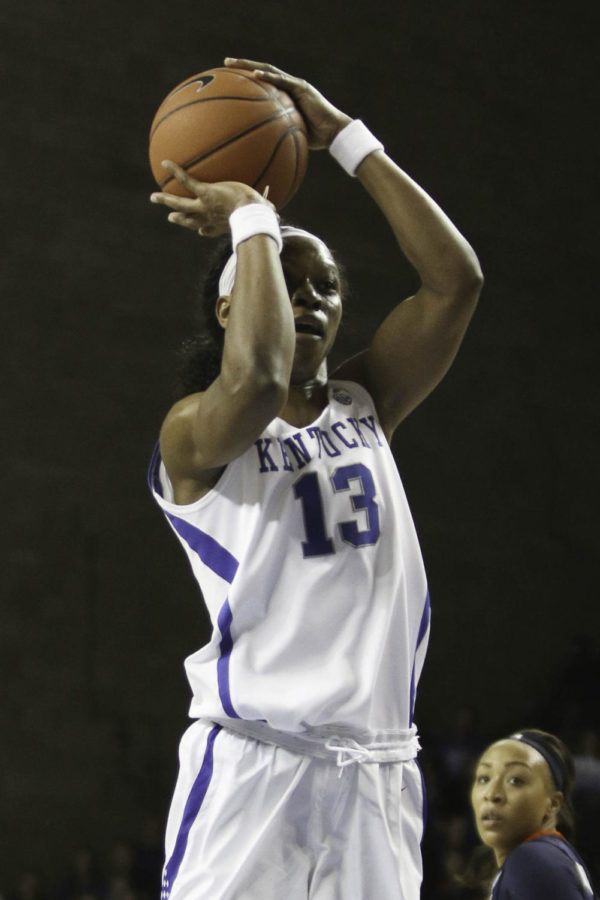 Following a loss to Texas A&M, the UK women's basketball team seemed to hit a low point in its season after losing three of the last four games, and dropping out of the AP's top 25 poll for the first time in 132 weeks. However just one week later, things have turned around for the Cats.
The Cats have won their last two SEC games by double digits, including Sunday afternoon's 82-61 victory over Georgia. After the loss to Texas A&M, the Cats' confidence was down but now things are looking up for the Cats who stand at 3-2 in the SEC.
Evelyn Akhator has been a big reason why the Cats have won their last two games. After scoring a career high 29 points at Alabama, Akhator had another big day against Georgia, scoring 24 points and grabbing a season-high 16 rebounds. Akhator also added two blocks and two steals to her final stats.
This was Akhator's third straight game scoring over 20 points, and her second double-double in a row. During the tough stretch, Akhator had a hard time in the post, but an increase in energy has herself finding open shots almost every time she touches the ball.
"I had a meeting with coach [Matthew Mitchell], and he told me I need to step up my energy," Akhator said. "I promised him that I will always bring the energy, no matter what happened in the game."
However it was not just Akhator who had a good game, as the entire Cats' offense played well in what was one of the best games of the year for UK.
Makayla Epps would contribute 13 points and six assists, the second most assists she has had in a game all season. The Cats also got some strong minutes off the bench with Jaida Roper tying her career high with seven points, and Makenzie Cann scoring 11 points including 3 triples.
The hot offense got started early, building a 19-point lead at the end of the first quarter, and expanding that lead to 30 at halftime.
The defense also played well, holding Georgia to just 14 points in the first half. Mitchell thinks the increase in energy is a big reason why the Cats have improved so much the past week.
"We're committed to getting better defensively, and we really took a step forward there I believe," Mitchell said. "The players practiced really hard, we got better."
The Bulldogs would end up outscoring UK 47-38 in the second half, but the 30 point lead that UK built in the first half would stand strong as the Cats led for all but 23 seconds of the game.
The Cats will hope the recent great play continues, as they will hit the road to take on LSU on Jan. 19. LSU has the same conference record as UK after a 23 point loss to No. 5 South Carolina.