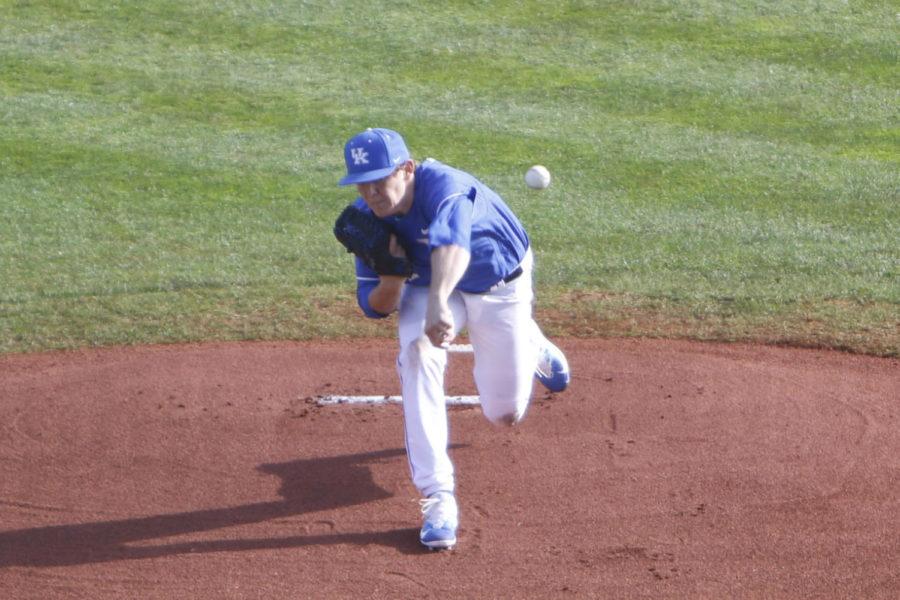 No. 16 UK baseball (19-7, 5-1 SEC) avenged one of its two mid-week losses from earlier in the year on Tuesday night with a 13-7 victory over the Cincinnati Bearcats. Up until the game Tuesday night, the Bearcats were 2-0 against ranked teams from Kentucky – the win over UK and handing Louisville its first loss of the year.
After starter Zack Thompson struggled in the first allowing the Bearcats to grab a 4-0 lead, the Cats fought back just as they have done all season.
A pair of second-inning doubles by Tristan Pompey and Connor Heady brought the Cats to within a run, but Cincinnati tacked on two runs after Ryan Noda hit his second home run of the game in the third. UK would inch closer after Luke Becker homered, but at the time could not get over the hump.
Brad Schaenzer, who replaced Thompson in the third, continued to thrive on the mound and played a big role in keeping the Bearcats at bay as UK attempted to get past its 6-4 deficit. But the breakthrough for the Cats came in fifth as they capitalized on a struggling Cincinnati bullpen to get even, and eventually get by the Bearcats.
A walk, a hit by pitch, and a single had the bases loaded for UK with just one out in the inning. With the bases loaded, two straight walks followed by a hit-by-pitch and a fielder's choice gave the Cats an 8-6 lead. Evan White singled in two more in the inning, and then later scored on a well-executed rundown play that allowed him to score from third to cap off the seven run-inning.
From the sixth inning on, it was smooth sailing for the UK bullpen thanks largely in part due to the performance of Schaenzer who went 4.1 innings in relief allowing just one run, two hits and one walk while striking out three. Schaenzer's ERA is now down to 2.42 on the year, and he has been one of the best arms out of a very productive UK bullpen.
The victory over the Bearcats is the team's third in a row and 19th in its last 22 games and UK will look to stay atop the SEC standings when it hosts Vanderbilt this weekend.
The Commodores, a preseason top-25 team, have struggled a little out of the gate but just recently picked up a series victory over a ranked Texas A&M team. But as always, The Commodores are a difficult matchup for anyone simply based on their talent which includes a top pitching prospect Kyle Wright and top outfielder Jeren Kendall.
The first and perhaps most intriguing game of the three-game series will be on Friday at 6:30 p.m. with Wright most likely to face off against UK's Sean Hjelle at Cliff Hagan Stadium.