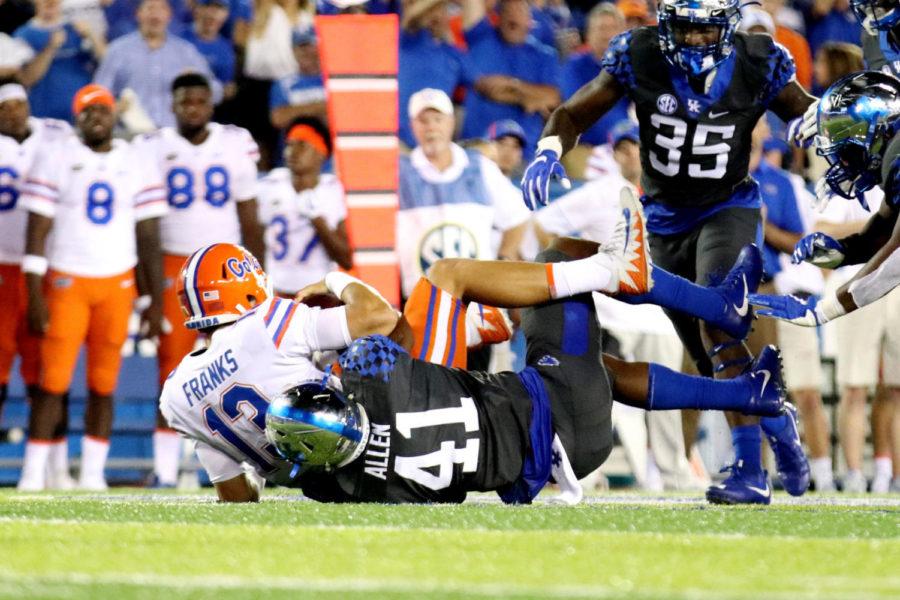 The Kentucky Wildcats (3-1, 1-1) will face off against the Eastern Michigan Eagles (2-1, 0-1) this Saturday, Sept. 30 at Kroger Field.
This will be the first ever meeting between the two teams and UK's first MAC opponent that the Cats have faced since Ohio in 2014.
Both the Wildcats and the Eagles are looking to get back on track after taking heartbreaking losses last week. The Wildcats lost to Florida after relinquishing a 13-point fourth quarter lead, while the Eagles lost their MAC opener in double-overtime to Ohio.
Kentucky's defense has been exceptional so far this season. They're currently 15th in the nation in turnover margin at +5, and 15th in fumble recoveries with four.
The run defense, headlined by the "Blitz Bros," Josh Allen and Denzil Ware, has led the way for the Cats. They are currently ninth nationally in rushing yards allowed per game, giving up only 89.2 yards per game. Allen and Ware have already accounted for 7.5 tackles for loss, 5.5 sacks, two forced fumbles, a fumble recovery and a touchdown on the season.
Another key to Kentucky's success this season has been the breakout of tight end C.J. Conrad. Conrad has been gaining national attention this season as he has racked up 195 yards and three touchdowns on the season, with two more catches that resulted in tackles just short of the end zone.
He's averaging 21.7 yards per catch, up from the 12.1 he has averaged for his career. Conrad's totals this season have almost already matched his output from last season; he's one touchdown and 67 yards away from his 2017 totals.
While Eastern Michigan's quarterback Brogan Roback has started to establish himself as one of the MAC's top quarterbacks this season, it has been their defense too that has carried the Eagles to their 2-1 start.
The Eagles returned eight starters on defense from last season, including defensive backs Brody Hoying and Jason Beck. They are the two leading tacklers on the team this season with 21 and 15, respectively.
The defense has only allowed 15.7 points per game on the year and held Rutgers to only 13 points in the Eagles' second game this season. With their defense leading the way against Rutgers on the road, the Eagles were able to pull out a 16-13 victory, giving them their first win against a Power Five school in program history.
The Cats hope to get back on track and earn a win against their last non-conference opponent until Louisville in the last week of the season. Kickoff is set for 4 p.m. and will be on the SEC Network.