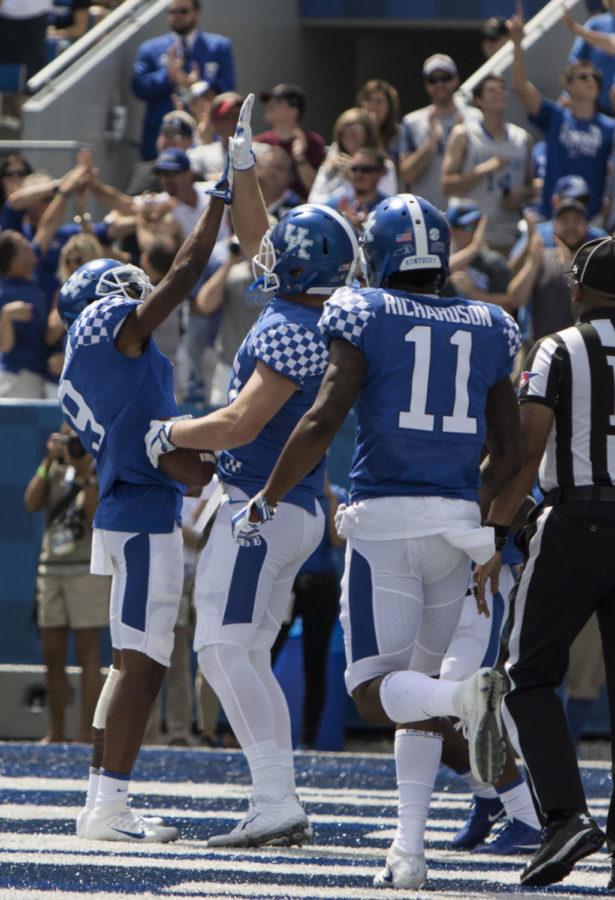 After UK Football's season opening win against Southern Miss, many questions surrounded the offense after an underwhelming performance.
However, after Saturday's 27-16 win over Eastern Kentucky, the Cats answered many of those questions in a rebound performance, especially comparing the first and second halves. 
Story: Cats come back to win home opener at Kroger Field
In Saturday's game against the Colonels, the Cats didn't lead until late in the third quarter after EKU got off to a hot start. At the same time, the Cats were struggling to generate any offense, allowing the Colonels to lead by as much as 10 in the middle of the second quarter.
The performance in the first half looked very similar to the game at Southern Miss, with the offensive line struggling to open up a running game and receivers not being in-tune with the quarterback.
"On offense you got to have 11 guys doing the same thing, doing it right," offensive coordinator Eddie Gran said. "That's where our discipline has got to be better."
However, in the second half it was a completely different story, as the offense performed like many expected it to all season. The Cats scored 17 of their 27 points in the second half and scored on three of five drives.
"Offensively it was frustrating at times, but you look down and you rush for 200 yards, you throw it for 200 yards and there's just some silly mistakes, there's still some discipline things that again nobody needs to hit the panic button on," head coach Mark Stoops said. "We just got to get back to work and iron some things out."
Stephen Johnson, who likely claimed the starting job for good with his second half performance, led the resurgence in the offense. Johnson finished with 224 yards and a touchdown. Johnson rushed 48 yards and a touchdown.
Story: Saturday's game showed who the starting quarterback is for UK
Benny Snell Jr. also contributed in a major way, gaining 100 yards on 16 carries in the second half alone. Snell had been held back in the first half with a rib injury, but showed no signs of the injury in the second half, breaking tackles like many had seen from him in the past.
"I've never felt a pain like that before, it felt bruised," Snell said. "I needed the first half to get lose and get used to the feeling."
The second half performance by the offense arguably led to the Cats' second win of the season, as beforehand EKU had all the momentum, and showed no signs of slowing down.
The offense wasn't perfect, but it showed signs that it could be returning to its efficient form fans saw last season. There are still things to work on, but coaches are pleased that they've been able to win both of their games despite the offense's inconsistency.
"There's some good things there, good things to build off of," Gran said. "We knew it was going to be a grind, they did a good job and we're 2-0."