Midnight mayhem returns to Lexington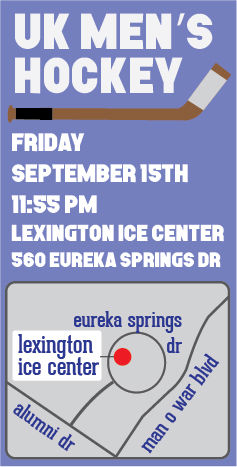 The UK club hockey team plans to skate, shoot and score well past everyone's bedtime, returning this weekend with its midnight hockey games.
"It's crazy to think that so many people come to these games because you got to understand—they don't end until 3:30 in the morning," landscape architecture senior Beck Schultz said.
Friday night, UK hockey opens their season on home ice against Middle Tennessee State University. Schultz, a captain for UK hockey, can't wait to hear the crowd.
"I think one of the best feelings in the world is when you score on the ice in front of a huge crowd and you can get hype to it," Schultz said.
UK plays in the American Collegiate Hockey Association, a three-tiered national club hockey league. The top tier, or first division, is home to larger more talented teams. UK plays just a step below in the second division. Each division has a large national tournament at the end of each season to determine a national champion. UK has never won that championship.
This year, UK hockey starts its first year in the SEC, so UK will take on familiar schools like Tennessee and Georgia, and could win the yearend SEC tournament.
"We have high hopes," Schultz said. "We are looking like a pretty good team that actually can compete and that's why we joined the SEC."
As a club sport, UK hockey does not receive funding from the university, so players sacrifice their study and free time without the benefit of scholarships.
Schultz grew up and played hockey in Cleveland, but said he came to UK specifically for his major—not to play hockey.
"[Hockey] wasn't my main focus. My main focus was school," Schultz said. "But I'm happy it's here."
Despite the general lack of hockey interest in Kentucky, the hockey team has consistently been one of the most well-attended sports among UK students.
"Game night—it's pretty crazy," said Nick Quammen, another UK hockey captain. "We average about 200 fans at least. For the Louisville games and some of the other big games we'll get about 500 plus in here. Really rowdy, really loud, but we love it as the players."
Last year during rivalry games, late-arriving fans were turned away because the ice center reached full capacity before puck drop.
"When it's midnight on a Friday or Saturday night, college students don't have a ton else to do," said Quammen, a materials engineering junior. "If we had them at seven or eight, I don't know how many people would come out."
Quammen said the attendance at their away games—including their annual game at Louisville—does not come close to the large, boisterous crowds they attract at home.
Schultz said the unique physicality and speed of the sport drives many UK students to the midnight games.
"It's so different from sports in Kentucky and not many people know the rules of hockey," Schultz said. "But they still come just because of the atmosphere—just because it's a physical game."
Clint Ison was UK hockey's general manager for six years and this year begins his tenure as the new head coach.
Ison was around when, in 1986, the Lexington Ice Center got new ownership.
"But they weren't too big on hockey—thought it was too violent," Ison said. "So, they pushed it to midnight and thought it would kind of fade away."
The switch to midnight had the opposite effect, and the club hockey team became a student favorite.
"I know for a long time they called it the 'Trifecta,'" Ison said. "You'd go to Keeneland during the day, a football game in the evening and then come to a hockey game that night."
The puck drops on Friday, Sept. 15, at 11:55 at the Lexington Ice Center. Tickets are $7.