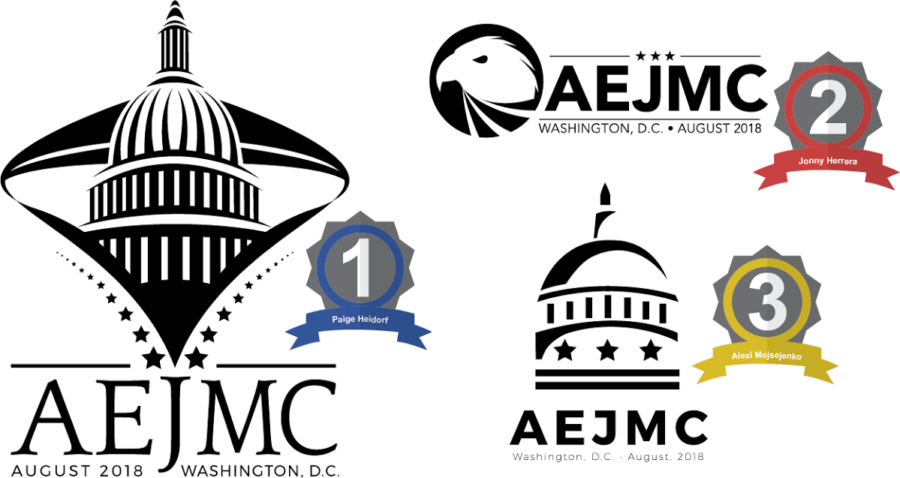 UK students swept the logo competition at the 2017 Association for Education in Journalism and Mass Communication international conference.
Three UK students in the Department of Integrated Strategic Communication won first, second and third place.
Paige Heidorf came in first place; Jonathan Herrera in second; and Alexi Mojsejenko in third.
Heidorf's design will be the official logo for the 2018 conference, which will be held Aug. 6-9, 2018, in Washington, D.C. Her logo will also appear on all promotional materials for the conference, including web, print and award plaques.
The annual logo contest is an international competition in which students submit original designs for a prize and recognition by the organization. A faculty member, who is a member of AEJMC, must submit students' work to the conference.
The teacher and AEJMC member behind the winners, Adriane Grumbein, is in her fourth year at UK. She began teaching the elective class ISC 497 three years ago, and submitted her students' designs into the competition every year.
She has had students win every single year, she said.
She said the class encompasses graphic design theory, principles and practices and is like an entire major presented in one semester. Students' competition piece is only one of five they must complete in the class.
"It shows them what they're capable of and the depth and quality of the ISC program at UK," Grumbein said of her students' winning streak.
Grumbein said her hope is that by bringing the competition to her students, she is bringing real life experience into the classroom in a tangible way. The rules and stipulations of the competition will let them get a feel for their future career, and abiding by other people's rules, she said.
Grumbein said the win will benefit students in their job searches down the road. To put a placement from an AEJMC competition on a resume is something that will impress employers, she said.
She said she finds it impressive that the winners are not students who have studied graphic design for four years. For many of them, their winning piece was among their first created.
"I think it's a great reflection of the quality of students that we have in our ISC program," Grumbein said.
Herrera chose to feature an eagle in his logo, instead of monuments like his classmates.
"I wanted to do something that separated me from the pack," he said. "I wanted to capture patriotism."
Herrera graduated in December of 2016, and he has now achieved his goal of working for UK as a graphic designer in the Office of Strategic Communication. He interned for two years, and his boss hired him after he graduated.
"If you put in hard work and network, you'll accomplish where you want to be in life," Herrera said. "That's exactly just where I am."