UK historian gives 'Bird's Eye View' of campus through blog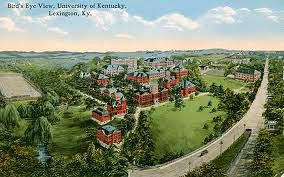 A climb to the top of Patterson Office Tower or even William T. Young Library is not necessary to see a bird's eye view of UK's campus.
Instead, simply visit the Bird's Eye View blog, which is the UK history blog of Terry Birdwhistell, UK Senior Oral Historian.
"I find the history and development of UK fascinating," Birdwhistell said. "I enjoy having an outlet to share that history."
Birdwhistell said that with a last name like his, "Bird's Eye View" could "naturally" be the name of his blog.
Birdwhistell's blog began in 2010 when he became Dean of Libraries. During his seven-year period in that position, he said he used it as a way to communicate about UK Libraries to faculty and staff, as well as to those who donate to UK Libraries.
In May of this year, he stepped down as Dean of Libraries to return to the faculty in the Louie B. Nunn Center for Oral History.
"My focus returned to conducting oral history interviews," Birdwhistell said.
However, he decided not to let the blog go.
"After serving 16 years as University Archivist and doing considerable research and writing on UK history, I thought the Bird's Eye View could become a good way to share university history with the UK community and beyond," Birdwhistell said.
Topics that are featured on his blog focus on UK history, he said. For now, he has no regular posting schedule; he said he posts when something interests him.
"I sometimes tie entries with occurrences or events on campus to help give them a historical context," he said. "Other times, I just want to share what I think is an interesting aspect of UK history and its campus."
When Playboy founder Hugh Hefner died, for example, Birdwhistell related it to campus by writing about how UK women have been depicted throughout history, particularly by different news organizations.
Water Week, which was October 7-13, prompted Birdwhistell to write about a drought in the region in 1930.
In August, he featured a personal experience: He attended a 1966 basketball game in which "Rupp's Runts" beat Florida in Memorial Coliseum.
"Beginning my 45th fall on the University of Kentucky campus gives me some perspective on its history," he wrote in the blog post.
Birdwhistell came to UK in 1972 as a graduate student and obtained degrees in history and library and information science, as well as a doctoral degree in education.
"I've been here ever since," he said.
He said he hopes the number of people who reads his blog, which is relatively new in its new branding, will increase. He shares his posts on Facebook and Twitter so more people will see them.
Birdwhistell's blog is found at http://uklibrariesbirdseye.blogspot.com.