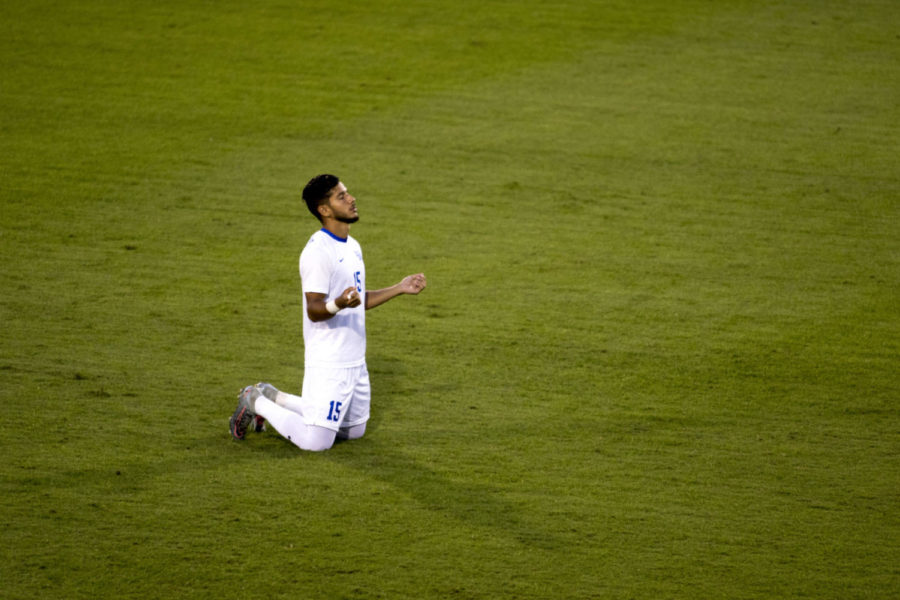 With the UK men's soccer team's Sunday game against the Florida International University Panthers being the final game at The Bell this year, the match is a must-watch game for UK soccer fans.
FIU comes into the game with the best record in Conference-USA, sitting at 11-0-3. They boast the best offense in the nation, scoring 3.14 goals per game. This is due in part to their scoring ace, forward Santiago Patino.
Patino leads the C-USA in total goals and is third in the NCAA in the same category. Furthermore, he also has the most game-winning goals in the conference with three. Stopping this troublemaker from wreaking havoc will be a major priority for head coach Johan Cedergren.
As the sun is slowly setting down on the team's season, many Wildcats fans will feel bittersweet and sentimental. This is because Sunday is senior day, the last chance for them to watch their seniors at The Bell.
Coming into this season, observers of the team were uncertain as to whether the Wildcats would play up to last year's standards. The team lost six seniors, such as Napo Matsoso, Charlie Reymann and Jordan Wilson. Matsoso scored eight goals last year, and Wilson was an all-conference selection who was undoubtedly the leader of a Top 20 defense.
This year's senior lineup alleviated some concerns of those observers. On defense, senior captain Landon Souder has stepped in and filled Wilson's shoes. Souder scored a goal in the win over Florida Atlantic.
Senior Alex Bumpus has also contributed heavily, assisting the game-winning shot in the season opener against Marquette. Aside from being another valuable vocal presence on defense, he and Souder have helped lead a defense that has the top goals-against average in the conference at 0.87.
Offensively, forwards Stefan Stojokvic and Andrew McKelvey are helping make up for Matsoso. Stojkovic, tied with fellow senior Noah Hutchins for the team lead in goals with three, has proven himself as a confident playmaker who has intelligently moved the ball around in opposing territory.
McKelvey, on the other hand, has played the role of savior with late game-winning goals against Marquette and Memphis. He is tied for the team lead in game-winners. The chemistry between McKelvey and Stojkovic is something Cats fans should not take for granted.
In the middle, Noah Hutchins and Kevin Barajas have played the midfield position with excellence. Hutchins has shown he is the most versatile of the two. He's not only had long passes that get to the box for the offense to finish, but he makes those finishes as well.
Wilson and Matsoso might have been some of the best players to ever play for UK men's soccer. However, this year's seniors have been extremely vital to the team. Fans can come catch the seniors one last time Sunday at the The Bell at 7 p.m.