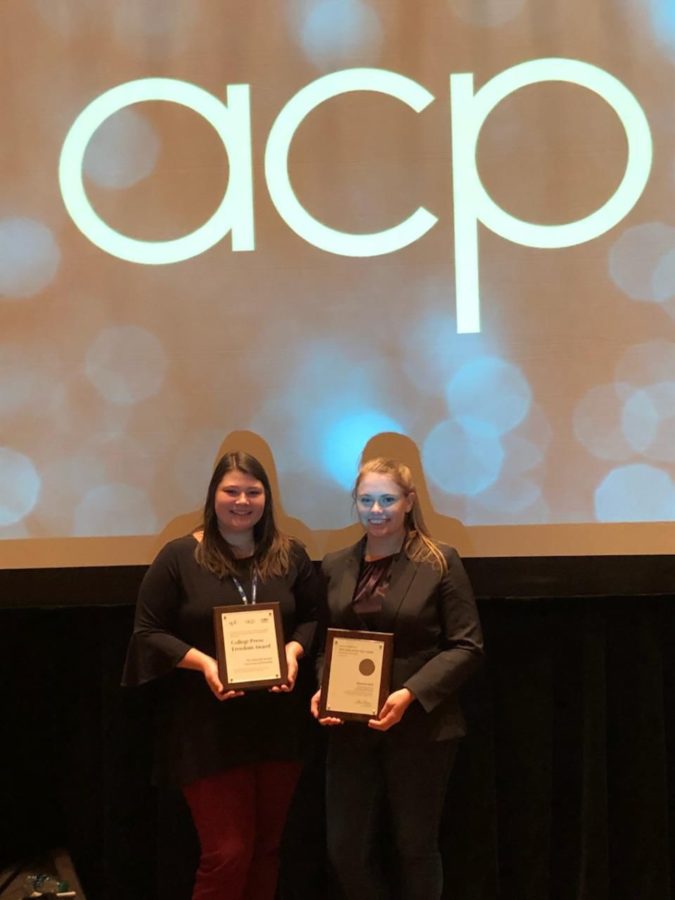 The Kentucky Kernel editor-in-chief was trying to move into her new apartment when she found out that her newspaper was being sued.
Marjorie Kirk, 2016-2017 editor-in-chief, was part of a reporting team that requested open records concerning a sexual harassment investigation at UK.
UK had refused to give the Kernel the documents, but on her moving day, Kirk received a message with good news: Kentucky Attorney General Andy Beshear had sided with the Kernel.
Later that day, however, she received an email notifying campus that the university would be suing its own student newspaper.
Kirk said she was surprised that the university had not been bluffing about suing the Kernel. With her hands full, she said she asked former editor-in-chief Will Wright to write a story about the lawsuit, and she continued moving.
More than a year later, after graduating from UK, Kirk and 2017-2018 editor-in-chief Paidin Dermody, accepted the Student Press Law Center's 2017 College Press Freedom Award.
The Kernel won this award for "remaining steadfast after being sued by a university in a battle over open records related to a sexual harassment investigation," said a SPLC press release.
After UK decided to sue the paper, the SPLC, along with a coalition of seven other press-rights organizations, came to the Kernel's defense.
"The Kernel is incredibly appreciative of the outreach from the journalism and press freedom community in response to our pursuit of these records," Kirk said.
In January, Fayette County Circuit Judge Thomas Clark ruled in favor of UK, but the Kernel is appealing his decision.
Kirk and Dermody attended the National College Media Convention in Dallas, Texas, which was attended by nearly 1,500 college journalism students and advisers.
They accepted the award on behalf of the Kernel at an awards ceremony on Oct. 28.
"I would personally like to thank the Student Press Law Center for this outstanding recognition," Dermody said in her acceptance speech.
Though Kirk has graduated and is now in law school across the country, the fight for press freedom begun by her staff is not over. Now, Dermody and the 2017-2018 staff continue those efforts.
"Anytime a baton is passed, it is the responsibility of its recipient to give a 100 percent effort to see things through to the finish," Dermody said.
She said she is proud of what the Kernel staff has done in the last year.
"We take pride at the Kernel in doing the right things, for the right reason, at the right time and in the right way," she said.
The work is not done, however, because "a recurring publication is never a finished product."
She said the lawsuit "crystallized the value and necessity of freedom of the press."
The Kernel staffers are stronger and better journalists because of this, she said.
"They were up to the challenge, and now they are better for it."