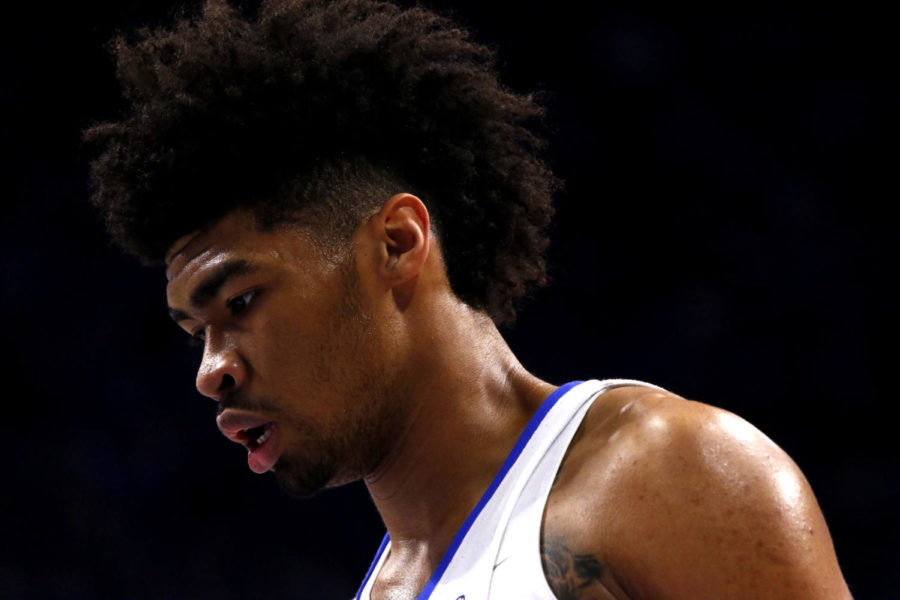 In UK basketball's 86-67 domination of Fort Wayne on Wednesday night, center Nick Richards was a man possessed.
Richards picked up a final stat line of 25 points, 15 rebounds, two blocks, an assist, a turnover and only a single missed shot, including from the free throw line.
"He was the game tonight. We couldn't keep him off the glass," Fort Wayne head coach Jon Coffman said.
Richards started the game hot, picking up two points, a rebound and an assist less than two minutes into the game. He cleaned up several UK misses, resulting in five of his boards coming on the offensive glass.
"It was a good win for me and my team," Richards said. "We just came out here trying to have a ball, just trying to have fun, I just happened to have 25 and 15."
Over the first several games of the season, Richards hasn't been entirely impressive. He's gotten into foul trouble early several times and has had a hard time staying poised defensively and not jumping for blocks. Even Coffman admitted that the team did more planning around Sacha Killeya-Jones and P.J. Washington than they did around Richards before the game.
"There's so much talent on that team that on any given night, one guy's going to show why he's going to be making money playing basketball someday," Coffman said.
Head coach John Calipari was joking with the media when asked about the impact Richards had on the game.
"That's our big guy, right? Yeah, he was pretty good," Calipari said.
Calipari also mentioned that Richards has spoken with sports psychologist Bob Rotella, a friend of Calipari's. Rotella had been introduced to the entire team as an asset they can use to get mentally right for games throughout the season, and Richards took advantage "before the Troy game," according to the 7-0 center.
Richards mentioned that Rotella instructed him not to think about basketball right before games because it makes Richards overthink.
Well then, what does Richards think about?
He said he watches Instagram videos by a user named Shiggy, or @theshiggyshow on Instagram.
"He's really funny, I just watch him all the time," Richards said.
Rotella and Shiggy seemed to have drastically improved the big man's game, as he's been steadily improving over the last several games leading to his breakout game against the Mastodons Wednesday night.
The Cats will take on the University of Illinois at Chicago at 6 p.m. on Sunday, Nov. 26.