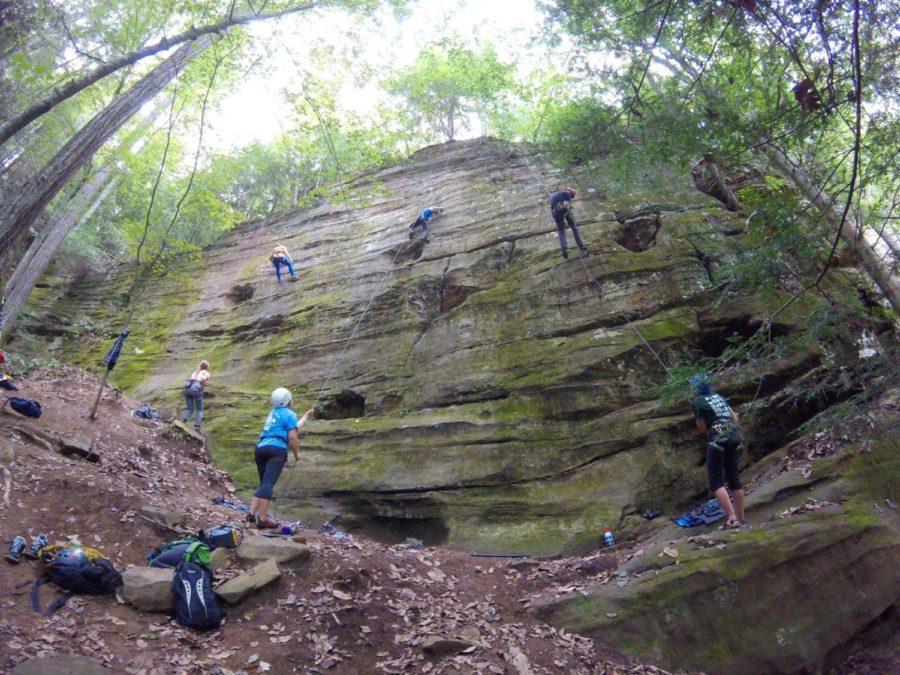 UK students have many opportunities to go outside and experience the great outdoors.
UK Campus Recreation and Wellness has an initiative called Outdoor Pursuits, which offers students a chance to get fit outside of the gym.
UK Campus Recreation has been sponsoring outdoor activity trips as far back as the 1970's. Outdoor Pursuits was formed much later, in 2001, as a way to explore all of the activity opportunities that the Lexington area has to offer.
"Our trips provide a great opportunity to connect with the outdoors and decompress from the stress of academic life," said Mark J. Lattin, Director of Outdoor Pursuits and Club Sports Recreation. "Students can get outside, develop some appreciation for the natural world, and learn a few new skills."
Lattin said Outdoor Pursuits is a way to build memories with friends as well as make new friends.
Jane Ward, a junior mechanical engineering major, said she makes time to go on the rock climbing trips at least once a semester.
"It's a great way to meet new people, have an outdoor climbing experience, and get active," she said. "You get to spend a day outdoors in the Gorge with cool people."
Ward said she recommends the outings to everyone.
"We always learn new things about rock climbing that you don't always get to experience indoors," she said. "Trying new routes is always challenging, since the indoor wall can only offer so much."
She said the group usually goes to Miguel's Pizza after climbing for the day. Miguel's Pizza is in Slade, Kentucky, near Red River Gorge. It is "a Red River Gorge tradition since 1984," according to its website.
There are always physical risks involved, Lattin said, and participants must accept responsibility for those risks. No matter your physical capabilities and regardless of past experiences, though, he said, "There is something for everyone."
Activities planned for the remainder of the 2017 fall semester include rock climbing, whitewater rafting, bouldering, backpacking, and a skiing and snowboarding trip. Prices range from $30 to $130. For a list of activities, locations and prices, visit https://www.uky.edu/recwell/outdoor-pursuits/adventure-trips.