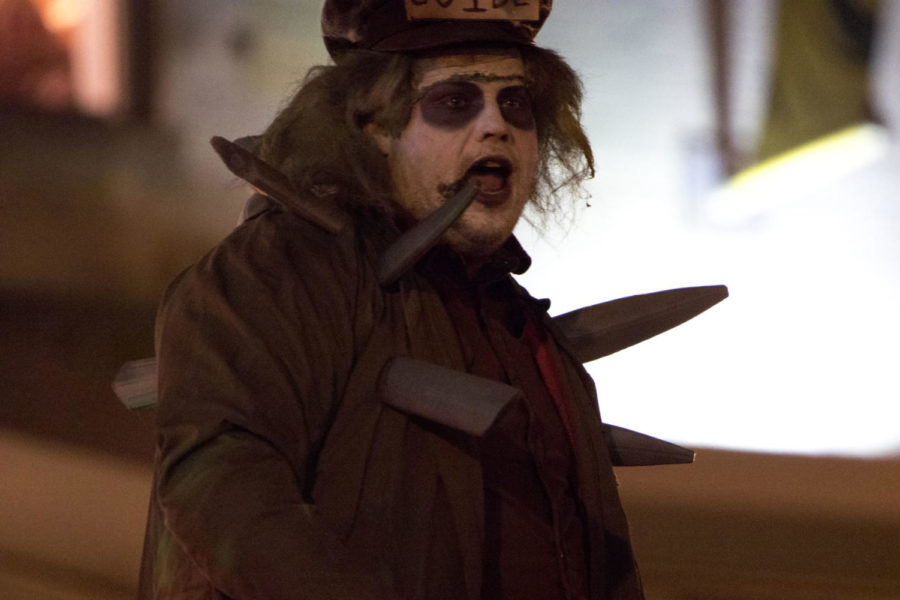 When fall is in the air, that means Halloween is soon approaching.
Halloween is the only holiday when it is socially acceptable to dress as spookily or scantily as you want. The month of October is filled with fall festivals, pumpkin patch visits, costume parties and more.
On campus, the Student Activities Board hosts events like haunted "scaregrounds," according to the SAB website. This year the organization will be premiering the new season of Stranger Things in Memorial Hall. Alpha Phi Omega, UK's service fraternity, will be hosting a haunted house in the abandoned Baldwin dorms. UK student Emily Lynch will be doing special effects makeup for the haunted house.
"Volunteers will come and do special effects makeup or model, its super fun," Lynch said.
Claire Dunlevy, a member of Phi Mu, said she will be going to a date party for her sorority.
"I'm most excited to see people being creative with their costumes," she said.
Like Phi Mu, many sororities and fraternities pair up and attend costume date parties. But Halloween on campus hasn't always been like this.
Halloween derives from a scary, ghostly day when spirits were said to wreak havoc on earth. UK students in the early 1900s took this origin very seriously, said campus historian Terry Birdwhistell.
In 1906, six to eight college students were reported throwing stones at street cars, cafes and car windows. There was even an attack made on a car passenger, where one of these students cut the victim's face. The students attacked the Ada Meade theatre, vandalizing the front and throwing stones that caused loads of destruction. Police caught the rabble-rousers and the boys spent the night in jail.
Upon their court date, no evidence or identification could be attached to any of the boys. Although there were no criminal consequences, the Grand Jury sent the university a report stating:
"So far as we can determine the system of discipline at the college is absolutely inefficient. With a semi-military organization and a supposed measure of military discipline, we find that the authorities of the college have absolutely no effective system of discipline and practically no control of the student body, and we believe that if a proper system of military discipline were in force at the college, occurrences like those on Halloween night would be impossible," according to the Lexington city court documents.
As time passed, the university created more activities and events that would centralize and positively influence students, like themed dances and festivals. Former President Otis A. Singletary, who served from 1969 to 1987, had his birthday on Halloween. Every year students would wear Singletary masks around campus in celebration.
In the 1990s, students created a haunted maze where visitors were guided by monks that worked for the charity, United Way. All proceeds went to the foundation and by the end of the night almost $1000 was raised.
These Halloween celebrations were considered much more appropriate than the crimes and riots of the past. Now considered a night of festivities, candy and crazy costumes, Halloween does not seem so closely related to ghosts and ghouls. Nevertheless, this Halloween will be memorable without a doubt.
Whether you're bravely entering a haunted house, attending SAB's viewing of Stranger Things, or attending a Halloween party, don't forget to keep an eye out for spirits, witches and maybe even some rowdy students looking to raise hell, literally.