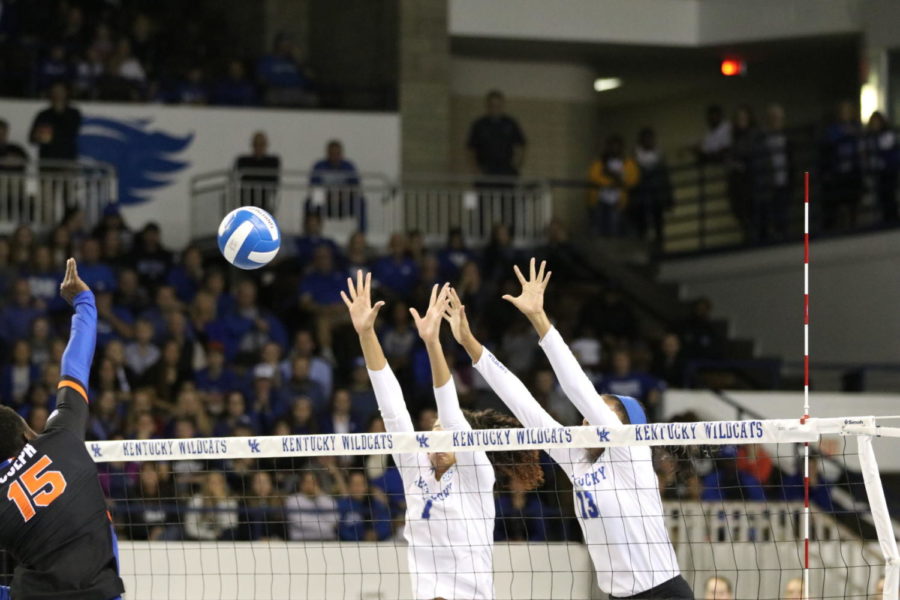 UK volleyball closed its regular season home schedule with a sweep over Ole Miss (25-16, 25-10, 26-24), led largely by the seniors.
The seniors came out and set the tone for the Cats with a combination of 10 kills together, and the team fed off that energy.
"My favorite thing about this group of seniors is just everyday they bought in and they were great teammates and they never stop trying to get better," said head coach Craig Skinner.
With that type of culture instilled into this UK program, they have shown throughout the season and in this match their success as a team as they obtained a large lead over Ole Miss 17-9 in the first set.
Following the seniors, featured young players Avery Skinner and Leah Edmond were able to connect on the floor, and that left setter Madison Lilley with more choices on hitters throughout the match.
UK stretched that early lead to 25-16, and the Cats took the first set. UK continued to efficiently run its offense and controlled the second set.
Carrying that energy into their offense, the Cats established a strong lead over Ole Miss at 10-4 in the second set.
Ole Miss had a hard time defending UK, because there wasn't just one player for the Rebels to stop. Four players recorded seven or more kills in this set and stopping this team was going to take a collective effort.
The Cats went into the third set with two won sets under them and that competitive drive did not stop there.
The set was led by senior Kaz Brown who posted a season-high 18 kills, and Cats followed her example after a slide to her right, making the score 3-2 Kentucky in the third set.
"We work really hard every day to be the best we can be, and just the competitiveness is what sets us apart and is a big reason why we are so successful this year," Brown said.
UK had the athletic edge, but Ole Miss was not backing down as Emily Stroup was able to get a couple of terminations for her team that kept the Cats from going on big runs in the third.
Offensively, Stroup had 12 kills, seven of which came in the third set. She was fueling her team, keeping them competitive in the match.
UK, however, did not let the Rebels find too much of a rhythm, as they kept their strategy of sending different hitters in the air to find gaps through the Ole Miss defense.
Kentucky posted 59 kills, and more importantly to the team, they held Ole Miss to only 28 kills, which allowed them to run a more efficient offense.
The Cats have one more match this season as they will compete against Arkansas on Nov. 22 at 8 p.m.