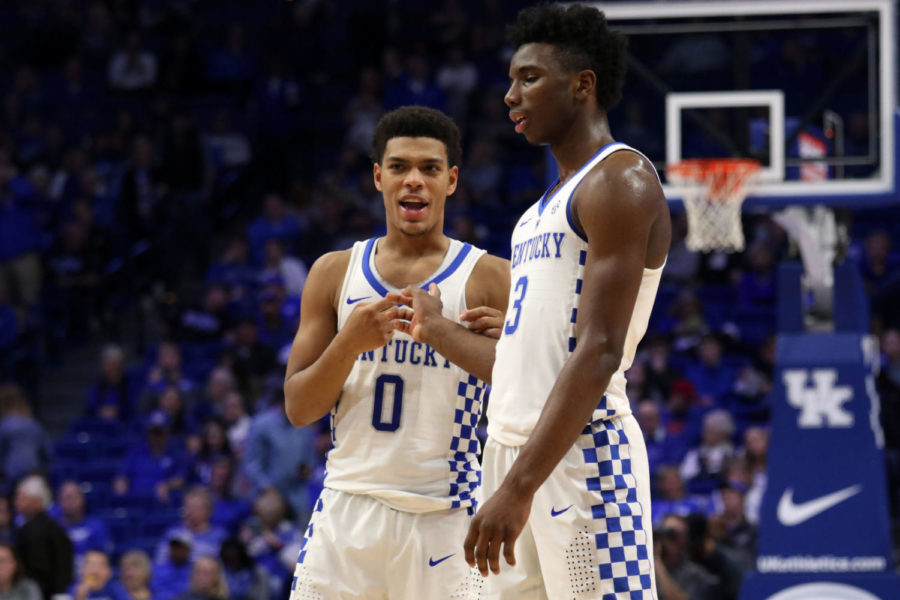 The Kentucky Wildcats (6-1) take on the Harvard Crimson (3-4) Saturday afternoon. This is the first all-time meeting between the two teams.
The Crimson returned four of their top five scorers from last season after finishing 18-10 and second in the Ivy League. Harvard missed out on the NCAA tournament last season for the first time since 2011, the longest streak in school history and a longer streak than UK was on at the time.
Harvard's leading scorer this season is sophomore point guard Bryce Aiken, averaging 18 points per game. Aiken also averages 2.7 rebounds and 3.9 assists, and his scoring is good enough for fourth in the Ivy League.
Head coach John Calipari said of Aiken, "They'll play fast. Their point guard has the green light to go."
UK's bigs will also have their hands full against the Crimson.
"They have great post play, again just like Vermont," Calipari said of Harvard. "The other teams we've had that have had good post play, but they really explore it."
Their two talented forwards, sophomore Chris Lewis and sophomore Seth Towns, average a combined 26.1 points and 9.9 rebounds per game. Lewis leads the Ivy League with 1.7 blocks per game. He is also fifth in the league in steals with 1.3 per game and third in field goal percentage with 60.7 percent.
The Cats will look for their offense to come through very inexperienced players, with their top six scorers all freshman. Their leading scorer is Kevin Knox, averaging 16.1 points per game. The Cats have two more players averaging double figures, guards Hamidou Diallo and Quade Green.
The Cats have the advantage on the Crimson in every major statistical category. They average 78.3 points per game to 70.0, 65.7 points allowed to 72.4, 50.7 percent from the field to 42.3, 41.0 rebounds to 31.7, 16.4 assists to 13.4, 6.0 blocks to 3.9 and 6.0 steals to 5.7.
ESPN's Basketball Power Index gives Kentucky a 90 percent chance to beat Harvard. The game will tip off at 3:30 p.m. on Saturday at Rupp Arena. The game will be broadcast on ESPN.