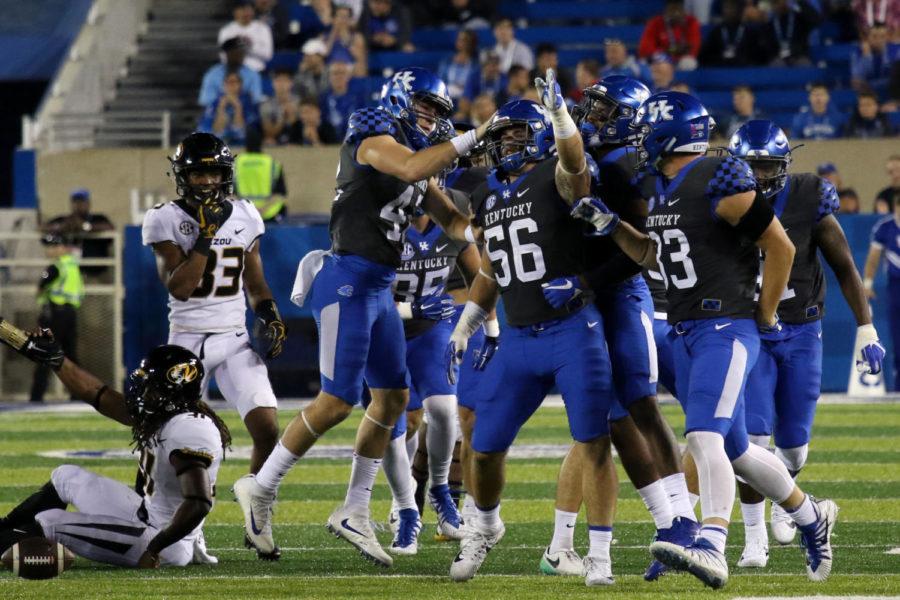 The UK football team has had the fortune of senior leadership on both sides of the ball for this year's team – a rarity early on in the Mark Stoops era.
Senior middle linebacker Courtney Love is one of those guys who embodies that senior leadership. After transferring from Nebraska as a sophomore, the Youngstown, Ohio, native and Cardinal Mooney High School alum has been the anchor of the Kentucky defense.
His departure following the bowl game will be the changing of the guard at the middle linebacker spot for years to come.
"You're gonna have Kash (Daniel), you're gonna have Jamin (Davis), you're gonna have whoever ends up in (the 2018 recruiting) class, and I think we've got some guys with great potential," said defensive coordinator Matt House after the team's practice on Saturday.
Middle linebacker is just one of the spots that House and the Cats will have to fill in the offseason. Defensive back Kendall Randolph and defensive tackles Matt Elam and Naquez Pringle are among the other departing players in this year's senior class, but House is looking forward to the new guys having a better opportunity.
"That freshman class, I'm excited to get our hands on for spring ball," House said.
On offense, there has already been a changing of the guard this season at a crucial position on the offensive line – center. After beginning the season as the starter and a team captain, fifth-year senior Nick Haynes ceded his starting job to redshirt freshman Drake Jackson midway through the year.
Haynes, who had seen his playing time dwindle since the start of the season, vocalized his frustrations with his situation before the final game of the year.
"Most of these coaches don't care about us personally. It's all about that check," Haynes tweeted (and has since deleted) the night before the Louisville game in late November. "They'll use you up for all your worth and then throw you to the side."
Stoops confirmed the mutual separation between the Kentucky football program and Haynes today.
"Nick was done basically with the last game. With his health, and just a mutual separation. He was good to try and get healthy, gain some weight, and hopefully maybe prepare to try and make an NFL run," Stoops said after Saturday's practice.
Story: Nick Haynes and Stoops mutually agree to part ways
With Jackson now as the full-time starter at center, the Wildcats have their offensive lined shored up in time for their bowl game on Dec. 29th.