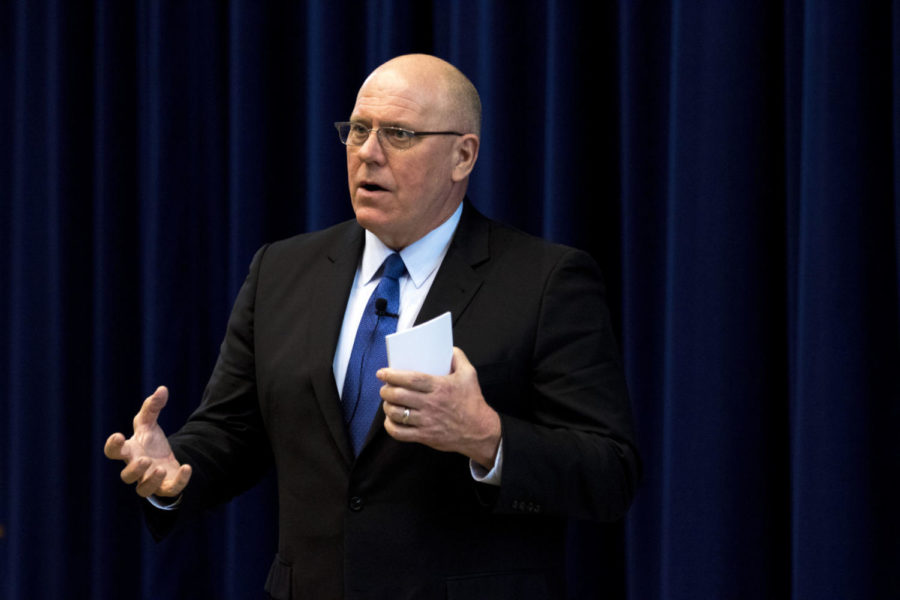 One UK provost candidate attended high school in Kentucky. Then it took him a long time to get back to the commonwealth. 
Gatton College of Business and Economics Dean David Blackwell has been in his current role since 2012 and is now one of two candidates for the provost position, which will be vacant when current Provost Tim Tracy leaves at the end of December.
"I believe in this university, and I believe in Kentucky," Blackwell said during Friday morning's open provost forum. "I do have an appreciation for the state, I love the state, I love the community, and I want to give back."
At the request of the provost search committee, Blackwell spent some time talking about the current state of higher education.
Blackwell mentioned the competitive nature of higher education, which requires universities to continue to work to serve students better.
"The bottom line for us is that we do need to grow to be sustainable, but the growth needs to be smart," he said.
Part of that growth will be stabilizing enrollment and deciding where and how to grow, he said. With state funding decreasing and "aggressively" raising tuition not an option, enrollment has to grow, Blackwell said.
He specifically discussed two areas in which to grow: graduate schools and non-traditional education, such as online classes.
Furthermore, attracting out-of-state students, including international students, will help, and not only because they pay higher tuition.
"We are already admitting practically every student in Kentucky that is qualified and wants to come here," he said. "So to address the shrinking demographic, we've got to go where the students are and start recruiting."
Blackwell also stressed the importance of having a diverse student body, faculty and staff. He said achieving this is a "minimum bar" to clear.
He said that diversity on campus is both a "moral imperative" and a necessity to remain competitive as a university. 
Another way to remain competitive, and a long-term goal of Blackwell's if he becomes provost, is focusing on research enterprise. 
One short-term goal of the provost is filling dean vacancies. If Blackwell or Donna Arnett, who is the second candidate for provost and currently the dean of the College of Public Health, become provost, there will then be seven dean vacancies across campus.
Blackwell said this is an urgent situation because filling these vacancies brings stability to the colleges.
Though many of these present challenges that need to be overcome, Blackwell said he is confident that UK will thrive amid the "turbulent waters." He mentioned several strengths that UK has.
"If we're not already world class, we're very, very close to having a world-class faculty," he said.
He said UK is low-cost compared to the national market, which relates to the concept and importance of "Return on Investment."
"We are going to have to show that we are able to bring in students from modest backgrounds and transform their lives and help them move up the academic and economic ladder," Blackwell said.
He then listed several reasons why he both wants the job and believes he is qualified for it. 
First, the job requires a servant leader. 
"Sincerely, I do want to serve," he said.
Additionally, the provost needs to be an academic entrepreneur and a strong collaborator.
Lastly, Blackwell said that while he has a background in business, he appreciates every academic area on campus, which he said is important for the provost. 
He said that while he is not an expert in every area, he does appreciate all of them.
Blackwell said that he always teaches his students who are applying for a job to express that they want the job at the end of the interview.
"I'm just going to go on the record: I want the job," he said as he closed his presentation.
A report on Arnett's forums, which were held yesterday, can be read here.