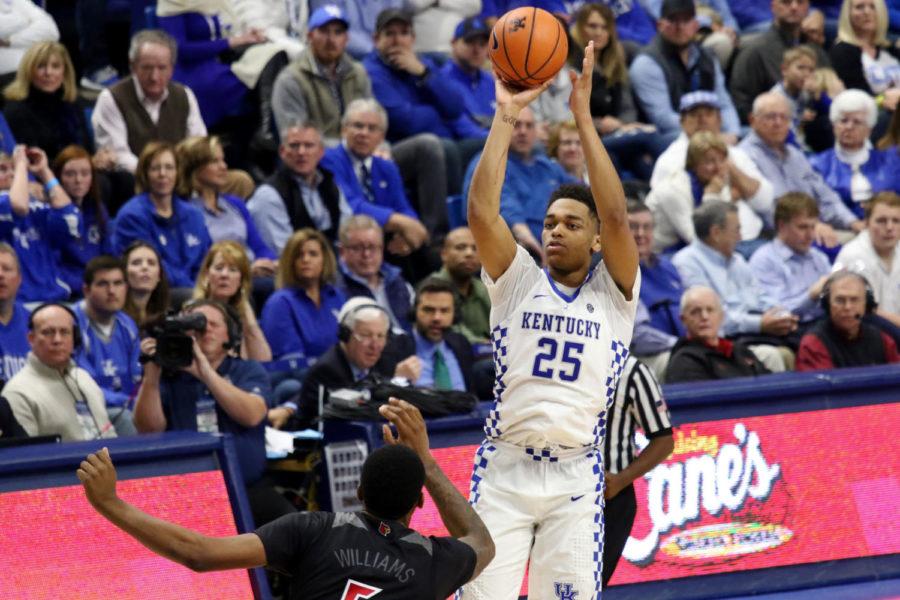 Cramping has been an issue for P.J. Washington all during his basketball career, and his latest episode of cramps came at the wrong time for Kentucky. 
With 12:33 remaining in UK's most recent game against Tennessee, Washington would leave for good with a left thigh cramp. Before leaving, Washington was UK's best player with 13 points, three rebounds and three steals.
"It was disappointing to me cause I feel like – you just want to get back, you just want to help you're team out a little bit," Washington said on Monday.
Recap: UK loses in Knoxville for third straight season
The Cats would go on to lose that game by 11 points. The loss was concerning, but the biggest concern for UK fans was if Washington had suffered a serious injury because he never returned. 
Washington and head coach John Calipari confirmed on Monday that Washington's absence in the second half was due to no more than the thigh cramp. Washington is good to go and will play against Texas A&M on Tuesday.
Preview: UK hosts the Aggies in SEC showdown
Calipari said he believes the cramps can be attributed to Washington's increased intensity. In a teleconference on Monday, Calipari said that Washington had been playing the hardest he's been playing recently since he arrived to Kentucky.
That claim can be backed up in Washington's recent statlines, as the freshman has averaged 13.5 points and 4.5 rebounds in his last four games. Washington set a career high in field goals made against LSU with eight made shots, most of which came from the second half.
"I'm just trying to win, I'll do anything for the team to win, that's my main focus," Washington said.
If Washington can continue this upward trajectory and not miss any additional time due to cramps, he could be a big piece that pushes UK over the hump.
So what exactly is Washington doing to prevent usual cramps? Nothing special really, just about what you would expect any regular athlete to do.
"Just stay hydrated," Washington said. "…Tons of water, tons of Gatorade, everything really."