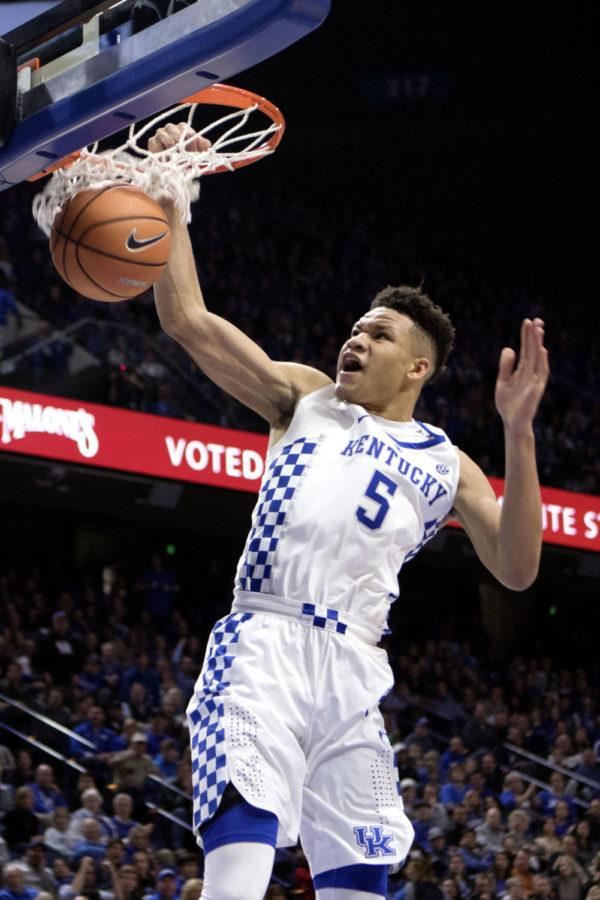 It's March and every basketball fan knows what that means, it's time for March Madness.
Before the big dance, teams must solidify their NCAA Tournament resumes in conference championships. In the SEC, there are many players that are capable of impacting their teams that could go on lengthy runs. Here are five players that standout in the SEC:
Kevin Knox: Kentucky forward, freshman
For the Cats, the 6-foot-9-inch freshman forward has been one of Kentucky's most consistent scorers. He averages 15.8 points, 5.3 rebounds and 1.4 assists per game.
Read: Knox and Gilgeous-Alexander named to All-SEC Teams
Knox has proven to be Kentucky's best player this season despite coming off a 12-point performance at Florida. His build and ability to get to the rim, as well as knock down the three-point shot, will be a key to Kentucky's success in the tournament.
Chris Chiozza: Florida guard, senior
The 6-foot senior guard has played in three SEC Tournaments, but has never made it past the quarterfinals. Chiozza and the Gators will start in the quarterfinals because of the victory they secured over Kentucky to end the regular season.
In that game against Kentucky, Chiozza set the Florida record for most career assists. Chiozza is a true point guard, and his ability to control a game as well as score when needed is a great threat to any team Florida may face.
Podcast: SEC Tournament preview
He averages 11 points, 4.5 rebounds and 6.1 assists per game. Chiozza finished with nine points and four assists in Florida's regular season finale against UK.
Collin Sexton: Alabama guard, freshman
Sexton is another true point guard that possesses the ability to score as well as pass the ball really well.
On the season, he averaged 18.3 points, 3.6 assists and 3.6 rebounds per game. In Alabama's lone game against Kentucky this season, he scored 12 points, three assists and two rebounds before fouling out. Kentucky won the game 81-71.
Sexton has been Alabama's leader all season and will be key to Alabama's run in March.
Kassius Robertson: Missouri guard, senior
The 6-foot-3-inch, 180-pound guard out of Missouri is a threat that is under the radar to say the least. He averages 16.6 points, 2.9 rebounds and 2.4 assists per game.
Robertson has a tremendous knowledge of the game. His ability to take over games as well control the tempo is something special.
He is also a very dangerous three-point shooter, shooting 42.8 percent from beyond the arc on the season. Robertson scored at least 16 points in both of Missouri's match-ups against UK.
Jared Harper: Auburn guard, sophomore
The sophomore guard for the Auburn Tigers might be one of the most underrated guards in college basketball. He is 5-foot-10-inches, 170 pounds, but his skill and on-court ability say otherwise.
He averaged 13.9 points, 5.7 assists and 2.3 rebounds per game during the regular season. Against Kentucky, Harper scored 18 points, seven assists and two rebounds to help his team defeat the Cats 76-66.