7 Simple Ways to Add Color, Excitement to Your Yard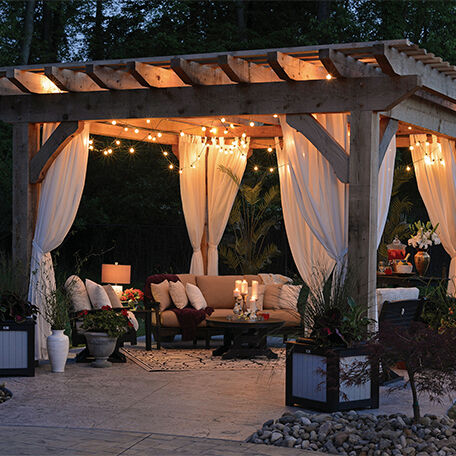 (Family Features) With all the beauty Mother Nature has to offer, a few pops of color or other simple embellishments can help make your yard look superb from the curb.
Whether you're looking to enhance your front yard, backyard, porch or patio space, consider these easy and affordable ways to spruce up your outdoor oasis:
Add Mirrors
Just as they do indoors, mirrors can open up small patio spaces and make areas feel larger. Use mirrors made with resin or other waterproof materials so they won't be compromised when exposed to the elements.
Make Bold Statements
Plant your favorite flowers in a giant, bright red or yellow pot or hang a bright colored swing from a tree. Just a little dab of color can make a statement and brighten the whole space.
Hang It Up
Place hanging baskets around the porch to bring punches of color to your outdoor sanctuary. With the freedom to pick and choose your favorite plants and flowers, these baskets have the added benefit of easy maintenance.
Consider Time When Planting
If you wish to add color to your landscape, consider the time of day you normally spend in your outdoor space. Early risers may appreciate vibrantly colored foliage that perks with the morning sun. Those who spend time outdoors in the evening hours can incorporate white or lightly colored plants that take on a silvery sheen in the moonlight.
Tie Up a Hammock
Make a relaxing retreat in the comfort of your own yard by hanging a hammock from trees or between posts on your deck.
Add a Birdbath
These garden favorites come in a variety of styles and colors to fit your unique tastes and budget. Birds of all kinds can find an oasis in their new bath and provide you with a beautiful view.
Throw Some Pillows
Outdoor pillows are often available in the same fun designs of their indoor counterparts. Add some throw pillows to your outdoor furniture for a chic yet comfortable update.
These subtle changes can help beautify your outdoor spaces and cause onlookers to do a double-take – for the right reasons. Find more ideas at eLivingtoday.com.
Photo courtesy of Unsplash