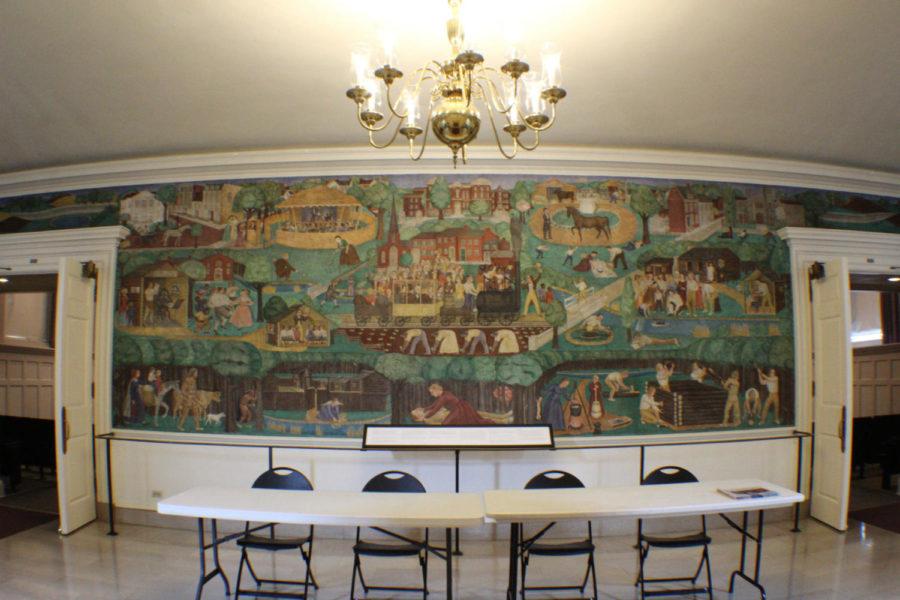 The UK administration announced Philadelphia artist Karyn Olivier will create a new art work to be added to the campus's storied Memorial Hall at their final Board of Trustees meeting of the fiscal year Friday.
The administration's recent decision comes after the UK Memorial Hall art committee made the decision in September 2016 to incorporate another artwork into the building. This was in hopes of providing context to Ann Rice O'Hanlon's controversial 1934 mural that marks the entrance to the building.
O'Hanlon's original fresco depicts the origins of Kentucky up until the time it was created. The mural includes controversial representations of historical places and people, that ultimately led to it being covered in 2015.
"We face the task of confronting the unsettling questions the mural raises for our sense of community," President Eli Capilouto said. "We must accept the challenge of telling the stories the mural does not tell."
Olivier, as well as other finalist Bethany Collins, were invited to UK in March to present their final proposals for the newest addition to the building. The pair met with campus stakeholders to better formulate their proposals.
Olivier's art work will adorn the vestibule of the building and contain images of the "displaced" figures represented in O'Hanlon's original mural.  
In her written proposal Olivier wrote, "The insertion of the figures on the gilded ceiling reinforces the notion or possibility of rebirth — perhaps spiritually, but more importantly through the viewer's reinvestigation, interrogation and reckoning with our country's complex histories."
Olivier will also seek to add a quote from Frederick Douglass around the top of the building's dome. She chose these words from Douglass, "There is not a man beneath the canopy of heaven, that does not know that slavery is wrong for him."
Olivier's proposal also calls for portraits of these famous Kentuckians to align the walls near the top of the building's dome:
Chief Red Bird, a "Cherokee who lived among white settlers in Clay County until his murder by two Tennessee men."Charlotte Dupuy, "an enslaved African-American woman who filed a freedom suit in 1829 against her master, Henry Clay, then the country's secretary of state."Peter Dupuy, "a preacher who founded First African Baptist Church in Lexington, Kentucky, in 1790."Georgia Davis Powers, "the first African American to serve in the Kentucky Senate, sponsoring bills prohibiting employment discrimination, sex and age discrimination."
Work on the new piece is likely to start in late July into early August.
"We're taking an important step to tell a more complete story, to foster a sense of place, of belonging for all members of the UK family," Capilouto said.
The administration says this decision is the just the first step among others they hope to take.
"The installation is not an exclamation point, but rather a comma, the latest part of an ongoing dialogue," Capilouto said.