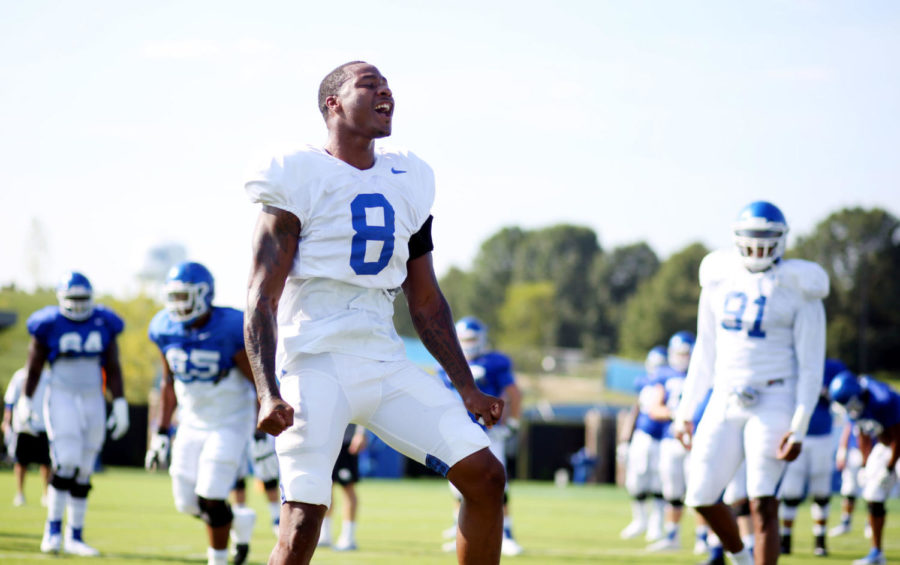 UK Athletics allowed media to peek into its 16th football practice Tuesday afternoon, as the Cats inch closer and closer to their Sept. 1 season opener against Central Michigan. The Kernel Sports staff got their first active look at the fall Cats.
Depth Takeaways
Some of the most interesting depth chart battles happened away from the quarterback position. Players are fighting for the opening slot next Saturday, and the competition is certainly fierce.
Running back: We didn't even expect this battle to be played out, but Benny Snell isn't the one being challenged. After his stellar spring game performance, A.J. Rose is battling Sihiem King toe-to-toe for the backup running back spot. Offensive coordinator Eddie Gran said he "trusts them both, more than I ever have." Both players were getting 11-on-11 reps with the second team, and Rose said he expects to play against Central Michigan.Wide receiver: This is an expected competition. UK has a lot of young, shifty wide receivers like Isaiah Epps and Josh Ali that are competing with Lynn Bowden, David Bouvier, Dorian Baker and Tavin Richardson for a spot on the starting lineup. For now, the four receivers listed were the only ones running consistent plays with the starters, but Epps was consistently making catches.Cornerback: The battle at cornerback is an odd one for the Cats. Of course, Mike Edwards can play any defensive back position, but for corners like Derrick Baity, Lonnie Johnson and Chris Westry, their future is less certain. Baity was taking repetitions with the first team on Tuesday.Offensive Line: Whoever UK has on the field for the offensive line, there's a good chance they're going to be very big. Gran said that the team currently has a nine-man rotation on the offensive line, and that all of the players in that rotation are playing "winning football."Quarterback: Keep in mind, not even head coach Mark Stoops knows who is going to take the field first against Central Michigan yet, or he at least says he doesn't. Both Terry Wilson and Gunnar Hoak got a relatively equal amount of repetitions with the starters, so it's still up in the air. Wilson was the first one on the field with the first team, for what it's worth.
Performance Takeaways
Offense: Benny Snell is still really hard to stop. So much so that when the defense was able to stop him behind the line, a massive, raucous cheer rang out from the defensive players on the field and along the sideline. For the receivers, Lynn Bowden didn't appear to run much faster than he did a season ago but was shifty. Not shifty enough to shake Mike Edwards, who was glued to Bowden during the entire receiver drill.
Dorian Baker also seemed to be 100 percent, as he made a catch in double coverage that he bobbled once and came down with for what would have been at least a 25-to-30-yard gain. Gran emphasized the importance of stretching a defense after practice, and he said that Baker is a great weapon for the Cats to do that.
The offensive line was a serious force to be reckoned with. Every quarterback got plenty of daylight and time to complete passes to their receivers, which is something Cats fans have been asking for, particularly in SEC games, for a long time.
Defense: Jordan Jones is back. He was practicing in full pads Tuesday, and tight end CJ Conrad said that he is fully back. "It's the Jordan Jones you know," Conrad said. Stoops and Conrad told reporters that Jones has been on and off the field, but is picking up his workload as the season gets closer.
The cornerbacks were very hit-and-miss. Baity caught plenty of criticism from Stoops about his footwork during receiver drills and dropped two interceptions that would be commonplace in a game. Edwards was fastened to Lynn Bowden and other receivers like a seatbelt during their drills and gave other players more advice than the coaches gave him. Chris Westry was seen with a beehive-like wrap around his hand, which Stoops attributed to jammed fingers. "Hopefully he'll be out of that pretty soon," Stoops said.
With only a week and a half until kickoff, many moving pieces for the Cats are still in the air. But Cats fans will be happy to know there are at least two players that can dependably play just about any position.