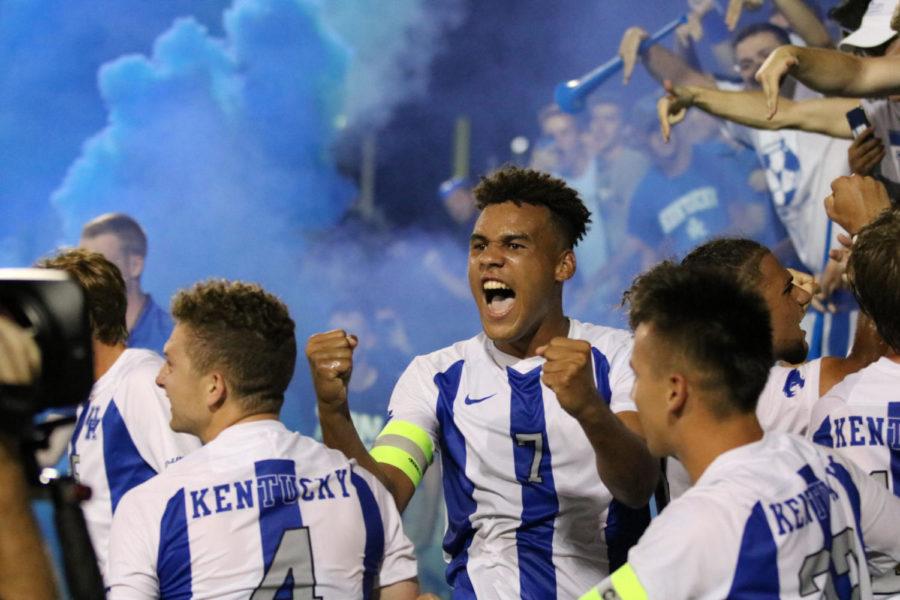 An intensely fought Battle of the Bluegrass went the UK men's soccer team's way on Tuesday night. The Wildcats upset the No. 9 ranked Louisville Cardinals, 3-0, in front of the largest crowd at The Bell this season.
Junior captain J.J Williams continued to lead the Cats once more with his two-goal performance. The reigning C-USA Offensive Player of the Week who led the Cats in total points last year now has three goals this season.
The Cats went 2-5-1 in their previous eight matchups against its in-state rivals. UK leads the all-time series 12-7-4 and starts its season 3-0 for the second straight season.
UK made a statement right out of the gate. In only the third minute, Williams took a touch from senior defender Tanner Hummel to get past Cardinals goalkeeper Will Meyer from far outside the box. All Williams had to do was finish with a wide shot from the right that went in.
"We just weren't sharp tonight," Cardinals' head coach Ken Lolla said after the game.
The pace and intensity only grew from there as both teams went at each other left and right. Louisville and UK combined for eight fouls – five on UK – in a nearly 20-minute span. Meyer received a yellow card in the 21st minute after frustratingly challenging Williams in the box.
Williams also received a yellow card in the 31st minute after an aggressive counter against a Cardinals' defender near the sideline. He would send another message minutes later – an even bigger one.
UK intercepted a Louisville pass before the ball made its way to the right half of the field. When freshman midfielder Marcel Meinzer got the ball, he served Williams from the wide right with pace. Williams headed it in in the 36th minute to increase the Cats' lead.
"Our formation allowed me to get free and find spaces," Williams said. "They moved the ball around and I just had to do the easy thing and finish."
Louisville tried to stage a comeback when Cardinals' midfielder Geoffrey Dee curled a wide shot that pursued the inside post. However, Cats' goalkeeper Enrique Facusse had a last-second dive in the 67th minute to preserve his third clean sheet this season.
Reigning C-USA Defender of the Week Aime Mabika put the icing on the cake after scoring a penalty kick goal in the 72nd minute. Louisville tacked on two more yellow cards and couldn't get back in the game.
"It was good for us to get a little validation of the things we talked about in the preseason and on how good we can be this season," UK head coach Johan Cedergren said.
Tuesday's match concludes a three-game homestand for the Cats. They'll hit the road to play their first conference matchup of the season against the University of Alabama at Birmingham Blazers on Saturday, Sept. 8 at 8 p.m.