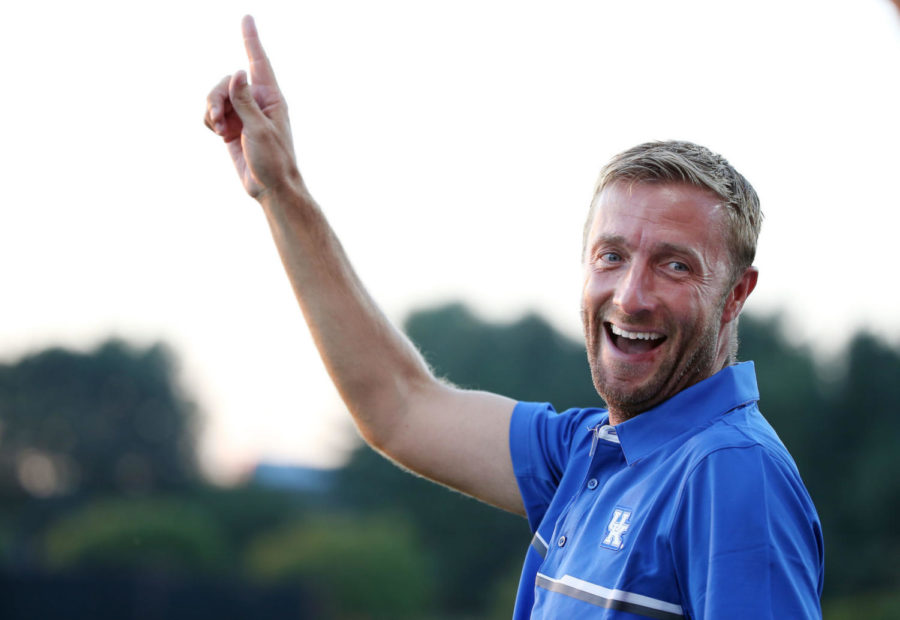 Home is a long ways away for Kentucky women's soccer head coach Ian Carry, whose roots are in Navan, Ireland.
Navan is a suburb of Dublin, Ireland, located about 30 miles northwest of the Irish capital city. Carry's hometown features vast green fields, rolling hills and a horse racing track 10 minutes away from Carry's house in Navan.
Lexington natives might think the description of Navan sounds familiar to their own hometown, and that's because it is. When Carry first came to Lexington to interview for an assistant coaching job with Kentucky women's soccer, he noticed the similarities between Lexington and Navan immediately.
"I woke up just before the plane was about to land in Lexington and it was like looking out the window and you're like 'Oh my goodness, you're at home,'" Carry said. "Because it was just like horses and green fields, white fences over the race track, etcetera. That's very much like where I grew up back home."
Even as Carry was taking around Kentucky's campus and downtown Lexington, he still felt like he was back in Ireland. The sense of feeling at home and the great experience he had in his interview made Carry want to see even more of Lexington.
"Moving to Lexington, it was like straight away, as soon as I landed, I knew this was a place I wanted to call home," Carry said. "Somewhere that I knew I would love to be for a long period of time."
Carry was hired as an assistant coach in 2013 and has called Lexington home ever since. Carry was named the team's head coach after the 2016 season and is currently in the middle of his second season as a head coach.
Even though Carry has held a coaching position in the United States since 2011, Carry still keeps in touch with his Irish side. Carry makes times to go watch Gaelic Football matches and keeps in contact with his family back home, often over Skype.
Another way Carry stays connected to his Irish roots is shopping at an Irish store called Failte, which is owned by Irish people and sells goods imported from Ireland.
"Anything from what you want for your breakfast, to your dinner, to your lunch, whatever it may, they can get it," Carry said. "As well as candy, Irish chocolate, Irish chips, etcetera. There's always that taste of back home."
Failte has provided Carry with many Irish meals in Lexington, and the food is good enough that Carry's wife has started to crave it just as much as Carry does.
"I'd be on the way home from work and it would be 'hey, can you stop in and get some bread on the way home?" Carry said. "It's like 'oh yeah, absolutely no problem.'"
When Carry's parents flew to Lexington about a month and a half after he accepted the assistant coaching position in 2013, they immediately noticed the similarities of Lexington and Ireland, like Carry.
Of course, Carry took his parents to Failte to see how the food in Lexington compares to freshly made meals back home, and according to his dad, there was not much difference.
"I remember the very first time my mom and dad were in town, we brought them there [Failte] and my dad was like 'oh my goodness,'" Carry said. "It's just like being back home."
Another thing that makes Lexington feel more like Navan is the horseracing scene in Lexington.
Carry grew up 10 minutes away from a racetrack in Navan and became pretty familiar with horseracing then.
When he gets the chance, Carry loves the opportunity to visit Keeneland and watch the horses race. Even though Carry is not an expert bettor, Carry said he enjoys being around the atmosphere that Keeneland provides.
"I would have no idea what I'm doing in regards to gambling on horses, I try to keep away from that piece," Carry said. "If I get a tip off somebody, absolutely."
Horse racing, Failte and a friendly Irish community have made Lexington feel like a second home for Carry and his wife.
As the couple expects their first child in the future, they are comfortable with establishing roots in a city that's similar to Carry's hometown in Ireland.
"Lexington is a place that we'd love to – we'd feel very comfortable raising a family here," Carry said.