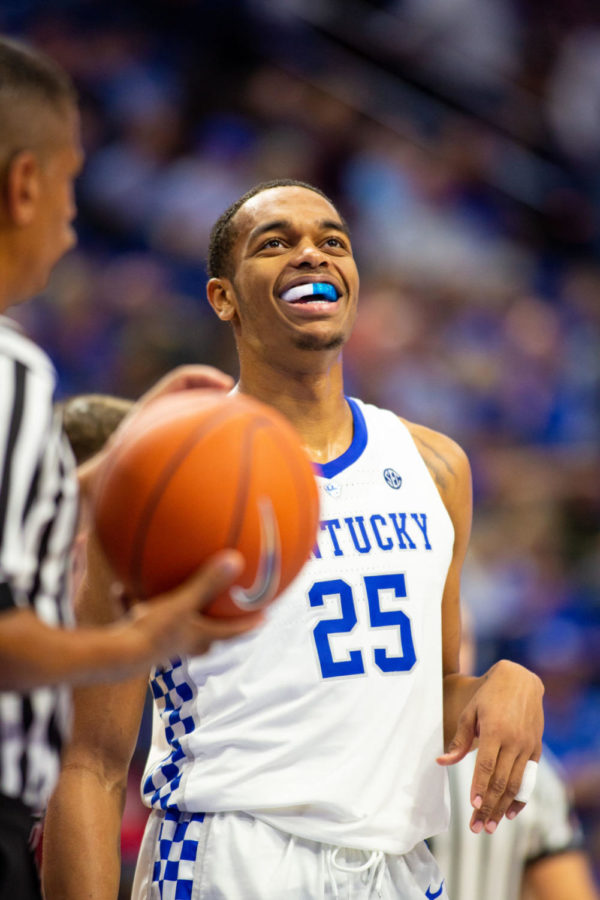 Remember that one time in 2014-2015 when the Kentucky basketball team had a "platoon" system that consisted of a legitimate second starting five on the bench who were just as good as the actual starters?
Well, we're not seeing a replica of that this year, but what we are seeing is a team with a heck of a lot of depth— comparable to what we've seen from some of John Calipari's Kentucky teams in the past.
With the addition of seven new guys, Kentucky has players all the way down the bench that can come into any given game and make big impacts. There are several different lineups that Calipari could use, and he even tried two different ones in the first and second half of the opening exhibition game against Transylvania. In the first half, he started Immanuel Quickely (guard), Quade Green (guard), P.J. Washington (forward), Reid Travis (forward) and Nick Richards (center). But to start the second half, Travis was the only common denominator, joined by Ashton Hagans (guard), Keldon Johnson (guard), Tyler Herro (guard) and E.J. Montgomery (forward).
The first lineup with three bigs seemed to suit the Cats well and work to their advantage in that particular game, but Calipari said afterwards that the team is "still exploring."
Washingon said that the depth of this team is extra motivation to work harder.
"It challenges us a lot because at all times we have 10 guys on the court that can pretty much take over the game," Washington said. "So you just have to come out, play your hardest and just try not to get embarrassed."
During men's basketball media day, Calipari put a lot of emphasis on the depth of the team and the luxuries it brings. He compared it to several individual players he's had in the past who came off the bench for the Wildcats or didn't have a lot of minutes and still had huge impacts— guys like Devin Booker and Karl-Anthony Towns.
Because there are so many guys who could potentially be starters, it means they're working that much harder to fight for a starting spot.
"Your consistency is going to build your confidence, and there's only one way to be more confident: get in the gym, and not get in the gym and shoot tiptoe shots, get in the gym and work," Calipari said. "You don't need to be in there five hours, but go in for 45 minutes and get a great workout, shooting workout in, work on your skill set, work on your ball handling away from us."
Quickley said he thinks that because they're going so hard in practice to beat each other out for a spot, it's making them better players, while graduate transfer Travis sees the depth as an asset that will help his team in the long run.
"I think it's going to help us a lot. I think it's easy for outside pressures to look at depth as a negative thing, but when you're going through a long season I think depth is one of the biggest components that we're going to have as far as trying to stretch the season out as long as possible and compete at the end of the year as far as having multiple guys that can step in," Travis said. "You have very skilled, very high-level players that can come in for each other and at a whim, so as far as teams having to prepare for that and play against that when a guy subs out, you still got another guy coming in that is just as capable as him."
The team's talent goes such a long way that Green said he could step out of his guard spot and play a much different position.
"Put P.J. at the point guard if you want, you can put me at the five, it doesn't matter. It could be all different things," Green said jokingly.
While the team is certainly very talented all the way down the bench, don't expect Green to be Kentucky's starting center this year.