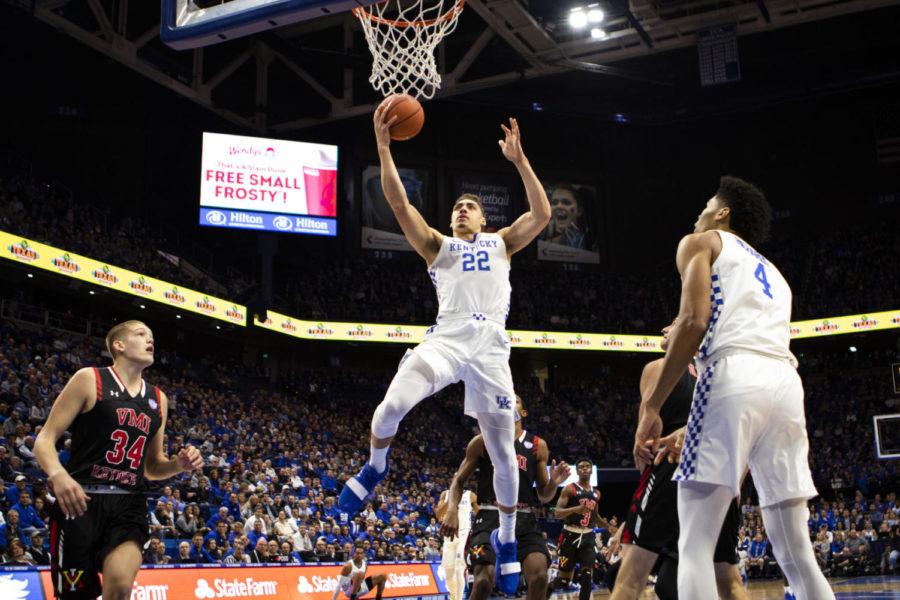 Kentucky's big men showed up Sunday evening in their 92-82 win over Virginia Military Institute—Reid Travis and PJ Washington combined for 24 rebounds and 41 points.
The Cats seemed to have the offensive side of the ball figured out in the first half while their defense was lagging early. They couldn't stop VMI from behind the arc as the Keydets hit six threes in the first ten minutes of the game, but as the Cats starting figuring things out defensively and making switches, VMI ended up only making one more three-piece the rest of the half.
Freshman EJ Montgomery didn't fill up the stat sheet in the first half with points and was on the bench for the majority of the half but was a big factor as he had a dunk, three boards and three big blocks for the Cats in the nine minutes he was on the floor.
The leading scorer of the half was Travis, who wasn't in the starting lineup for the first time this season. The graduate student entered the game around five minutes in and produced 12 points from 3-of-4 field goal shooting and four rebounds. Travis took a brutal poke to the eye with two minutes left in the half and had to go back to the locker room but made a comeback early in the second half with protective eyewear on.
Kentucky had a 14-point lead heading into the second half, but the Keydets didn't let up. VMI cut Kentucky's lead within single digits more than once due  to being on fire from the perimeter—Bubba Parham added six more threes in the second half.
Washington played with intensity again after scoring a career-high 25 points and four threes against North Dakota. Sunday, he passed his career high in rebounds with 18.
Parham continued sinking threes for VMI and cut the lead within six with about a minute and a half left. Kentucky came out of a time out, kicked it to Green at the top of the key and made a three-pointer to give the Cats some insurance heading into the final minute of the game—but VMI's impressive perimeter shooting resulted in yet another three pointer with 43 seconds left, their 19th of the game.
A few free throws from Washington and Quade Green within the last 33 seconds gave the Cats their 10-point lead to finish the game. 
Kentucky returns to the court on Wednesday, November 21st at home against Winthrop at 1:00 p.m.