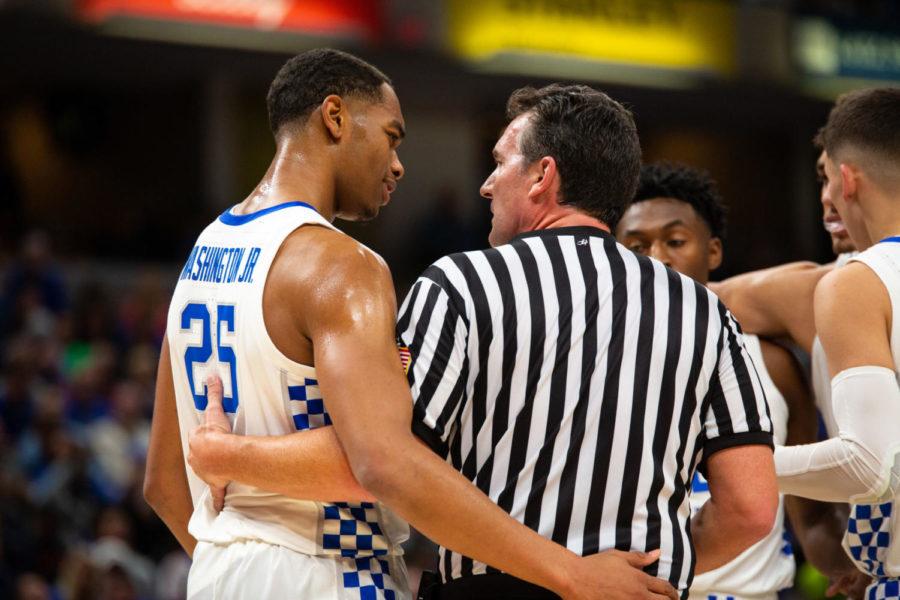 Well, that just happened. Duke's explosive top-ranked freshman, R.J. Barrett, Zion Williamson and Cam Reddish fell just short of outscoring the Cats, 83-84. Of course, adding the rest of the points from the Duke team shows the destruction imposed on them as the Cats suffered the biggest loss in the Calipari era, 84-118.
What's most surprising about the dismantling was the complete absence of UK's sophomore players that were touted as leaders this year. P.J. Washington, Quade Green and Nick Richards were no-shows for the Cats as they watched their teammates flail to try to keep up with the Blue Devils.
The sophomores combined for nine points on 3-12 shooting, nine fouls, four rebounds, three assists and four turnovers. Eight of the nine points went to Washington, as Green hit a free throw and Richards got blanked from the floor.
Head coach John Calipari acknowledged the struggle from the sophomores, staying political and saying that they "didn't play good".
"They seemed to be in the right frame of mind to play the game," Calipari said. "and our sophomores didn't play particularly well, and that's fine. I think all three of them, they'll be fine."
Washington, the only scoring presence for the non-freshmen not named Reid Travis (Travis accounted for 22 of the non-freshman 31 points for UK) fouled out with over nine minutes left to go in the game as he was tasked with guarding man-hulk Williamson for much of the game.
He wasn't much help on the boards, only grabbing two rebounds through Williamson and Duke forward Jack White, who combined for roughly half of all of UK's rebounds.
Green was next to no help on offense for the Cats, scoring no field goals and taking several contested jump shots early in the shot clock. He'd take mid-range jumpers off the dribble that was accompanied by a Blue Devil all over him.
"They can be quick in the clock if they're uncontested," Calipari said about shot selection. "But if they're contested, why? Why are you doing that?"
Richards may have been the least helpful of the trio. Over the summer, Richards was praised on his newfound confidence, defensive attention and offensive power. Against Duke, he had the same number of turnovers as he did blocks and rebounds combined (Three). He didn't score. He didn't have a prayer of defending a player like Barrett, who hit him with a nifty eurostep in the second half that left Richards frozen. He was -24, the worst mark on the team, in only 13 minutes, the lowest on the team.
There's a lot to be desired from this UK performance, especially from the older players. Experience was UK's advantage, and it was squandered with those three poor performances. They'll have chances against weaker opponents to help the fan base forget.