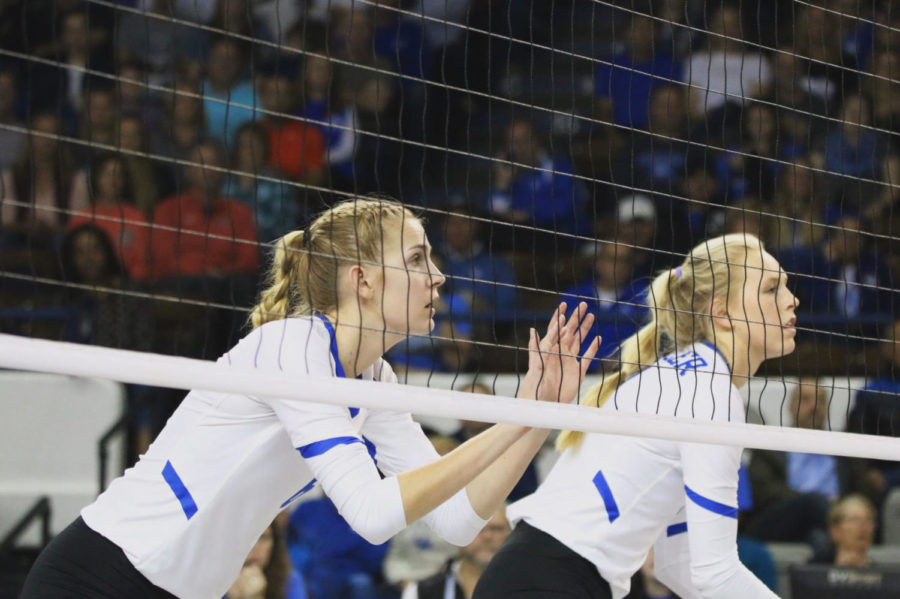 An interstate matchup is Kentucky volleyball's first 2018 NCAA Division I tournament opponent. The Murray State Racers are set to face off against the Wildcats Memorial Coliseum on Friday, Nov. 30 at 7:30 p.m.
Seeded at No. 10 overall in the NCAA, the Wildcats, fresh off their victory as SEC conference champions, begin their playoff journey against the Ohio Valley Conference champions. This will be only the second time in history, and the first time in Lexington, that the two teams have matched up, with the last occurrence being in Indiana in 2009.
Kentucky ended their regular season last Saturday with their 21st straight win over Auburn. They closed out the regular season with a 24-4 record overall, undefeated (18-0) in conference play.
Going into their 14th straight NCAA tournament, the Cats bring new and old talent on both offensive and defensive lines to the court. Claiming 80% of the 2018 SEC regular season awards, the Cats have a lot of talent to boast.
Alli Stumler, freshman outside hitter, was named the SEC Freshman of the Year. Sophomore defensive specialist Gabby Curry claimed the title of SEC Libero of the Year. Leah Edmond, junior outside hitter, broke UK volleyball's all-time kill record in the match against South Carolina on Nov. 21 en route to being named SEC Player of the Year. Even head coach Craig Skinner was named the league's Coach of the Year for the second time in a row after reaching his longest win streak with the team.
In their last 10 matches, the Cats have only given up a single set. Only two of the 24 matches they have won were pushed to five sets, and they swept several of their most competitive teams such as Florida and Mississippi State, the latter being swept twice. They are third in the nation in hitting overall hitting percentage (.309) and tenth in kills per set (14.37).
Murray State is also going into the tournament season on a victory high, with their season ending on a 16-game win streak. They claimed the first-place title in the OVC and a spot in the NCAA playoffs last Saturday with their sweep over Austin Peay State. Overall, their record came out to a praiseworthy 22-9 (13-3 in OVC play).
This is the third season in a row that Murray State has made the tournament. With sophomore libero Becca Fernandez being given the title of OVC Defensive player of the Year, the up-and-coming Racers seek to upset the Cats in the first round, giving them the opportunity to quest for the NCAA championship.
The winner of the match will face off against the winner of the Purdue/East Tennessee State matchup on the following Saturday in Lexington.