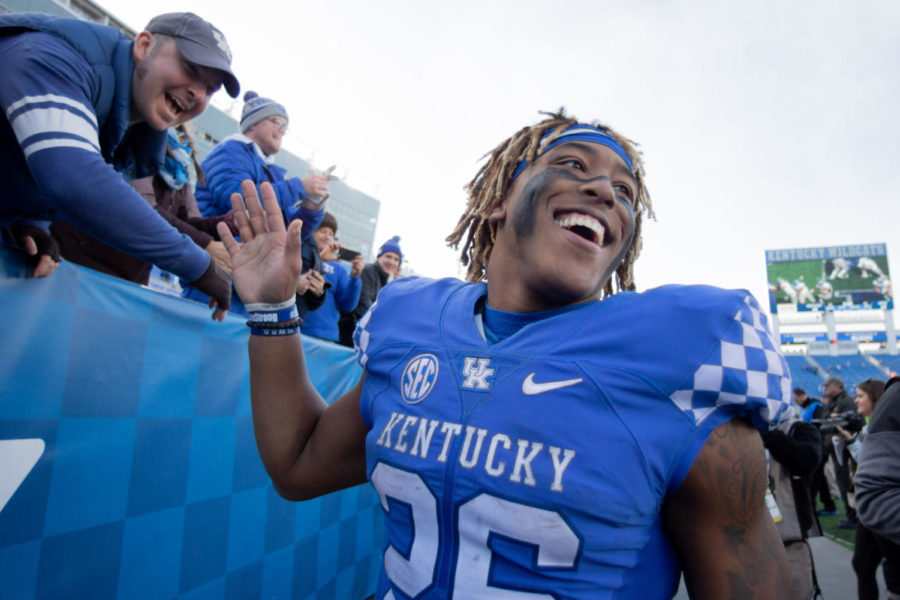 The Kentucky Wildcats brought a complete performance on Senior Day against Middle Tennessee State University on Saturday afternoon and grabbed their eighth win of the season to make for their best 11-game start to a season since 1984.
The Cats were sound on both the offensive and defensive sides of the ball—something nobody could say after their last game against Tennessee. The start of the game was eventful, as UK's Josh Paschal started after beating cancer and not playing all season.
On the first drive of the game, senior safety Mike Edwards picked off MTSU's quarterback Brent Stockstill on first down and ran it back 66 yards for a touchdown to score the first points of the game. The Blue Raiders got the ball back and started their drive at the 13:33 mark, when Edwards came up big for the Cats again and forced a fumble that was recovered by teammate Davonte Robinson. Kentucky would go on to score on that possession from an eight-play, 50-yard drive resulting in a seven-yard Benny Snell rush into the end zone. A Miles Butler extra point capped off the scoring drive, putting the Cats up 14-0.
The first quarter would continue to go in the Cats' favor as they would go on to score once more from a Butler field goal to take the Cats to a 17-0 lead into the second quarter.  
MTSU scored on its first drive of the second quarter, but Kentucky quickly responded with a touchdown on its next possession from a Terry Wilson 11-yard touchdown pass to Conrad. The Blue Raiders kicked a field goal towards the end of the half, sending both teams to locker room with Kentucky leading 24-10.
To start out the second half, the Cats came out and drove 83 yards down the field that resulted in another Snell touchdown— his second of the game— that put Kentucky in a 31-10 lead. Middle Tennessee wasn't complacent, though, scoring a touchdown from a Stockstill pass to wide receiver Ty Lee. Their missed extra point took to the score to 31-16.
Middle Tennessee scored once more in the beginning of the fourth quarter after and 11-play drive took them down the field and put them in scoring position, which they capitalized on, bringing the score to 31-23.
The fourth quarter was big for Kentucky senior Josh Allen, who was a menace on the defensive front all day. Allen became UK's all-time sack leader after causing a turnover, passing Oliver Barnett. He also passed his career high tackles (13) and finished with 15 total.
A Butler field goal gave Kentucky some insurance and took the lead up to 34-23, which was the final score of the game.
The Cats will return to the field after Thanksgiving next Saturday, Nov. 24, on the road at Louisville in the last regular-season game of the season.