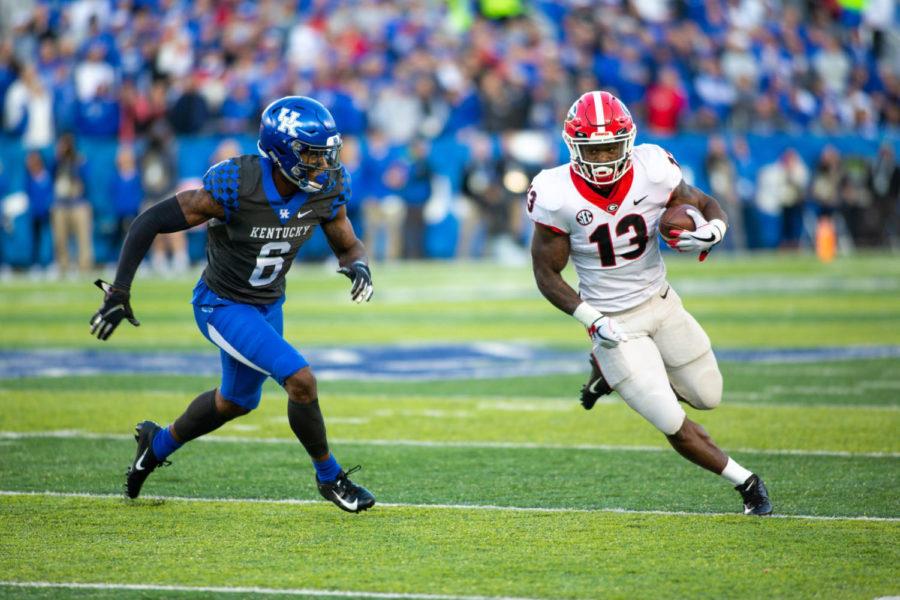 When you go against the no. 6 team in the country and a team who was a national championship contender last year, it might be hard to stop them from gaining yards, even you have a defense like Kentucky's.
Before Saturday afternoon's 34-17 loss, the Kentucky defense hadn't allowed more than 21 points. The Georgia Bulldogs came to town wanting the SEC East title and broke through that statistic, and in doing so, totaled 444 yards against the Cats' defense.
Last week against Missouri, Kentucky's defense forced eight-straight three-and-outs in the second half. Tonight, that was not the case. The Cats' defense struggled against Georgia's run—but that'll happen when your backfield consists of Elijah Holyfield and D'Andre Swift. The two combined for 274 yards on the ground out of the team's total 331 rushing yards. 
"We know they've got a great team, a good line, good running backs. One comes in and can get five yards, the other comes in that's just as good," Kentucky defensive back Mike Edwards said. "They've got a good running attack."
Swift, who ran for 156 yards and two touchdowns, was almost impossible to be stopped because of his quickness. Edwards says the sophomore was more "shifty" than he had anticipated.
"He's a good back. He's more shifty, likes to get in space, just tries to shake somebody and start stiff arming," Edwards said of Swift.
Missed tackles was a big part of Kentucky's struggles against the Bulldog run, due in part to the talent of Georgia's backs.
"You've got to give them credit. There's a lot of one-on-one situations that happened out there and the speed with which they have definitely is difficult to defend," Kentucky head coach Mark Stoops said. "It's one of the reasons why they have been Top-5 team the past two years."
Two of Kentucky's linebackers, Kash Daniel and Jordan Jones, each had a club on one of their hands. Coach Stoops each of their broken hands doesn't help their ability to make clean tackles.
"As experienced as we are, when you take those guys out of the middle, you go to very inexperienced. But I thought they did some good things and it doesn't help with two guys in there trying to tackle with those on," Stoops said.
Defensive coordinator Matt House says that part of why Georgia was so successful is because of how talented they are, but the other part is that his team made mistakes that hurt themselves.
"I mean part of it's Georgia's good, but I'll be honest with you, we just didn't execute the way we have," House said.
The Cats will look to review the film, fix their mistakes and bounce back against Tennessee on Saturday in Knoxville.