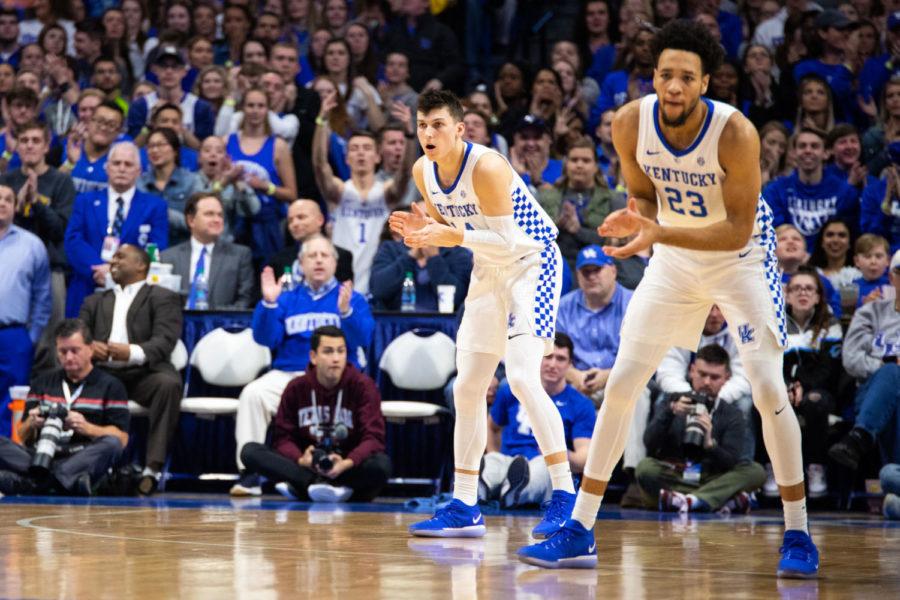 In week 11 of the college basketball season, the UK Wildcats traveled to Auburn, Alabama to take on the Tigers in an SEC battle that ended in a Kentucky 82-80 victory. The no. 12 ranked Wildcats now sport a 14-3 record. 
The Cats, who have had slow starts in the past five games, flipped that narrative and took an early lead with the help of graduate transfer Reid Travis who had five points in the first five minutes of the game.
Kentucky freshman Keldon Johnson, who's been averaging 14.6 points per game, went scoreless for the first nine minutes of the first half. Johnson got going at the 11:19 mark when he made a dunk in transition to take the Cats' lead up to 14-9. After that, the freshman finished as UK's first half leading scorer with 11 points on 5-of-8 shooting and two rebounds.
That would be the biggest lead for the Cats in the half until the last two minutes, when a 9-0 run from a tip-in and three-pointer from Johnson, a three-piece from freshman Tyler Herro and a free throw from Washington brought the Cats up eight points before halftime. 
Travis started things off for the Cats with a layup to bring his team up to a 10-point lead within the first minute of the second half. Both teams traded baskets for much of the beginning of the second half, but Auburn couldn't come back enough to get close with the Cats. Kentucky led by as much as 17 points in the last 20 minutes, but wouldn't go on to maintain that lead the whole time. 
Inside the final nine minutes of the game, the Tigers went on an 11-0 run led largely by Bryce Brown, who finished with 28 points overall, 25 of those coming in the second half. With just 3:47 to go, a Herro three-pointer put the Cats ahead by six points, but the Tigers weren't satisfied. A Horace Spencer jumper brought Auburn within two points with a minute-and-a-half to go, and Jared Harper took the lead with 32 seconds left. Two Herro free throws gave the Cats an 81-80 edge with 25 seconds to go, followed by a missed Harper layup. Kentucky freshman Immanuel Quickley sealed the deal with a free throw with four seconds left. 
Kentucky's game against the Tigers is the start of a three-game stretch against ranked opponents. The Cats go head-to-head with no. 24-ranked Mississippi State on Tuesday at 7 p.m.