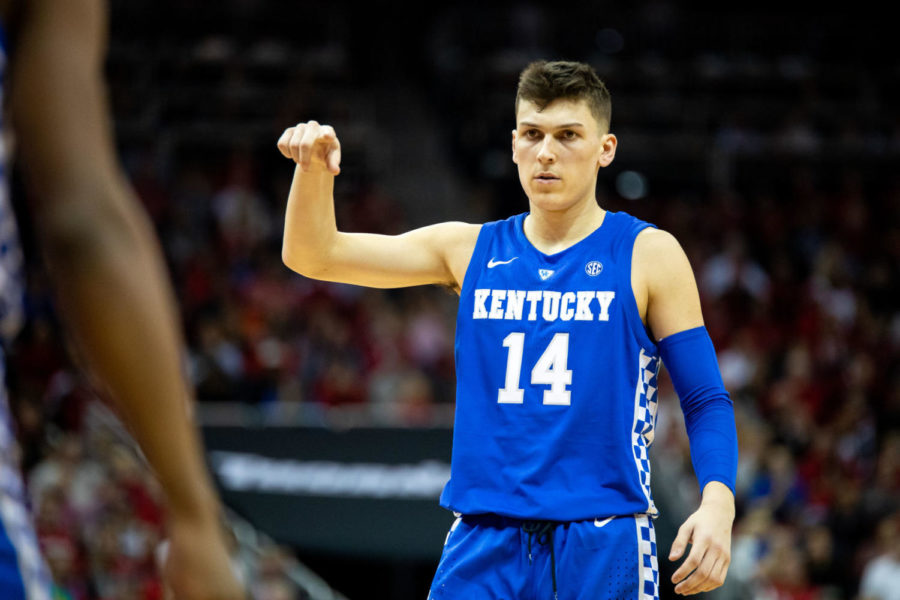 Throughout conference play, Ashton Hagans has been the rock of the Kentucky team, scoring career highs in four consecutive games and netting three steals in six consecutive matchups.
That said, to progress, the Cats need their human flamethrowers in Keldon Johnson and Tyler Herro. Against Auburn on Saturday, the two freshman wings had to be in full effect for the narrow, two-point win.
"You know what was funny? Last night, two nights ago, I woke up and I said, for us to win, Keldon and Tyler are going to have to score baskets, and they haven't been doing it," UK head coach John Calipari said after the game. "We came up with some stuff to run, specifically to Keldon, so a package of things that we've been working on. So the other thing I said, and I would ask you guys, if we really need a basket late, what are we doing? Who are we going to, what are we running?"
Calipari didn't have an answer to that question before this game, and didn't have many late-game sets that the team could go to if they needed a basket. Luckily for them, Tyler Herro was positively on fire to counteract a 28-point outing from Auburn guard Bryce Brown.
Herro only scored five points on 1-5 shooting in a defensive first half, getting to the line once and making a three. When the game opened up and both teams' offensive guns were out, the Cats finally had a go-to player in Herro that could light the Tigers up.
"He wanted the ball, he wanted it to come to him," Calipari said.
After halftime, Herro scored 15 points on 5-7 shooting, including an eight-point burst in less than two minutes. Four of his made baskets through the game were jump shots, and his stroke improving bodes well for the Cats moving forward.
Herro wasn't the only one finding his offensive spark for the Cats, either. Fellow wing player Johnson also put up 20 points to lead the team, making four consecutive baskets between the 1:42 mark in the first half and 14:52 in the second. He was the leading piece of UK's 19-2 run that broke the game open and put them in the driver's seat of the game.
"I just give it off to my teammates. They just keep trusting me. If I go scoreless or if I have a breakout game, they still just believe in me. And it's just the best feeling," Johnson said.
In the first half, Johnson had an offensive lapse that prompted Hagans to look at him and clearly appear to tell him to "wake the f— up" within the first 10 minutes of the game. Johnson was scoreless at that point after not making a single basket in the Cats' last game. He caught fire almost immediately after substituting back into the game.
"I know he wants what's best for me, and we might argue sometimes on the court, but I know about my teammates and that they want what is best for me," Johnson said after the game.
With the UK basketball team now defining and understanding their roles, whether it be scorer, rebounder or playmaker, they become progressively more dangerous as the season carries on. Herro and Johnson have their roles just about solved.