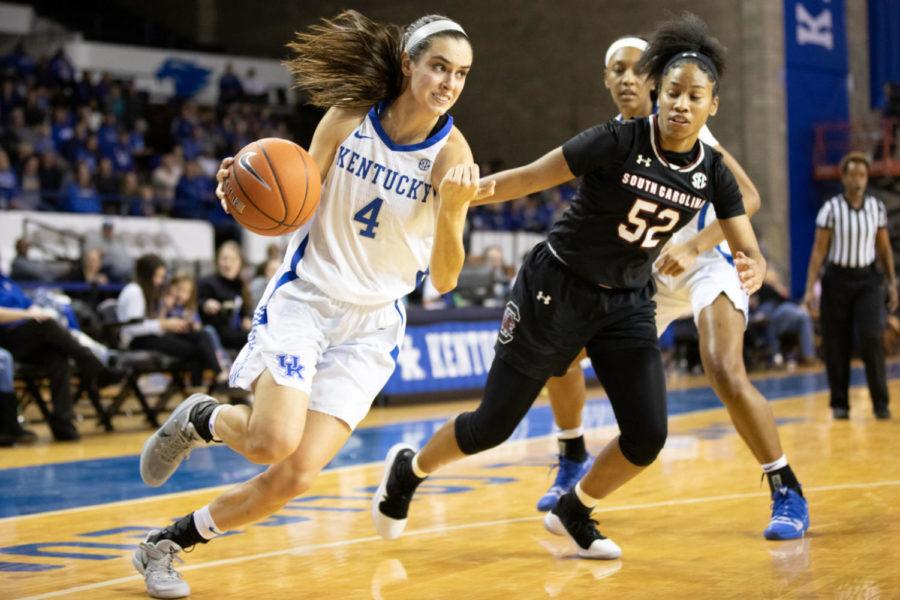 The Kentucky Wildcats enjoyed a 65-57 win over the No. 13 South Carolina Gamecocks in the teams' second meeting of the year. In their first meet of the season, the Gamecocks stole a win in Memorial Coliseum after a huge 45-15 run. Thursday night's win extended Kentucky's win streak to five and was its fourth top-25 win of the season.
Former Wildcat Alexis Jennings made the first basket of the game for the Gamecocks, but South Carolina would not score again for three minutes. In this time, the Wildcats went on a 7-0 run that would help them secure a 13-11 advantage at the end of the first.  
South Carolina scored the first basket of the second quarter as well, tying the game at 13 a piece. The Gamecocks were able to keep the game within three for the first five-and-a-half minute, then freshman Rhyne Howard exploded, scoring eight-straight points for Kentucky for an 8-0 run. This run gave UK a nine-point lead, but was cut to just six after Carolina ended the quarter with a three-pointer. Kentucky entered halftime with a 30-24 lead.
The Gamecocks began the third quarter with a nine-to-two run that gave Carolina their first lead since the first basket of the game. With six minutes remaining in the quarter, Wildcat Blair Green stole the ball for a Taylor Murray fastbreak layup, ending the Gamecocks' run. Kentucky scored 10 points in the quarter, the final eight of which came by way of either Green or Murray. The pair tied the game with 2:45 left, but Jennings scored on an and-one play to regain the lead. After outscoring the Wildcats 17-10 in the quarter, the Gamecocks would lead 43-40 entering the final quarter.
The fourth quarter was all Kentucky as the Wildcats outscored South Carolina 25-14 in the quarter. Senior guard Maci Morris scored six straight points for UK with six-and-a-half minutes left. This run was particularly impressive because at the time, she had yet to make a field goal on the night. Nine of her 12 points came in the final quarter.  
In the Wildcats' previous game, Howard led UK in all five major statistical categories. Murray led Kentucky in four out of five against South Carolina. Although not for the first time this season, Murray took over in the second half of play– 12 of her 17 points and three of her five assists came in the second half. On top of her 17 points and five assists, Murray also recorded eight rebounds and stole the ball a game-high four times.
Kentucky's next game will be back at home when the Wildcats host the LSU Tigers on Sunday, Feb. 24, at 2:00 p.m.