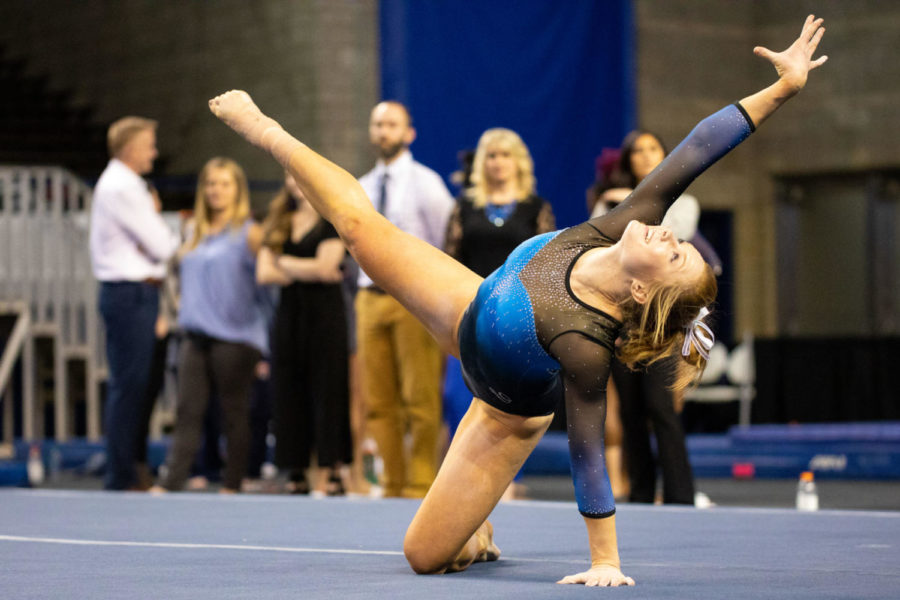 Fans filled Memorial Coliseum Friday night as they watched the No. 17 Kentucky Wildcats and the No. 11 Auburn Tigers face each other in a battle of SEC powers. Kentucky had a combined total score of 196, edged out by Auburn's total of 196.125.
The Wildcats' Mollie Korth lead her team in the vault category with 9.925, marking her season high. Teammate Alex Hyland was right behind her, putting up her new season best of 9.875. Kentucky had a combined total of 49.175 points in vault. It'd end up being their best event of the night.
On the bars, UK's Cally Nixon put up a 9.875 to lead the team. Korth earned 9.850, tying another season high. The Wildcats earned a combined total of 49.100 in bars.
In beam, Kentuckys seniors, Sidney Dukes, Korth and Katie Stuart all tied to lead their team with a score of 9.825. Despite Korth's fall off the beam, she still managed to tie her fellow seniors. The team and fans erupted in cheers after a perfect dismount from a great performance for Dukes. Behind the seniors, Madison Averett made her debut on the night with a score of 9.550. The team had a combined total of 48.575 on beam.
"Beam we caught a case of the wobbles tonight. We just didn't perform at our highest level tonight, that's for sure," coach Tim Garrison said of his team's performance.
Before the floor event, nerves may have started to kick in for the Wildcats as they realized they were down. They knew they would have to compete close to perfectly to edge out Auburn. The Wildcats' Dukes and MacKenize Hartman both tied for a total of 9.900. Not far behind, Aubree Rosa scored a total of 9.825. She perfectly landed her first flip, causing a rush of cheers from the fans and the team. Kentucky scored a combined total of 49.150.
"Floor can do better. We had some missed steps on floor tonight," Garrison said.
The small mistakes allowed Auburn to edge out the win, according to Garrison.
"We gave a few too many things away and you know didn't come out with a win tonight," Garrison said of his team's performance.
Despite the loss, the coach is hopeful for the future. The gymnasts hope to get their lineup set and to get some of their other key gymnasts healthy.
"There are some people that were in our lineups last year that are still working their way back," Garrison said of their incomplete team.
"As a team, I think we definitely are working towards getting our line-up set," Dukes said.
The Cats will have the opportunity to improve in their next meet against the No. 5 LSU Tigers. The meet will be next Friday evening in Memorial Coliseum.