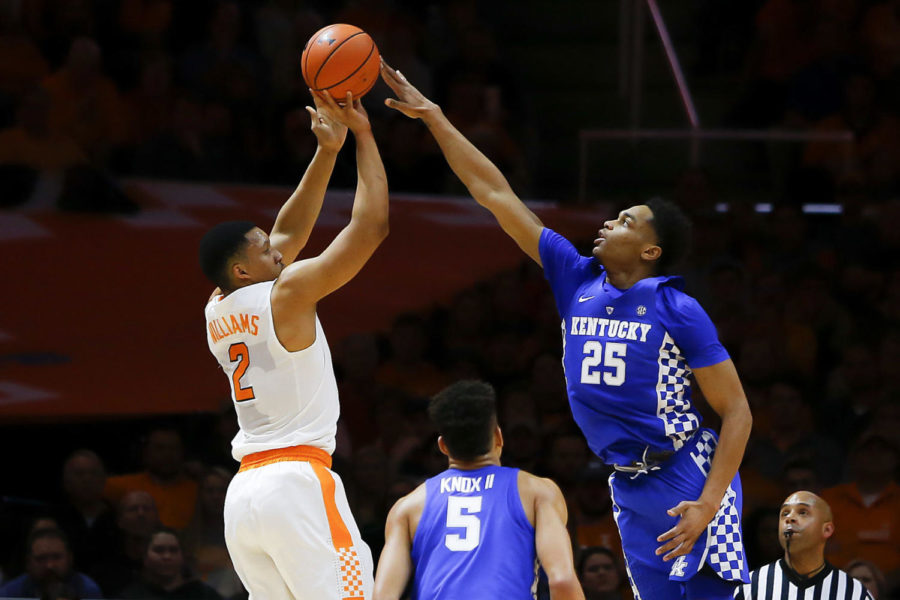 After a controversial loss following a last second LSU tip-in, the Kentucky Wildcats are poised to take on one of their biggest opponents of the year, the Tennessee Volunteers. Despite the Volunteers being ranked the No. 1 team in the nation, ESPN's Basketball Power Index gives the Wildcats a 59.3 percent chance to win.
Head Coach: Rick Barnes (fourth year with Tennessee; 684-359 overall record)
Record: 23-1 overall, 11-0 SEC; 19-game win streak
Likely Starters:
#0 Jordan Bone: 6'3 junior guard. 13.2 PPG and 6.5 APG.
#1 Lamonte Turner: 6'2 redshirt junior guard. 11.7 PPG and 3.5 APG.
#2 Grant Williams: 6'7 junior forward. 19.4 PPG and 7.4 RPG.
#5 Admiral Schofield: 6'6 senior guard. 16.7 PPG and 6.4 APG.
#11 Kyle Alexander: 6'11 senior forward. 8.5 PPG and 6.9 RPG.
Kentucky vs. Tennessee on paper:
Kentucky
Tennessee
PPG
78.4
85.4
Opp. PPG
66.5
67.5
FG%
47.5
51.5
Opp. FG%
40.7
39.1
3FG%
35.3
36.8
FT%
74.6
76.7
RPG
39.0
38.1
Reb. Margin
+9.7
+4.4
Ast/G
14.2
20.0
TO/G
12.9
11.3
Blk/G
4.9
5.9
Stl/G
6.6
5.9
Grant Williams:
Grant Williams may be Duke freshman Zion Williamson's greatest competition for college basketball's most prestigious award: The Wooden Award.
The 6-foot-7 junior earned himself a CBS Player of the Week award in late January for his stellar two-game performance. Williams set a career high for himself in points in Tennessee's overtime victory against Vanderbilt on Jan. 23, when he scored 43 points. On top of his scoring output, Williams nearly broke a record of more than 50 years by making 23 of 23 free throws. The record for most consecutive free throws made in a game was set in 1959 by Arlen Clark when he made 24 against Colorado. Williams followed up this game with a stat line of 19 points, four assists and three steals. He averaged 31.0 points, 5.5 rebounds, 3.0 assists, 2.5 blocks and 2.0 steals in that two-game stretch.
ESPN projects the Tennessee forward as the no. 23 pick in the upcoming NBA draft.
Second Half:
The LSU loss stung for Big Blue Nation, but it highlighted an important problem that Kentucky is experiencing lately: poor second-half play.  
The Wildcats entered the second half against LSU with an eight-point lead. Being upset about the game's final play is understandable, but the Cats said repeatedly that it should never have come to that. LSU raised their shooting from 33 to 52 percent in the second half while Kentucky's shooting dropped from 47 to 37 percent.  
Kentucky struggled in the second half in the game prior as well. The Wildcats played phenomenal defense in the first half, holding the Mississippi State Bulldogs to just 25 points, but allowed 42 MSU points in the second.
If Kentucky is going to avoid its first back-to-back home losses since the 2008-09 season, and first in the Calipari-era, they will have to finish better.
The game will be featured on ESPN's College Gameday with Jay Bilas, Dan Shulman and Maria Taylor announcing. Tip-off is scheduled at 8:00 p.m. at Rupp Arena.