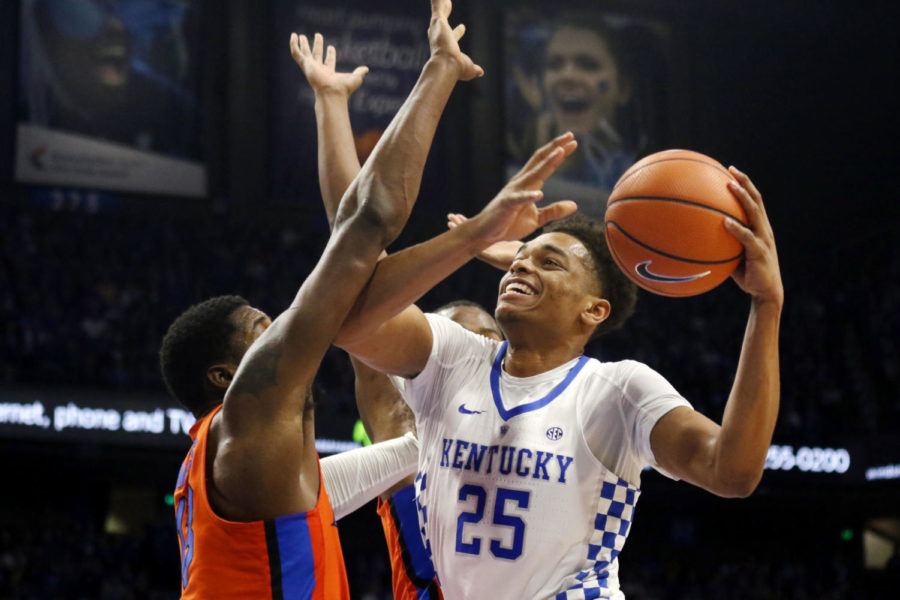 The Kentucky men's basketball team will open its annual series against conference foe Florida in Gainesville Saturday at 4:00 p.m.
Although Kentucky has been climbing in the national ranks and Florida remains stuck at an unranked position with a 12-8 record (4-3 SEC), the Gators have managed to give Kentucky a tough fight, often ending in the Cats' downfall, several times over the past few seasons.
Riding the victory wave of their past three SEC matches, the Gators are seeking to open their series against Kentucky with an upset win at home. Florida triumphed over Kentucky in three of the last four meetings, and both of the last games in Gainesville, despite being pitted against a no. 8 Kentucky team.
Florida's defense currently shines as one of the best in the country, as they have shut down Butler, Arkansas and West Virginia by holding them to more than 30 points below those teams' respective scoring averages this season.
In their last game against Ole Miss, both senior guard KeVaughn Allen and freshman guard Noah Locke sank over 20 points, giving the Gators a unique advantage over conference rivals that propelled them to victory after a shaky start to SEC play. Allen and Locke are the only two starters on the team to average more than 10 points per game this season, and compared to Kentucky's four, the Gators will have to rely heavily on their ability to block, steal, and rebound defensively to claim their next victory over the Cats.
Virtually every sport in the UK Athletics program has shaky luck and an exceptionally deep rivalry with Florida, but the men's basketball team has a rich history and tradition of winning combined with a current spot at "lucky no. 7" in the national rankings that could potentially give them the edge they need to secure a win in the seemingly cursed competition.
Currently on a seven-game win streak, the Cats finally resemble what they are: the winningest team in NCAA basketball history. After getting blown out by Duke in the season opener, Kentucky has come a long way and serves a real threat to Florida. 
The Cats' only loss in SEC competition came from Alabama in the conference game opener as the Tide barely scraped by the Cats in Tuscaloosa (77-75). Since the loss, the Cats have taken out ranked teams, including top-25 Mississippi State and then-top-10 Kansas. Both of these wins have come from home games from the Cats, but they also have dominated on the road.
In their previous game against Vanderbilt in Nashville, Kentucky beat their competition by a margin of 35 points. Sophomore forward P.J. Washington recorded his second double-double in a row with 26 points and 12 rebounds, rounding him out as one of the keys for Kentucky's victorious run. Freshman guards Tyler Herro and Keldon Johnson joined Washington on the leaderboards with double-digit points. The dynamic, rolling offense will serve as an even match for the Gators' exponentially growing defense and make for an intense game of basketball rivalry.
The matchup in Gainesville will be broadcast on ESPN, and is the first of two games this season where Kentucky and Florida will go head-to-head. The second will be in Lexington and is the teams' final game before March Madness.