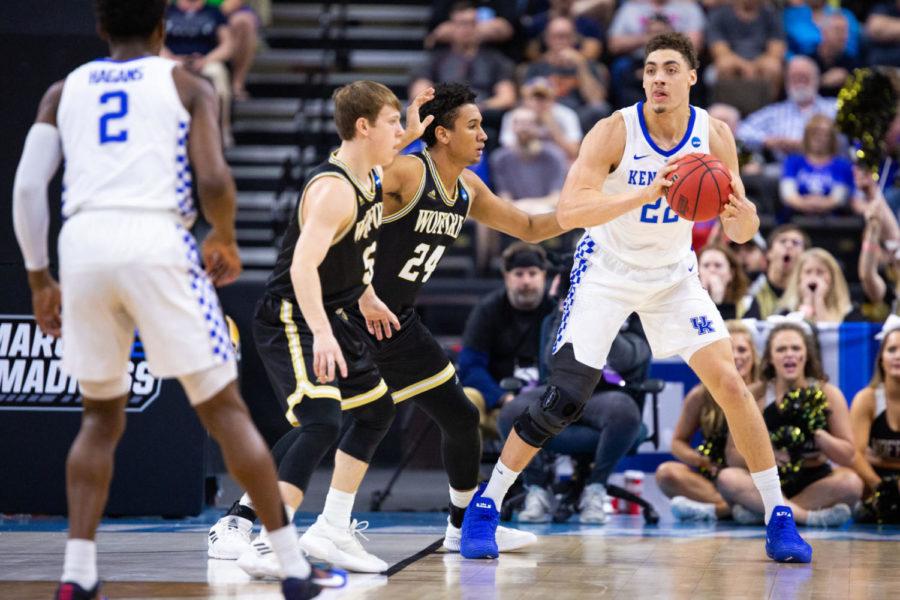 With their backs against the wall without star forward P.J. Washington, UK got a narrow victory against all-time career three-point leader Fletcher Magee and the seventh-seeded Wofford Terriers, escaping Jacksonville with a 62-56 win.
The first half was a battle of two competitive defenses. The teams combined for just 54 points in the first half, as Kentucky failed to make a three and Magee was held to only two points.
The Cats grabbed their first lead of the game late in the first half, after the Terriers hit an early three to take a lead they wouldn't relinquish until there was only a minute left in the half. UK closed the half on a 10-2 run after Wofford failed to build a double-digit lead when the Cats offense stagnated.
Foul trouble also plagued the Cats, as SEC Newcomer of the Year Keldon Johnson picked up two fouls, one on a three-point shooter, in the first half. He picked up his third only two minutes into the second half.
In the second, it looked like the game was going to be more of the same. Teams traded occasional baskets, but not nearly the electric offenses expected from these teams.
Finally, the Cats broke through. Reid Travis and Ashton Hagans helped carry the offense for the Cats as they combined for 16 points in the half. They both got inside and got themselves to the foul line as Kentucky stayed out in front for most of the second half, thanks in large part to a 13-2 run with 12 minutes to go in the game.
The game tightened up down the stretch, as Wofford's Nathan Hoover made shot after shot as part of his 19-point performance. He finished the game 4-5 from the three-point line burning the Cats from deep.
The Cats appeared to have control until a quick 5-0 spurt from the Terriers brought them to within two points with 37 seconds remaining in the game. Reid Travis (14 points, 11 rebounds) got himself to the foul line on the ensuing possession, and Magee missed his 12th three to finish off the loss for the Terriers.
The Cats will move on to face the winner of Ohio State and Houston in Kansas City next weekend.