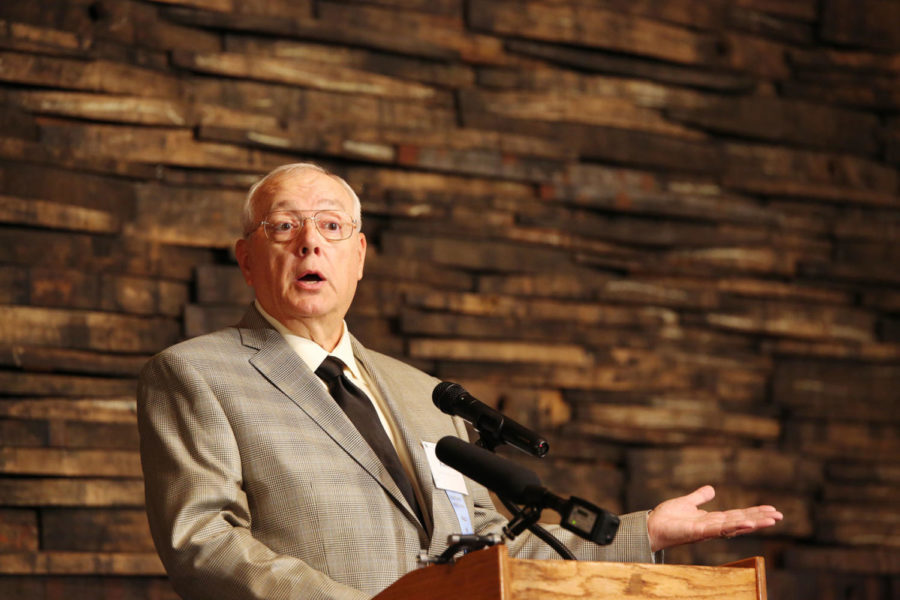 UPDATE: Per Dave Farrell, Mike Farrell's son here are the service times:
Visitation: Sunday, Sept. 1 from 4-7 p.m. 
Funeral: Monday, Sept. 2 at 10 a.m. 
Both services at Calvary Baptist Church, 3711 Tibbatts St. Covington, Ky. 41015. There will be a private family burial on Tuesday.
As a veteran journalist turned beloved teacher, University of Kentucky professor Mike Farrell was a mentor to many. 
Farrell, the former interim Director of the School of Journalism and Kentucky Journalism Hall of Famer, died Wednesday afternoon at 70, according to family members.
UK does not release statements regarding faculty deaths, but UK spokesperson Jay Blanton personally described Farrell as "the best example of what a journalist can be."
"The man was incredible in his graciousness and kindness and compassion, but also in his deep knowledge and love for journalism and for students," Blanton said. "He believed deeply in journalism and the fact that it was a calling. And he believed deeply in students and in trying to get students to take up that torch."
That sentiment was reflected in an email to students from Mike Farrell's son Dave Farrell earlier this week.
"To each one of you who had a part in making his time at UK so special, my family and I do not have the words to express our gratitude," the email read. "He loved his 'job' there so much – it was a passion that inspired him as he strove to inspire others. He took great pride in trying to get the most out of those around him and if you knew him, you knew he had an uncanny ability to believe in someone, even when the may not have believed in themselves, and to push them to achieve greatly, all the while knowing he was right there with them to listen, lend a hand or say an encouraging or inspiring word."
A statement on Farrell's passing was distributed on Wednesday through the journalism school's email server. The brief statement from the Journalism School's Interim Director Scoobie Ryan said Farrell was with family members at the time of his passing.
"They are overwhelmed by grief and memories at this time. Please respect that and give them some time," the email read.
Farrell's family said he had experienced liver failure and that he was recently unable to be placed on a liver transplant list due to health setbacks. The update came in another email earlier this week.
Farrell had withdrawn from teaching classes at UK following a fall-related injury last semester.
Farrell served at The Kentucky Post for 20 years. There, he worked his way up from reporter to city editor to managing editor. After receiving both a master's degree and doctorate from UK, Farrell became an associate professor with the university in 2009.
In 2016, Farrell was promoted to a full professor position, where he taught hundreds of students journalism history as well as media law and ethics. All the while, Farrell served as a member of the Ethics and Freedom of Information committees with the Society of Professional Journalists; a member of the law, news and religion divisions of the Association for Education in Journalism and Mass Communication; and a co-sponsor of the campus' Society of Professional Journalists chapter.