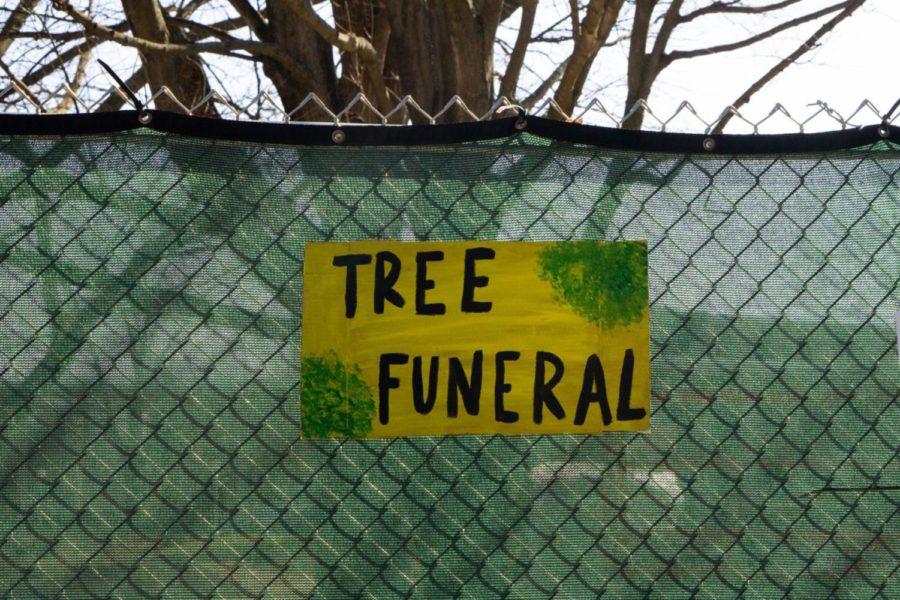 The Kernel has published a lot of news about trees this past week. At risk of saturating the news feed further and causing people to scroll past the "tree huggers" (as one Facebook comment rightfully dubbed us), I think that it's important to clarify a couple of the reasons behind environmental science students' dismay at the removal of the 231 trees in the Kirwan-Blanding complex.
It's not just about saving the trees. It's about a lack of research into the best options, and a lack of communication with the student body. This is a research university. From the Urban Forestry Initiative, to the campus arborist, to reaching out to any of the professors in the forestry who have dedicated their careers to research of trees, UK administration had many options to consult knowledgeable sources about the ecosystem benefits of these trees and options for preserving them within the plans for a "green space" in the Kirwan-Blanding complex.
Whether the administration was simply ignorant as to why they should aim to preserve more of these trees, or they chose to ignore the input that they should, their actions were lazy and inexcusable.
Those of us at the tree funeral are not advocating that no tree must die, ever; we acknowledge that new construction often necessitates removal of some trees. However, there are also options that allow for retaining more trees, such as the design of Woodland Glen which allowed for the large white oak to remain in that area.
In defense of removing all except 11 of the trees in Kirwan-Blanding, UK PR spokesperson Jay Blanton stated that UK is still honoring its commitment to preserve trees in the area, and that "[UK] will be adding trees to this area. Our goal, moreover, is to enhance and add greenspace[…]"
This is absolute greenwashing. UK is simply providing lip-service to the idea of being environmentally friendly for the sake of their public image. The university administration's statements shows a lack of consideration for the ecosystem benefits that older trees provide, such as carbon sequestration and stormwater management (as outlined in Cameron Luker's recent opinion article on the tree removal). The younger trees will take decades to achieve the same environmental benefits as these already established trees, may they rest in pieces.
Beyond benefits to our localized urban environment, the looming specter of climate change necessitates that we make the effort to save every tree possible.
While it may seem to many that we are making a fuss about just a few plants, our protests represent a greater cause; the student body wants to be consulted. In this specific instance, I hope that the UK administration realizes how deeply students care about the sustainability of our urban environment, and plans that modify it need to be better publicized, better discussed and better implemented.
As Claire Hilbrecht, organizer of the Tree Funeral, stated in her speech, "[…] we are here to demand that the administration step up to the challenge of engaging student voices with their decision making."
Honestly, I'm not sure that our little Tree Funeral event will catalyze much change on its own. It is more time-effective and cost-effective for UK to be secretive, chop down trees in the night (literally and metaphorically), and to bypass student input across any number of decisions affecting the student body.
Despite this, we shouldn't stop speaking up. The more voices that join any chorus, the more likely for those further up the chain to listen. Personally, I want to attend a university that takes the right option, not only the most cost-effective option. Don't you?