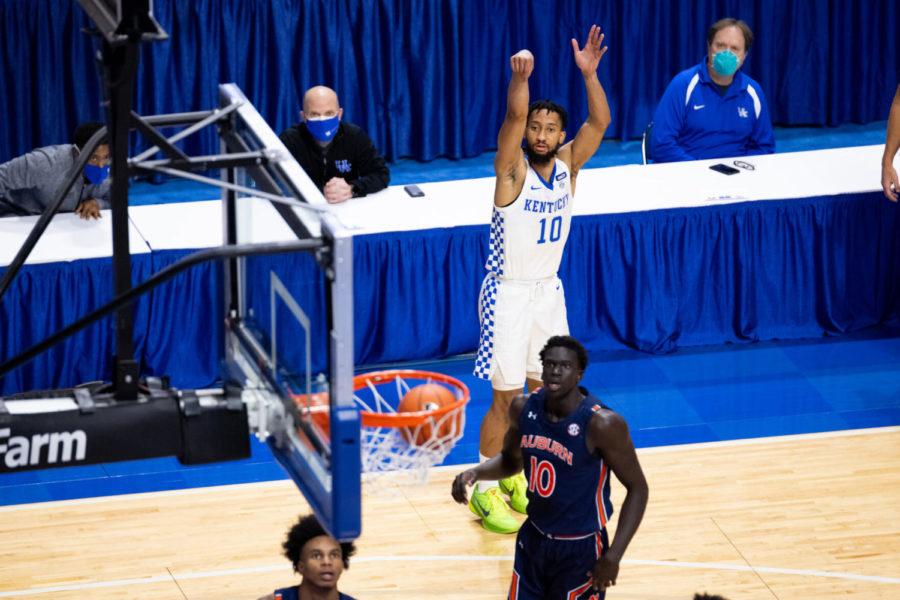 Kentucky desperately needed a big-time win heading into the SEC tournament, and did exactly that by defeating South Carolina 92-64 Saturday in Rupp Arena in the final game of the regular season. 
Brandon Boston Jr. and Davion Mintz combined for 12 of Kentucky's 13 three-pointers on the afternoon, including five straight from Mintz to begin the second half. 
"Whatever [Calipari] needs from me, that's what i'm going to do," Mintz said post-game. "Whatever the team needs from me, that's what i'm going to do."
Boston Jr. and Isaiah Jackson were responsible for the first 12 points from Kentucky, hitting four of their first five shots (including two three-pointers). A three-pointer by Olivier Sarr broke that streak for Kentucky, though that's one streak BBN will accept being broken this season. 
The Gamecocks brought pressure after the second media timeout, issuing a full-court press on Kentucky. Between the press and Carolina's zone defense, the Wildcats began rushing their shots, making ill-advised passes and quickly saw their lead deplete.
Nine turnovers from South Carolina throughout the first half gave Kentucky the opportunities they needed to build their lead up to eight points at halftime. 
Boston Jr. and Sarr combined for 23 points of Kentucky's 36 in the first half. The seven-footer picked up his third foul before the half as well, which kept Sarr on the bench toward the end of the first half. 
Davion Mintz injected ice in his veins at halftime and came out of the locker room with murder in his eyes. Kentucky came out the gates hot, extending their lead to 19 early in the second behind five three-pointers from Kentucky's senior in potentially his final game at Rupp Arena. 
"He had a great game," Jackson said about his teammate after the game. "That was crazy, he's the one that really stretched the game out for us."
The game might as well have ended there as Carolina looked completely defeated after Mintz's three-point barrage.  
Though the pace slowed from then on, Kentucky rode that wave Mintz set forth for the rest of the game, not letting up on the Gamecocks for a minute. The Wildcats led by as much as 33 in the second half, the largest lead for the team since Kentucky played Morehead State in the season opener. 
"It felt really good to just sit back and enjoy the game," Jackson said. 
Boston Jr.'s 21 and Mintz's 20 points led the way for Kentucky, as well as Jackson's double-double (13 points, 10 rebounds) were too much for the Gamecocks to handle. Kentucky shot 33-67 (49 percent) from the floor and 13-27 (48 percent) from deep and outrebounded South Carolina 46-36. 
Kentucky's next game will be in the second round of the SEC tournament in Nashville on Thursday, March 10, their opponent is currently TBD.