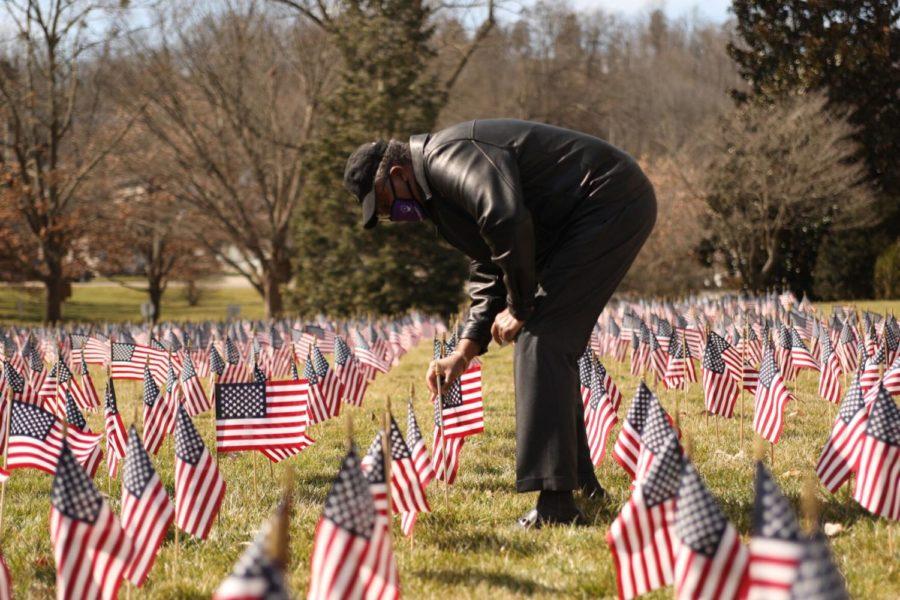 On March 6, 2020, Kentucky recorded its first case of coronavirus. The patient was isolated at UK Chandler Hospital and discharged within a week. That was the beginning for the Commonwealth.
On March 6, 2021, Kentuckians marked the one-year anniversary of a pandemic that has cost thousands of Kentuckians their lives. On the lawn of the state's Capitol building, 4,754 flags fluttered in the wind, each representing a COVID-19 death, as state leaders held a memorial service in honor of the Commonwealth's battle against COVID-19.
"I hope that what we do today honors those that we've lost, hopefully fills those that are grieving with some level of comfort," Gov. Andy Beshear said.
Beshear and Lt. Gov. Jacqueline Coleman spoke to a small audience seated in front of the sea of flags.
Those audience members reflected the many changes the pandemic has brought to the state: family members who lost loved ones, a doctor on the frontlines of the crisis, a nurse who found herself helping person after person with their COVID-19 fears.
"We must never become numb" to the staggering loss of the pandemic, Beshear said, even though victory is on the way. He said the memorial honors the "many sacrifices our long battle has required of all of us" this year.
To end the ceremony, the honorees planted flags in honor of their loved ones.
Tanya Smith spoke in memory of her husband of 34 years, Reverend Dr. Gregory Smith, who died of COVID-19 three months ago.
"None of us ever expected to say goodbye to him so soon," Smith said. She, her husband and her daughter had all contracted the virus.
Smith said she was 'blessed' to have been by her husband's side as he died, as not many families had that opportunity this year.
"These challenging times require that we serve our community and others' needs before our own," Smith said, something her family aspires to do in honor of her late husband. She encouraged Kentuckians to take the virus seriously and look into getting vaccinated.
"Stay strong, Kentucky," Smith said. "We are in this together and we will get through this together."
Beshear acknowledged that the last year was the toughest of many peoples' lives.
"We're a changed people," Beshear said.
One of the honorees, Dr. Valerie Briones-Pryor, spoke on behalf of those who have taken on the challenge of COVID-19 for the public – frontline doctors and nurses.
Dr. Val, a doctor at U of L Health, was one of the first Kentuckians to be vaccinated. On her way down to get her shot, she learned that she had lost her 27th patient to COVID-19. She has cared for more than 700 patients on the COVID-19 floor.
"I'm thankful that I had the honor of taking care of some of those patients before they died," Dr. Val said, including 50 people now represented by flags.
Though Kentucky reported its first case on March 6, Dr. Val did not have COVID-19 patients until March 17 and has been on the COVID floor ever since. She thanked her husband and son for making that possible.
"They sacrificed a lot so that I could be on the front lines," Dr. Val said.
Though the ceremony recognized the grief of the last year, Beshear also noted the hope currently rising in Kentucky.
"I know it's hard to feel them at the same time," Beshear said. Even as the sun beat down on those gathered, the promise of warmth and spring did not detract from the solemn occasion.
He hoped the memorial service would be "not only a day of mourning, but a day when Kentuckians also felt hopeful that the end of this pandemic was on the horizon."
Beshear recalled his experience on March 6, when the first case in Kentucky was confirmed, and 'the call that changed everything.'
"That bright, sunny day would begin a long, sometimes dark, year," Beshear said. Since then, Kentucky has lost more residents to COVID-19 than to both world wars and the Vietnam war combined.
"No symbol can correctly fill a void that's been left and nothing is enough to honor the special people that we've lost," Beshear said.
Kentucky began planting memorial flags in January and have added 1,400 since then, Beshear said.
He announced the creation of a fund for establishing a permanent memorial on the Capitol grounds in honor of those lost to COVID-19 on the Capitol grounds.
"This memorial will stand in tribute to our togetherness," Beshear said, so that generations will "know that this was a moment that changed all of our lives forever."
"It was hard to hold on to hope," Coleman said of the pandemic. She said the flags were a 'stark reminder' of what the state has endured and announced that the floral clock will be lit green in remembrance of those lost.
Coleman and other speakers acknowledged the many sacrifices made by healthcare professionals and other essential workers this year, sacrifices often taken for granted.
"I hope as we close this chapter in our history that is not the case anymore," Coleman said
Speakers reminded those watching that the best way to honor those who died from COVID-19 is to stay vigilant about public health measures.
Coleman likened the struggle of the pandemic to watching her young daughter learn to walk, falling and getting back up again and again.
"Tomorrow, we will stand back up and we will be stronger and steadier because of it," Coleman said.