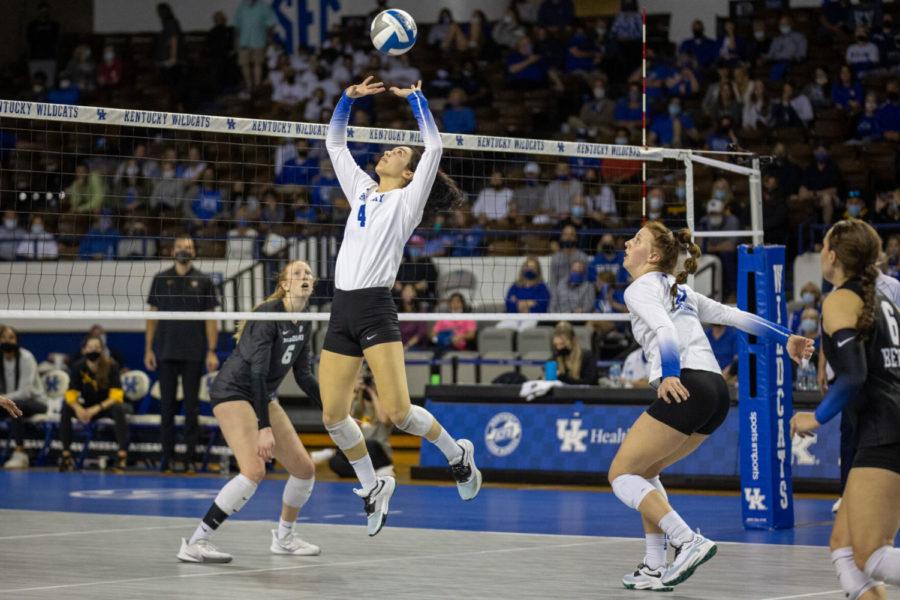 No. 5 Kentucky (10-3) defeated Mississippi State (12-5) in four sets at Memorial Coliseum in Lexington on Wednesday night. The 3-1 victory moves the Wildcats up to 3-0 in the SEC.
Madi Skinner led the Wildcats with 15 kills, while Alli Stumler followed close behind with 14. Stumler also led the Wildcats in attacks with 43 by the end of the contest. Despite her high attack total, it was Mississippi State who finished with more attacks, but a disastrous third set helped the Wildcats claim victory in the end.
Despite Kentucky getting out to a quick 2-0 lead, the first set was a battle with neither team leading by more than two at any points for the first half of the set. Kentucky jumped ahead 20-16, but a kill by Shania Cromartie started what would end up being an 8-0 run for the Bulldogs. Kentucky tried to battle back, but an attack error by Skinner won Mississippi State the first set 25-21.
The Bulldogs led much of the second set with their highest lead being four points (11-7). Both teams fought back and forth, neither team able to really run away with it. With the score at 22-21 in favor of UK, an attacking error by Cromartie started a 3-0 run for the 'Cats with Stumler having the match winning kill for a 25-21 Kentucky set win.
The third set spelled disaster for Mississippi State, with the Wildcats quickly jumping out to a 10-0 lead. The Bulldogs were able to rattle off five points in a row, but Kentucky countered by  going on a 5-0 run of their own to lead 15-5. The Bulldogs couldn't fight their way back into it with Skinner ending the set with a kill for a 25-15 Kentucky win.
In the fourth set, Mississippi State took a 6-2 lead in the start, but Kentucky battled back eventually overtaking the Bulldogs to lead 12-9. It was a battle until the end, but it was Stumler who sent everybody home on a kill assisted by Emma Grome that gave UK a 25-22 victory in the set, and a 3-1 victory overall.
The 'Cats hit the road this Saturday Oct. 9 for a showdown with Alabama in Tuscaloosa. The contest is set to begin at 2 p.m. E.T and will air on the SEC Network+.